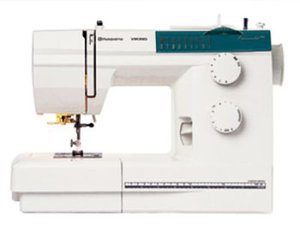 From time to time I'll get requests to help promote a contest or something of the like. Usually it's for a Cam Newton bobblehead or something sports related, but the one I got this week was a first.
My grandmother was once a seamstress. She made the flesh-colored thong that Sally Field wore in the skinny-dipping scene in Norma Rae (shot in Opelika), and altered the AU Singers uniforms for years. But that's where my sewing knowledge ends, other than what I saw on the replay of the 2013 Iron Bowl, where Auburn equipment manager, Dana Marquez, was seen repairing a jersey with a Husqvarna Viking sewing machine right on the sideline.
And that's where this contest comes in. Now, apparently, you can win the same type of sewing machine from Husqvarna. Here's the request I received with the details of the contest:
If you got a kick out of seeing sewing on the sidelines of this year's Iron Bowl, you're gonna love this! Husqvarna Viking, the brand that came through in the clutch for Auburn just a few weeks ago, is headed to the BCS National Championship with the team – and is celebrating by giving sewing and football fans alike the chance to win a Husqvarna Viking Emerald 116 in the Countdown to Kickoff: HUSQVARNA VIKING® Giveaway.

This Emerald 116 is the very same model that became the Iron Bowl's breakout star when the Auburn equipment manager used it to quickly repair a player's torn jersey. Football fans went nuts for the gutsy little machine that proved it's equally at home in a tool shed, a sewing room – or even on the gridiron.

Here's all it takes to enter: Between December 30 and the BCS Championship on January 6, where Auburn will meet Florida State, participants should "Like" Husqvarna Viking USA's Facebook page and submit an answer to the question, "What is the most unusual place or project you have sewn with your machine?" A winner will be selected at random on game day.
So yeah, if you like to sew or just want something slightly related to a moment in Auburn history, enter the contest. I have now seen it all.