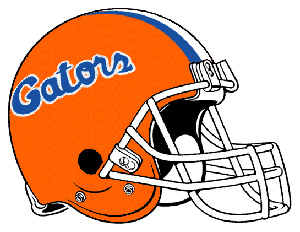 Although the Auburn fanbase's primary concern at this point of the season seems to lie solely on the quarterbacks, I have a feeling that Gator fans would gladly take Auburn's situation over theirs. You see, after John Brantley had his leg ripped off by a few members of the Crimson Tide football team, Will Muschamp has been forced to choose between two true freshmen to step into the starting quarterback role. Sure, both of these guys were very highly rated coming out of high school, but we all know how that translates to SEC football.
Gus Malzahn has the luxury of playing the quarterback that gives Auburn the best chance to win, Barrett Trotter, while breaking in the future, true freshman Kiehl Frazier. Lots of Auburn fans just want Frazier thrown in there now to let him start learning, but ask a Gator fan and I'm sure they'll call those people crazy. A freshman quarterback is not ready for SEC play. Period.
Can they make plays? Yes. Can the fully manage an offense? Almost impossible. Moving on…
Florida comes into Auburn following two brutal and demoralizing losses to Alabama and LSU. The scores weren't the only things that were brutal about those two games. The Alabama and LSU defenses left the Gator offense bruised, beaten, and battered… like corndog-style. The Florida players have been humiliated the last two weeks and will literally be limping into Jordan-Hare on Saturday.
Auburn is, as we all know, coming off a pretty embarrassing loss, and does have some pretty substantial injuries as well. Reed and Slade are definitely out. Blake is questionable, but I have a feeling he'll play. Even though these are pretty big losses, it's still nothing like a starting quarterback.
The 2006 match-up was the loudest I have ever heard Jordan-Hare Stadium. Auburn had also just just come off an embarrassing loss to Arkansas, but ended up beating the #2 Gators. The win could almost completely be attributed to home field advantage. Given the good news Auburn fans heard this week, I have a feeling the crowd will be just as loud as 2006.
Auburn is in a better place than Florida is right now. They have home field advantage. They are playing a demoralized team. If the Tigers can play safe and limit turnovers, the crowd and the desire to take another game in the month of October should propel them to a win.
The Auburn defense will have two picks, one for a score. Barrett Trotter will throw two touchdown passes, one to Blake, one to Lutzenkirchen. Dyer will have two scores. Frazier will have one. The Tigers will win bigger than you'd expect
Auburn 35, Florida 14