Last week was supposed to be simple. Sure, only one major "upset" happened, but other picks that seemed like locks just didn't happen like they should've. So yeah, I took one on the chin last week. It's alright, nothing like easy pickings in rivalry games this week, right?!
Last Week: 7-5 (58.3%)
This Week: 8-3 (72.7%)
Overall: 110-36 (75.3%)
There are A LOT of good rivalry games this weekend. Rivalry games are always cool, but there are multiple games that will affect multiple teams in that thing most of you have probably ignored all season: the College Football Playoff Rankings.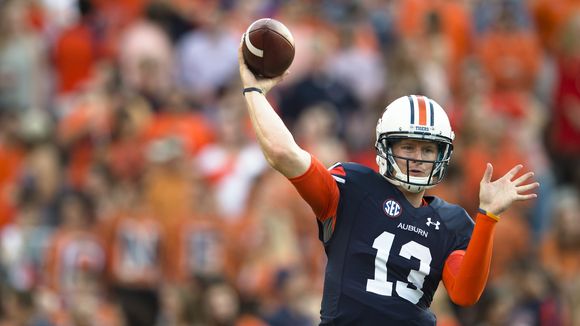 11/27
Missouri at Arkansas – The SEC decided to take LSU-Arkansas away as those teams' end-of-the-season rivalry and stuck Arkansas with Missouri. I think they just wanted Texas A&M and LSU to play last, so they made what had to happen to get that to happen. Arkansas is 6-5, but are playing about as good as anybody on offense. Missouri has been done for weeks.
Arkansas 48, Missouri 17
Arkansas 28, Missouri 3 – SUCCESS!
11/28
Clemson at South Carolina – The #1 team in the nation vs. the team that just lost to the Citadel. What do you think?
Clemson 56, South Carolina 10
Clemson 37, South Carolina 32 – SUCCESS!
Georgia at Georgia Tech – Georgia Tech is not going bowling for the first time in nearly 20 years. It would seem like an easy win for Georgia, but given that they have no offense and should've lost to Georgia Southern last week, Tech may surprise the DWAGS again this year. Actually, yeah. They will.
Georgia Tech 28, Georgia 21
Georgia 13, Georgia Tech 7 – SUCCESS!
Louisville at Kentucky – Louisville has gotten better since losing to Auburn and starting their season 0-3. Kentucky has gotten much worse since nearly knocking off Florida and giving Auburn a scare. The Cardinals will win in the secondary version of this rivalry in the State of Kentucky.
Louisville 31, Kentucky 17
Louisville 38, Kentucky 24 – SUCCESS!
Vanderbilt at Tennessee – Auburn ends each SEC season with Georgia and then Alabama. Tennessee ends with Missouri or Kentucky and then Vanderbilt. Each year it's like they sneak into a better bowl than they should because they end each year on a 2-game winning streak. It's ridiculous.
Tennessee 27, Vanderbilt 10
Tennessee 53, Vanderbilt 28 – SUCCESS!
Ole Miss at Mississippi State – If Ole Miss wins and Auburn beats Alabama, the Rebels will win the SEC West for the first time ever. It won't happen. And I'm totally just talking about the Ole Miss half of that scenario. Why? Just because that's how the universe works.
Mississippi State 34, Ole Miss 28
Ole Miss 38, Mississippi State 27 – SUCCESS!
Florida State at Florida – Florida is quite possibly the worst SEC East Champion of all time. Florida State will do what they've done for most of the last five years and throw any playoff dreams for the Gators out the window like a laptop.
Florida State 20, Florida 14
Florida State 27, Florida 2 – SUCCESS!
Texas A&M at LSU – This new rivalry sounded great on paper. But then Texas A&M sort of fell off and then LSU completely fell off. It could likely be Les Miles's last game coaching in Baton Rouge as the LSU head coach. I'd say if the Bengal Tigers lose, it will be. But they won't, and then it will really interesting.
LSU 34, Texas A&M 21
LSU 19, Texas A&M 7 – SUCCESS!
Alabama at Auburn – Check back tomorrow for my prediction in the game preview, but SPOILER ALERT: ¯\_(ツ)_/¯
Auburn 27, Alabama 24
Alabama 29, Auburn 13 – FAILURE
Other Games of Note
Ohio State at Michigan – Ohio State lost for the first time in 24 games last week and half of their backfield exploded all over itself to the media. They are totally still in the playoff picture, but Michigan ain't bad and it's in the Big House. Ohio State gone.
Michigan 27, Ohio State 24
Ohio State 42, Michigan 13 – FAILURE
Oklahoma at Oklahoma State – If Oklahoma wins, they win the Big 12. If Oklahoma State wins and Baylor loses either one of their last two games, they win the Big 12. Given that I've thrown my hat in the Oklahoma State playoff camp, I'm pulling for the Cowboys. But yeah, mostly because Oklahoma is boring and lost to Texas and the playoff committee seems to have forgotten that.
Oklahoma State 38, Oklahoma 28
Oklahoma 58, Oklahoma State 23 – FAILURE
Now that you know who will win, head on over to the 2015 War Blogle Pick 'em and get your picks in. There will be weekly prizes and and overall winner at the end of the season. It's easy. Do it.