As you remember from part 1 of Everything Else from the 'Blogler's Trip to L.A., I had just gotten off the L.A. subway and was making my way through the parking lot of the Staples Center en route to the Nokia Theater to cover the ESPYs. We'll pick back up there…
It was around 3:30 pm local time when I walked up to the press check-in tent. I told them my name and that I was with WarBlogle.com. They couldn't find me. "Great, I just flew to California for nothing," I thought. I called Keri, to get her to come whoop up on somebody. She said she was looking at my name on the carpet, so there had to be some sort of mix-up.
I ended up having to go get my picture taken and have a badge made so I could get in. Once that was done, I took my spot on the carpet.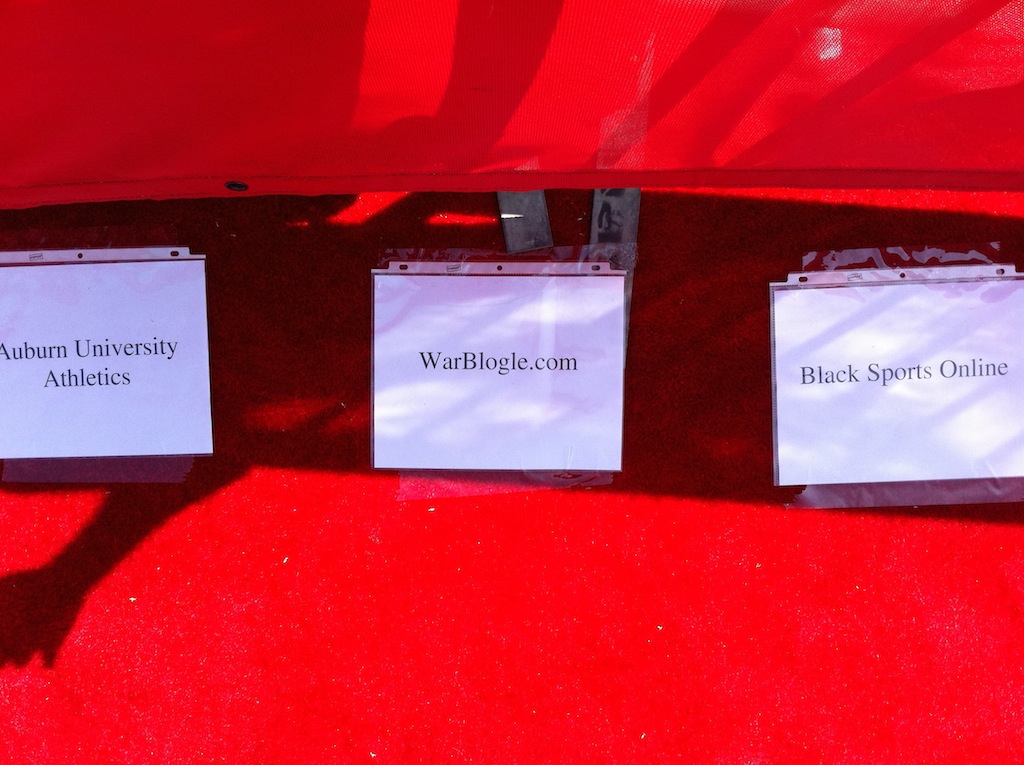 After a few minutes of acting like I knew what I was doing while setting up, a guy came up and asked me about Cam. How did he know I was THE person to ask about Cam? Was my blatant Auburn homerism that obvious?
It ended up that he saw that I was next to Auburn's spot on the carpet (they never showed up), figured out what 'WarBlogle' means, and put two and two together.
I knew the guy looked young, but I didn't realize how young he was until he handed me his card. His name is Joey Brander, he runs GBSN Sports, and he is fifteen years old. His twitter profile says his first interview was at age four with Wilt Chamberlain.
We talked a while about Cam and Auburn, what he wants to do in life, and the possibility of him coming up to Auburn for the Florida-Atlantic game since he covers them for his site. He definitely knew his stuff, and he loved Cam, so that was a plus.
After a performance by one of the more interesting "marching bands" that I've seen (in video below), the guests started rolling in. This was nothing like the night before at the party. This wasn't one celebrity or athlete after another. This was ten celebrities or athletes after another ten celebrities or athletes for three hours straight.
I got a few Auburn/SEC related interviews (Chizik, McElroy, Rece Davis, etc.) that you've already seen in my red carpet post, but I also got one of YouTube sensations and music group Karmin. They were absolutely the nicest people in the world. Seriously. They looked like they would have stood there and talked to me all day. Be sure to go listen to their stuff at youtube.com/karmincovers. You won't be disappointed, unless you are. Here's the interview:
The only duty that I was given by Beautiful Blogle was to get at least one picture of Ryan Reynolds. After berating her and telling her that I was all she needed, I complied. However, the only time he walked by also happened to be the same time the guy from The Blind Side was being interviewed right next to me. So yeah, he blocked my entire view of anything that was going on, and I missed getting a good shot of Mr. Reynolds. She still hasn't forgiven me…
I'd have to say the weirdest or at least the most unexpected person walking the red carpet would have to be Wheel of Fortune's Pat Sajak. I have no idea why he was there, but he did do a quick interview next to me that I completely stole. It's included in the video recap below that I already referenced.
Oh yeah, about Cam. Once again, as it was the night before, I saw him coming down the line and about halfway through his handler pulled him inside. So I didn't get to interview him, but I did get to shake his hand and got the 'War Eagle' out of him. Maybe next year though…
Once the crowd had made it's way in, I packed everything up and walked down the carpet just to feel like I was important. No really, I just wanted to get my picture taken with the "ESPY" sign. I promise I didn't add the graphic in front of my face. It just happens when people take pictures of me.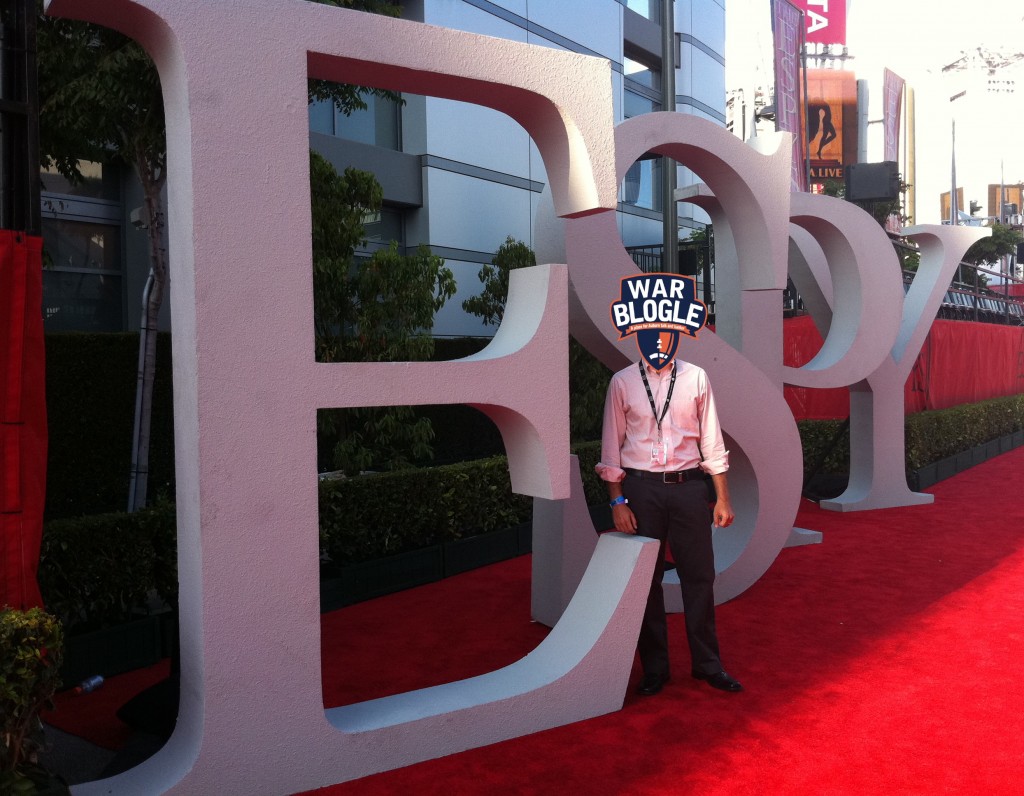 From there I went to the press tent where most of the presenters and award winners came to do a quick press conference after they left the stage. There wasn't anything too exciting in there, but about halfway through I noticed the sound of what seemed to be a riot going on in the tent next to ours. I decided to go take a look and it ended up just being the photo tent. Basically, it was paparazzi yelling at whoever to look at their camera. You'll get to hear what it sounded like in the video I keep mentioning, but it was pretty intense.
If there was one highlight from the press tent, I guess it would be the entire Dallas Mavericks team along with Mark Cuban coming in after the show was over. Dirk put on a little concert (in the video), so that was pretty cool.
Ok, I'll stop teasing it. Here's the video recap of the best stuff that I got that wasn't Auburn or SEC related:
After the show was over, I took the subway back to Hollywood. On the ride over, I met a guy who was in town for the Microsoft Partners conference. All I remember is him telling me that he doesn't follow sports, but he thought Harvey Updyke was a psycho.
There was also a point on the subway where a really old and presumably drunk guy with a scab that covered his entire right leg tried to sit down in a guy's lap. The only problem was that the guy got up, and the old man completely missed the seat and fell and busted his head on the side of another seat. It happened right in front of me, but I did nothing. I guess I was in shock. Call it another "L.A. moment."
Once off the train, I walked around a little bit. There were more of the Microsoft Partners walking around so I felt a little cooler with my completely full backpack. After a while, though, I was ready to go to sleep, so I stopped by In-N-Out to try out a milkshake and went back to the motel. Tony Horton would be so proud.
I slept in a little bit, but when I got up I wanted some authentic California breakfast. I left the motel and just started walking. I walked past the IHOP because that would have been cheating, and continued to walk for another mile. There was nothing.
I ended up crossing the street and going back the opposite way and found some sort of cafe that looked pretty cool. I continued to think it was pretty cool until I ordered an orange juice that came out looking like a grass flavored Slushie that tasted exactly like toothpaste. I couldn't drink it, and I didn't.
Overall, the meal wasn't that great and I needed to get the toothpaste taste out of my mouth, so I stopped at a little doughnut shop on the way back. The original glazed doughnut I got was the best thing I ate all day. Never doubt a doughnut.
I had a few hours until my shuttle pickup, so I went and did one last tourist activity: the wax museum. It was 25 bucks, which was a little steep, but I had fun. Here's proof (disclaimer: at this point I had basically been alone in L.A. for a good 2-3 days, so I cannot be blamed for resorting to talk to wax figures):
After the wax museum, my trip was virtually done. I went back to the motel, hopped on the shuttle, arrived at the airport, and flew out. It wasn't until I was waiting to get on the plane that I got my first uninfluenced 'War Eagle'. I guess you could say it was my 'War Eagle' moment. I had a quick layover in Las Vegas, where I had many great memories, but I didn't have enough time to have any fun this time.
I arrived in Birmingham at midnight (Friday morning), and it was over. I was glad to be home, but overall the trip was great. I had a blast. It was a very eye-opening experience. It was very cool to see celebrities and athletes be themselves. It was cool to see the behind the scenes of an awards show. I definitely learned a lot, and definitely gained lots of experience. If I did it again right now, I would feel so much more comfortable and much more prepared.
Thanks again to Keri Potts, anybody who donated money to get me out there, and anybody who's reading this. Hopefully I can do it again soon (that's a blatant hint, Keri). WDE.