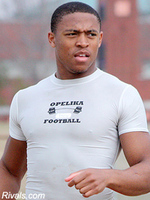 On Sunday, I confirmed and tweeted that former Opelika running back (4-star) and 2010 Alabama signee, Corey Grant, would be leaving Tuscaloosa and was working on enrolling at Auburn. Tonight, a few more "reputable" sites (al.com and AuburnSports.com) backed up what I told you (if you followed me).
Corey is still working on enrolling at Auburn, and if accepted, he plans to walk-on to the football team this fall. As far as I know, this gets around the whole "Saban releasing him to Auburn" issue that many have you asked me about.
You may or may not know that I am an Opelika graduate (O-town Killa); class of 2000. I'm obviously a few years older than Corey, but I did get to see him play for a good 3-4 seasons, since I'm the type that still goes to my high school's football games. Come on, it's right next to Auburn and I'm usually down there the night before home games.
What I remember about Corey is that he is fast, very fast (he won the 200m and 400m dash as a senior in 2010), shifty, and knows how to score touchdowns. He was dangerous as Opelika's running back, but was even more dangerous as a kick returner. I think this is where he may shine at Auburn, if it all works out.
I remember a return in the playoffs against Sidney Lanier (in the video below) where it seemed like he touched every blade of grass before getting into the endzone. Plain and simple, dude is fast and can make people miss. Also plain and simple, I'm probably hyping him up a little more than normal because we're both OHS alums. Regardless, he's good and I want him to succeed Auburn.
Oh, and if you don't want him at Auburn or want him to fail because he chose Alabama over Auburn, just know that he didn't do that. I think you know who did choose Alabama for him, but just know that he didn't. Believe me. Seriously. Brent Calloway, what?