For the record, I started to write this a few days ago following the men's basketball team's heart-breaking, last-second loss to Arkansas. So I'm not just writing it on the high of the second largest comeback in Auburn basketball history. I've been considering it since the comeback against Mississippi State almost a month ago, but still needed a little more time to see if I really wanted to fully jump on the Barbee bus.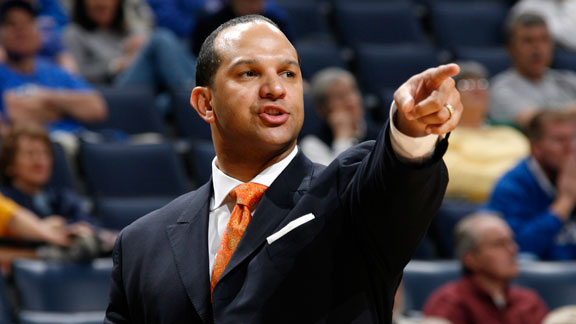 Let me just say that I have always backed Coach Barbee. Why? Because he's Auburn's coach. If you remember back when the coaching search was going on, I wasn't 100% happy with the hire. It had nothing to do with Coach Barbee. I was just a little peeved that the Auburn administration didn't at least interview a "big name," at least not publicly. All I wanted was to see that they were serious about the future and wanted to show the college basketball world that Auburn could and would go after the biggest names in the sport to lead their team.
All I wanted was the attempt, knowing full well that most of the guys I thought would fulfill my agenda wouldn't leave their current job at a "basketball school" to come to a "football school." However, I didn't just want the "up and coming" guy. Wasn't that what Jeff Lebo was? How did that work out?
Most saw my argument as me not knowing anything about the sport, but I wasn't really worried about the X's and O's and who the next phenom would be. I was worried about getting Auburn basketball back to something that Auburn fans would be excited to go see. And no offense, but a virtually unknown guy to anybody who doesn't follow college basketball pretty closely wouldn't know who UTEP's coach was, and therefore wouldn't be too excited just from the hire. I'm also pretty sure more than half the people reading this have no idea why I just referenced UTEP. That's my point.
Auburn basketball fans are fickle, and honestly they have good reason to be. Take a look at the last 10-30 years. They've seen a few good wins, and a few decent teams, but they've really been given no long-term reason to be excited about Auburn basketball. I've been to countless games, and fumed over the attendance numbers, and I know that it would take a 10-game win streak, or a game against Alabama or Kentucky to get a good, consistent crowd. As much as I hated it, I still understood why there wasn't anybody there.
So all I wanted was for the Athletic Department to give the casual fan a simple pleasure like a big name coach (Tubby Smith, etc.), and then maybe they'd come, create a home court advantage, create some wins out of that, and get Auburn basketball rolling. Basketball easily has the biggest advantage for the home team in all of sports, and Auburn usually plays pretty well in front of big crowd, and pretty lousy in front of a crowd of 200. Rather than giving the "up-and-comer" three years to build excitement, why not do it with one name in one year?
Anyway, I should have written all this a year ago because that's when it mattered, but I still just needed to get it out. I still don't completely agree with the process that was taken, but the same guy who hired Barbee hired Chizik, and we know how well that turned out. Maybe Auburn basketball will turn out the same way.
Now that I've made this positive post about Barbee look like I hate that he's Auburn's basketball coach, I should say, it's not that way at all. Sure, I have thoughts like "Jeff Lebo never lost to UNC-Asheville or Campbell or had every writer picking his team to win zero SEC games," but that really is an unfair comparison.
This is Barbee's first year. He has no senior leadership; his two best players spent most of the season injured; and he's been forced to rely on players that were honestly just on the team to be on the practice squad. It's hard enough in your first year at a struggling program that's near rock bottom in every aspect of the sport (besides venue), but when you're starting five consists of five guys who probably wouldn't start at any other SEC school, at least earlier in the season, it's almost impossible to succeed in any way.
Having said that, I should add that the current team isn't full of schlubs. Kenny Gabriel is the best dunker I've seen at Auburn since Chris Porter and he can pop a three in your face whenever he wants. Earnest Ross can score and likes to shoot. Chris Denson is a freshman, but he's going to be very, very good when it's all said and done. However, as good as these three players have turned out to be later in the season, though, it's still not enough to field a competitive team unless you're the next coming of John Wooden.
Somebody once said, or maybe I just made this up, that coaches coach defense and they recruit shooters. That sounds about right, doesn't it? It's hard to make a guy who's been playing basketball for ten years become a drastically better shooter once he gets to college, but on the other end of the court if you tell him where to stand and who to defend, you can affect the other team's ability to shoot and score, and if you do that well it really doesn't matter that you shoot 25% from the field.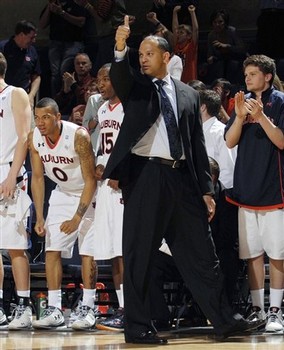 Barbee has taken the team that nobody would take and actually used them to make some pretty good teams look pretty bad at times. Florida will most likely win the SEC regular season this weekend, and Barbee's defensive strategy and coaching held them to 44 points. Of course, Auburn only scored 40 that day, but he can't help who he was dealt, and the shooting the skills they had, when he made his decision to move to the Plains.
Alabama will end up being the 2nd best team in the SEC regular season, and Barbee's defense made them look completely out of whack offensively for most of last week's game. Auburn had a 15-point lead at one point, but always seemed to go on a scoring drought at the same time they were shutting down Alabama's offense. Eventually, Alabama scored a few more points and was able to get back in the game and win it at the end.
Bottom line: he can coach defense, and from what I've seen, he's a pretty good recruiter. We just need to get those guys in school and in school to stay. Once a few of those classes get in, he can couple his coaching skills with some already-established shooting skills and put together teams that can compete with any team in the league…wait they can already do that, which brings me to the next reason I'm now on the Barbee bus with bags packed and the 'Blogle family in tow.
I've already mentioned that Barbee's Tigers could have and honestly should have beaten the top two teams in the SEC this year, but on top of that, minus two or three bad games, Auburn has either led, kept it close, or come back from a huge deficit against almost every team in the league, and remember who's doing this: walk-ons, freshmen, and guys playing in a new system. As bad as the record may look, they have definitely done what nobody expected them to do.
Speaking of come backs from huge deficits: as you probably saw last night, Auburn came back from a 20-point 1st-half lead in a matter of 8-10 minutes in the 2nd half. Ole Miss was shooting lights out and Auburn was stumbling around and looking like a young team with a new coach in the 1st half, but after half time they came out and completely took the game over. This wasn't the first time that's happened.
They were down by 15 to Arkansas last week and came back to tie it up before losing on a last second dunk. They were down by 19 to Mississippi State a few weeks ago and came back and won. This team doesn't quit. A lot of it has to do with the heart of the players, but it wouldn't happen if just one guy was in it. Barbee has gotten all of his players to believe that they can come back no matter how bad it looks. They don't press. They just chip away by playing good defense, and making smart shots on offense. That's coaching, that's good coaching, and that's why I'm on the bus.
Barbee has the students excited and he has me excited again, and he's done it in the same school year as the football team winning the National Championship. That made his job even harder. Nobody cared at all that Auburn was playing LSU in the SEC opener. We were all still giddy from beating Oregon in Arizona.
If you look across the state, the same thing happened last year. Anthony Grant coached his first year under the exact same circumstances. Last season's Tide basketball team was decent, but was overshadowed by their football team's National Championship. Now that he's in year two, Grant has his team on top of the SEC West. As unimpressive as that looks to the rest of the world, he's still been able to put his team in 1st-place in the division in just his second year.
From what I've seen in the last month of this season, and the fact that Frankie Sullivan and a 100% healthy Ty Armstrong will hopefully return next year, I think Barbee can do the same.
On another note, I hate the "football school" moniker. Why can't we be a "championship school?" Why do we have to act like basketball doesn't exist because it's not as successful as our football team usually is? That's for another post, but I think Coach Barbee can take us there.
It's hard to think that just over 10 years ago Auburn was a #1 seed in the NCAA tournament. As far away as that sounds from this team right now, it really is not. If Barbee can get a little more talent and instill the heart and the desire to play defense in those future players, then Auburn could definitely get back in the NCAA picture.
I'm all in, Coach. Take us back to the days of Barkley, the Persons, Pohlman, Fishback, Porter, and Robinson. Well, take us to those days plus a little more. I know you can and will.