Over the weekend, Auburn released their 2014-15 basketball schedule. It's exactly as Bruce Pearl promised. It's tough. It's got plenty of early season probable-losses against tougher teams. And it's something to be excited about.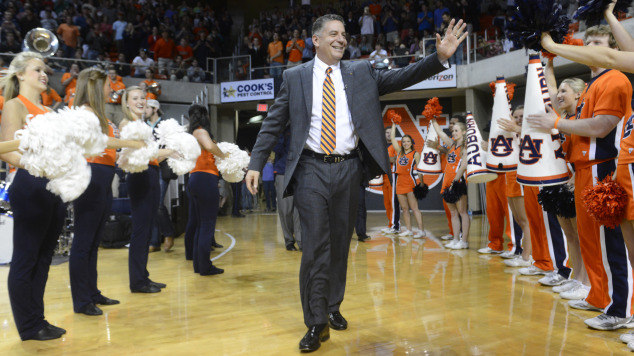 Let's start out with the notable non-conference games:
11/14- UW-Milwaukee (TBD)
11/18 – at Colorado (12am, ESPN2)
11/24 – Tulsa (10pm CT, ESPNU)*
11/26 – Oklahoma State or Oregon State (TBD, ESPN2/3)*
12/3 – at Texas Tech (8pm, SECN/ESPN3)
12/5 – Coastal Carolina (7pm)
12/14 – at Clemson (TBD)
12/20 – Xavier (7pm)
A few things about the non-conference slate:
Auburn will start their 2014-15 regular season against Bruce Pearl's former team, UW-Milwaukee. They were a NCAA Tournament team last year. It will be a nice, challenging start.
Auburn will take their first road trip to Colorado. They will play a good and possibly high set of Buffaloes at midnight in Boulder as part of ESPN's 24 hours of college basketball. That'll be a fun next day at work.
Auburn is taking part in the MGM Grand Main Event, a small 8-team tournament right around Thanksgiving. They will take on Tulsa at 10pm (another late game) and then depending on the outcome, Oklahoma State or Oregon State. Winning one of those would be good. I want to go to Vegas if anybody has a place to stay.
Auburn will play Texas Tech for the first time ever. I wonder if a shirtless Kliff Kingsbury will be there.
Cliff Ellis will return to the Plains with his Coastal Carolina Chanticleers a day before Auburn wins the SEC Championship in football.
Continuing with the Carolina theme, Auburn travels to Clemson in mid-December. There won't be many Clemson fans there since they will be playing in a bowl around that time. You'll remember that Auburn beat the purple basketball tigers in Auburn last year.
Xavier rounds out the portion of the non-conference schedule that includes teams you'd brag about beating.
After a few more lesser teams (yes, I'm sure Middle Tennessee State has a fine basketball team), Auburn moves into conference play:
1/6 – at Vanderbilt (8pm, ESPNU)
1/10 – Missouri (TBA, SECN)
1/15 – at Florida (6pm, ESPN/2)
1/17 – South Carolina (TBA, SECN)
1/21 – Mississippi State (8pm, SECN)
1/24 – at Alabama (TBA, SECN)
1/27 – Texas A&M (8pm, SECN)
1/31 – at Tennessee (11am, ESPN/2)
2/5 – at LSU (6pm, ESPN/2)
2/7 – Ole Miss ((TBA, SECN)
2/10 – Arkansas (8pm, ESPNU)
2/14 – at Georgia (TBA. FSN)
2/17 – Alabama (8pm, ESPNU)
2/21 – at Kentucky (5pm, ESPN/2)
2/24 – LSU (6pm, ESPNU)
2/28 – at Texas A&M (TBA, SECN)
3/3 – at Missouri (8pm, SECN)
3/7 – Georgia (TBA, SECN)
A few things to note in the SEC portion of this national championship season for Auburn:
Auburn will start the SEC slate in the gimmick known as Vanderbilt's Memorial Gymnasium.
Auburn will play their home-home series with Missouri, LSU, Texas A&M, Georgia, and Alabama.
Bruce Pearl and his Tigers will return to his old home in Knoxville on the last day of January.
Every SEC game will be on the tv: ESPN/2 – 4x; ESPNU – 4x; SEC Network – 9x ; FSN – 1x.
The Alabama SGA president will sing the Auburn fight song twice (for skipping last year) on Feb. 17.
So that's it. Football starts in 12 days, and here's your basketball schedule. No offense, but I'll worry about it in a few months.