Let me start off by answering that question. I sure hope not, at least not on Monday night. What you are seeing in the picture below is an Under Armour vendor bus/store stationed somewhere in Glendale. As you can see, or as I'm about to tell you to see, the stripes down the pants on the models of Cam and Travante Stallworth are not the standard stripes normally worn by our Auburn Tigers. The current and has-been-for-as-long-as-I-have-known-Auburn-football version has no white space between the orange stripe and the blue trim.
Perfectionists will love it if this change does ever come to fruition because the stripes on the "new" pants would match the stripes on the helmet and jersey sleeves. Both have space between the stripes.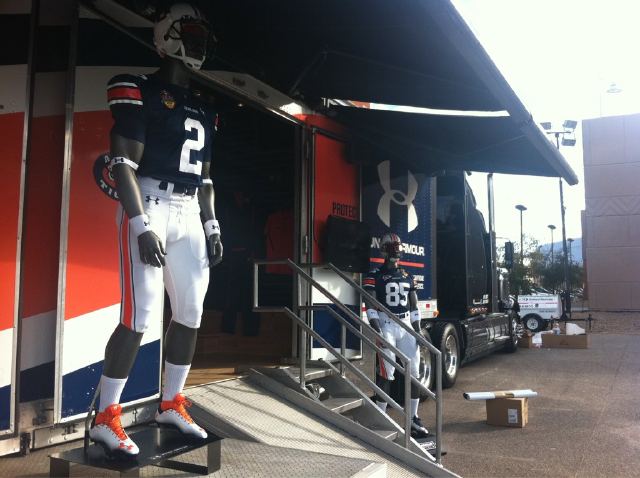 Rumblings of a stripe change began Wednesday when the latest Under Armour commercial was released and then played what seemed like a million times during the Under Armour High School All-Star Game (or whatever it's called). As you saw on the 'Blogle, a Cam-like figure is shown sitting in a locker room, lacing up his snazzy, only-worn-by-Cam, space-age cleats. Those with a keen eye noticed that he was wearing pants that didn't match Auburn's current uniform. Some blew it off, but those that love rumors said that Under Armour was pushing the new look. The rumor grew legs when the picture above was tweeted this afternoon by 'Blogle follower @jordandeen.
Uni Watch, a site devoted to uniform aesthetics had this to say about the stripe change:
I have confirmed that Auburn will definitely have new pants striping next season (plus they'll also have "War Eagle" printed on the back of the pants — ugh). I don't know if the new striping will match what we saw in that Under Armour commercial, but that seems like a pretty safe bet. I also don't know if the new striping will appear in Monday's game against Oregon, but it wouldn't surprise me.
First off, I'm not even going to address the ridiculous idea of "War Eagle" printed on the back of the pants. That's just stupid, and it better not happen. As far as the stripe change, I think it's subtle enough to where no one would really notice, but it would make the uniform more…uh, uniform. I mean it's nothing like this, but like I said before, I don't want it change for the game this Monday. It's small and we're just talking white space here, but let's not tempt fate. The non-matching stripes have won 13 games this year. Let's not give the new stripes their first start in the most important game in school history.
If it has to be done, do it next year please. What do you think?