Did you know Auburn played Ole Miss in a Gator Bowl? Did you know Archie Manning played against Pat Sullivan? I didn't. Good thing we got this guy.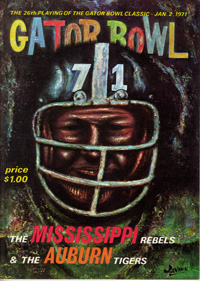 Clash of the Superheroes
by Merideth Akers
The Gator Bowl played on January 2, 1971 was only the 8th meeting between Auburn and Ole Miss. Auburn's only two wins against Ole Miss had come in 1932 and 1953. So playing against Ole Miss was a bit of a novelty for Auburn.
Following the 1970 season, Archie Manning of Ole Miss had finished 3rd in the Heisman Trophy voting and junior Pat Sullivan had finished 6th. These two superhero quarterbacks then squared off in the Gator Bowl. Auburn rolled into Jacksonville, Florida following an 8-2 regular season record that had culminated in a 33-28 win over Alabama.
Auburn's quarterback, Pat Sullivan, had the luxury of throwing to All-American receiver, Terry Beasley, and track star Alvin Bresler. On defense, Auburn was led by All American safety/punt returner, Larry Willingham. Ole Miss' quarterback, Archie Manning, had fractured his left arm during the season and was not 100 percent, but he turned in one of the gustiest performances that I have ever seen. Manning's primary targets were outstanding receivers Vernon Studdard and Floyd Franks. On defense, Ole Miss was led by All American defensive back, Glenn Cannon.
This battle of the superhero quarterbacks was all that it was billed to be. Pat Sullivan got Auburn off to a fast start with touchdown passes to Terry Beasley and Alvin Bressler. Auburn then went up 21-0 on a long touchdown run by Sullivan. But Ole Miss came storming back with an Archie Manning touchdown run, and then a touchdown pass to Floyd Franks. Auburn led at the half 21-14.
In the second half, Auburn extended its lead to 28-14 on a Mickey Zofko touchdown run, but Ole Miss answered with a touchdown of its own. The deciding score for Auburn came on a Larry Willingham punt return for a touchdown. Ole Miss mounted a fourth quarter comeback and scored its fourth touchdown of the game, but its comeback fell short. The final score was Auburn 35, Ole Miss 28.
For the game, Pat Sullivan passed for 351 yards and 2 touchdowns. Sullivan also rushed for one touchdown. This performance earned him MVP of the Gator Bowl. Terry Beasley ended the day with 8 receptions for 143 yards and a touchdown. Alvin Bresler caught 4 passes for 102 yards and a touchdown. Larry Willingham returned 4 punts for a Gator Bowl record of 93 yards. His Gator Bowl record still stands.
For me, this was the best Auburn vs. Ole Miss game ever.