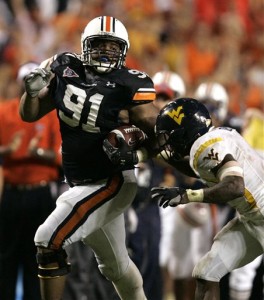 The night began with plenty of rain, thunder, and lightning. While the game didn't feature much thunder or lightning in regards to Auburn's offense, touchdown passes were raining down all night.
Todd's a man. Battling the flu, Todd took his first sack, threw his first interception, and found his team down fourteen points less than five minutes into the game. Then, in a change from the first two games, Todd gained the majority of Auburn's offense with his arm, and threw for four touchdowns, the most for an Auburn quarterback since 2001. With lots of help from his defense, Todd helped stage one of the best full-game comebacks in Auburn history. Given his condition, the weather conditions, and the deficit, Todd showed that he will do whatever it takes to get his team on top. 7-5, 8-4? They don't exist in his record-keeping vocabulary. "12-0 will do just fine, thank you", he says.
Defense gives up yards, but gets a few too. The defense gave up two big, fluky plays to start the game, but settled down and really only allowed two decent scoring drives the rest of the way. With five interceptions and one fumble recovery, they definitely took away the sting of those first two plays that sucked the life out of the rain-drenched crowd. West Virginia quarterback Jarret Brown reminded Auburn fans of how it was to "tackle" Jamarcus Russell of LSU past. It didn't matter what kind of angle, how many limbs were pinned down, he always seemed to get away and throw a perfect 70-yard strike.
Another connection between this game and LSU was the four interceptions in the 4th quarter alone. As you all know, in 1994 Auburn intercepted four LSU passes in the 4th quarter to stage a monumental comeback and extend Terry Bowden's two year winning streak. Auburn did the same last Saturday night. Well, minus Terry Bowden, and LSU, and all that.
Special Teams a little better. It looks like Anthony Gulley might have staked his claim at the punt returner position, not that anyone was trying to take it from him. He's a former baseball player, center-fielder for 1A Brantley High School to be exact, so catching fly balls seemed to help him get comfortable with catching footballs falling from the sky with 300-pounders running towards him. Now that we've got catching down, let's working on running.
Kickoff returns are still just mediocre, with our average starting point being somewhere around the 20-25 yard lines. Kickoff coverage has still been the worst. I don't know how many drives the opponents have started at the 40. It seems like there is no one down there to tackle the guy and we end up having to chase him down.
Clinton Durst is still kicking the ball well and giving his guys plenty of time to get down there and make the tackle. Oh, and Wes Byrum is back.
This team showed that they have what it takes to endure a long delay, get punched in the mouth, and take over the game in the 4th quarter. It was a struggle from the start, and they came out on top, like champions do. This only adds to the trust that they have for their coaching staff. Auburn has been down in every game this season and won by at least 10 points in the end. This team is amazing and we'll see it grow for the rest of the year and years to come.