It seems like all the talk about Auburn this offseason has been focused on the offense, and beyond that, the QB battle. Now that the decision between Bo Nix and Joey Gatewood is settled, and all the pieces are starting to fall into place, let's take a look at each position and see what kind of offense we're looking at with Nix at the helm.
Head Coach: Gus Malzahn
Gus has been doing this for a very long time. Perhaps he can develop QB talent, perhaps he can't. That's not really my concern with him. Gus is very, very good at threatening a defense with the possibility of every eligible player on the field receiving the ball on every play. He is a master at testing a team's conditioning, and when he has run the offense, the execution of that offense has never suffered.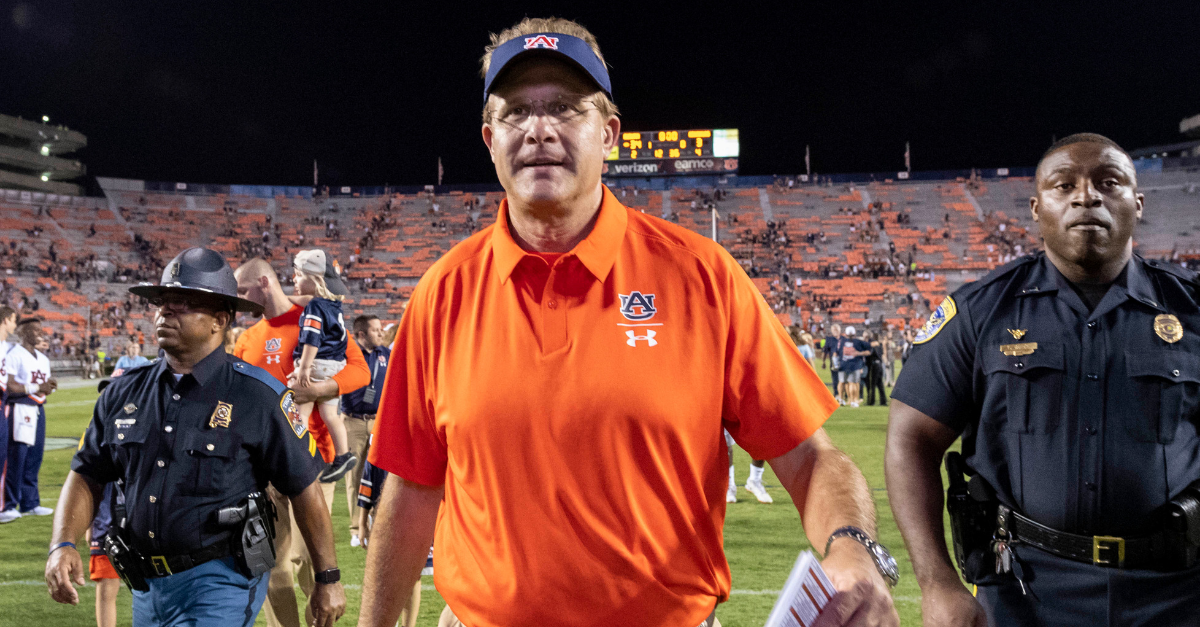 Gus has been known, during his tenure, to run plays in practice over and over until they are muscle memory for his players, and he is working with a roster in 2019 that has picked up his playbook in a hurry.
More practically, however, his play-calling that relies on a successful run game is going to likely be more of a boon in 2019 with an all-senior offensive line (one that saw tremendous improvement in the latter half of 2018). 2020 will be a different story, but two years to learn under JB Grimes can do nothing but good things. If the run is working (even if it's only the QB run), this offense will succeed, just as it has every other time Auburn's run blocking has been good-to-elite.
Offensive Coordinator: Kenny Dillingham
I feel as though a lot of people are going to try and underplay Kenny Dillingham's role in this offense, since Gus has taken back the play-calling duties. To them I ask, when was the last time you saw an Auburn offense throw 4 passes to the TE in one game? On top of that, when was the last time you saw Auburn line up with a TE with any kind of regularity?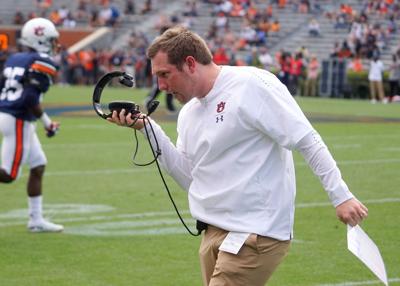 Because between the blowout of Purdue and the Auburn Spring Game, Auburn has dramatically increased the role of the TE, regardless of personnel. This isn't a fluke; this is the fingerprint of one of the fastest rising stars in coaching. Dillingham has Gus Malzahn's ear.
His role as the QB coach is more likely what will earn him notoriety, and with good reason. In the span of one set of bowl practices, he turned Jarrett Stidham into a quarterback willing to step up in the pocket to deliver a tight window throw. Anyone who watched Auburn in 2018 can tell you what a dramatic shift that was.
Similarly, Joey Gatewood looked like a totally different passer from what we saw in the 2018 Spring game. His deep balls were accurate, and his mechanics were fast and smooth. It's actually somewhat hard to tell what Nix has learned thus far because his mechanics and accuracy were already so good coming into college, but the point is Dillingham's influence in the QB room has already been palpable.
QB: Bo Nix
One of my biggest priorities in writing this is trying to whittle down to 11 guys who will be on the field most of the time. With that need for versatility in mind, with that need for a talent who can make everyone else around him better, I have been set on Bo Nix being the right decision since the spring. Simply put, he brings arm talent and polish in throwing to the table that only names like Fromm, Tagovialoa, and Lawrence are capable of claiming in their first year of action. What Nix has that none of those others have is a palpable presence on the ground, capable of blowing a game wide open as much with his legs as he does with his arms.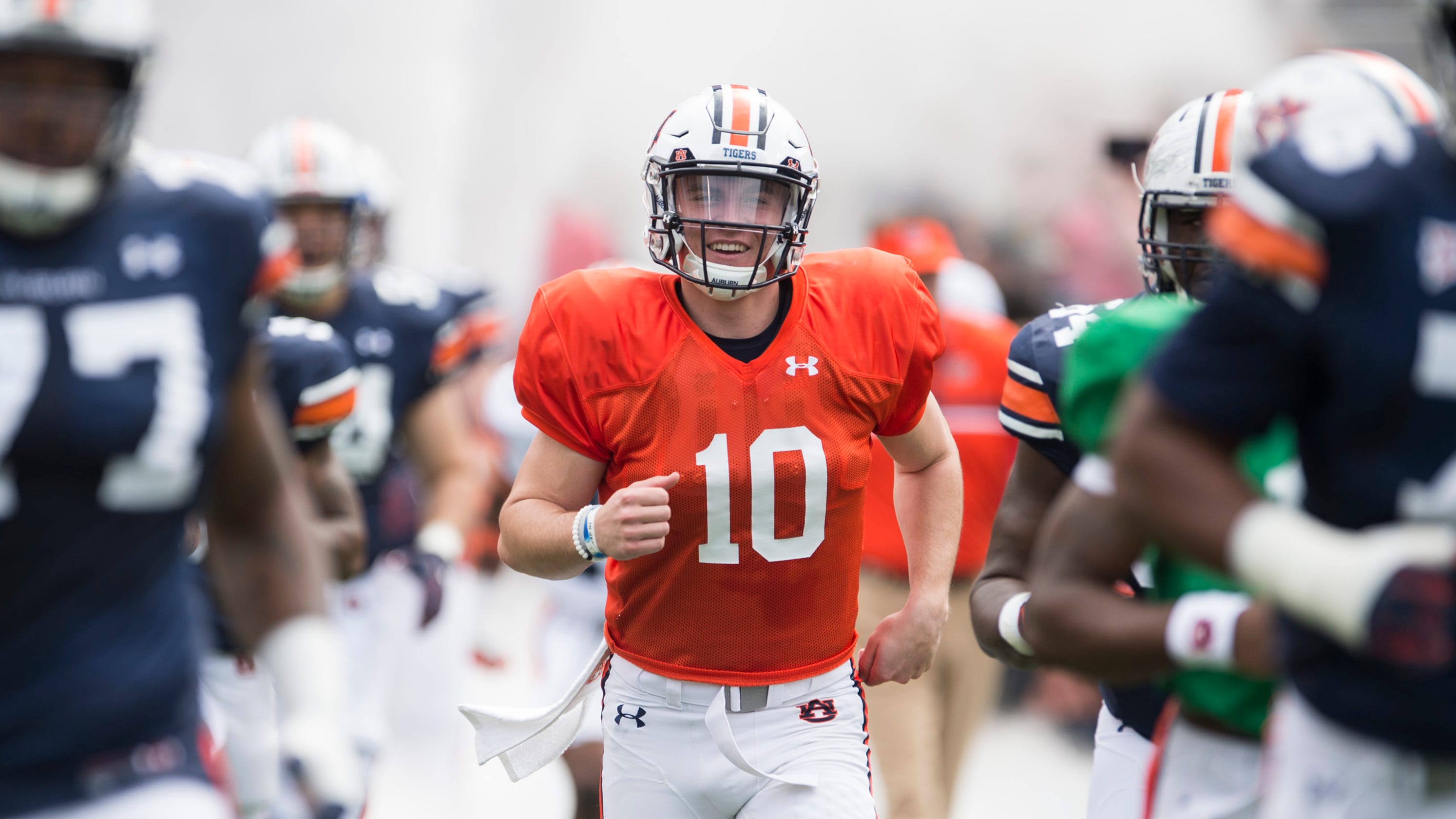 I don't expect Nix to break away from safeties like he did in high school, but his ability to run the ball is no less developed or skillful than Gatewood's. I don't dare say yet that Nix will find his name in the neighborhood of the true freshman seasons listed above, but he certainly hasn't given me reason to doubt him either.
I say all this, but his polish throwing and running are not the reasons I believed he should start since the spring. There was one play in the Auburn Spring Game that exemplified why he is the man to lead Auburn. Nix is driving with the first team in a nice rhythm with his passing, Kam Martin to his right. He sees something, nearly at the same time Gus sees it from behind the play (you can actually hear Gus saying to change the play, quiet enough that I don't think Nix could have heard). Wordlessly, with no looks towards the sideline, Nix snaps the ball and gives it off for a 9-yard run.
Nix read the pre-snap defense, saw a hole, and (knowing he was contending for a starting job, largely on his passing ability) took the ball out of his own hands to run a better play. A 19-year-old true freshman. Nix understands football.
RB: JaTarvious Whitlow
I have a confession to make. I have never been fully on board with Boobee. To me he has always lacked the explosiveness and top end speed to really make a great back. I say this because I need to caveat that with the objective fact that he is the best overall running back Auburn currently has on the roster. To effectively run the offense, the same 11 players should ideally remain on the field at all times, and the "back of all trades" is Whitlow. If he improves his explosiveness and top gear speed, I can see him becoming great.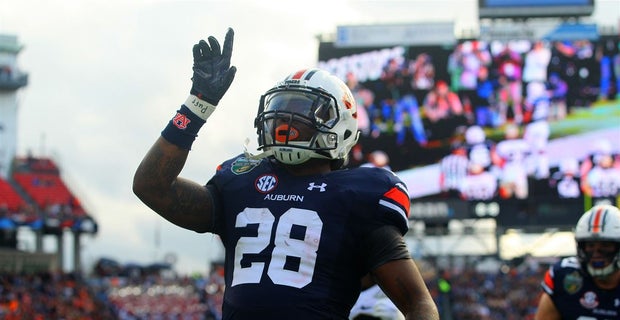 Now of course there will be a rotation. Quite a deep rotation, actually, since Shivers, Kam Martin, Harold Joiner, and DJ Williams are all far too good to be kept off the field. I can't claim to know what the plan is, only that there has to be a rotation, or Auburn will be wasting a criminal amount of talent.
TE: Jay Jay Wilson
From everything I have seen, read, and heard about the Arizona St. transfer, Jay Jay Wilson is going to be something of a sensation under a Bo Nix-run offense. His hands are reportedly extremely good, his blocking doesn't suffer, and he brings an athleticism that allows Gus and Dillingham to put him at the HB, TE, or even big slot position. He is a weapon, a legitimate triple threat in an offense that has often struggled to find versatility in the position.
Of course that's all speculation on my part, there's very little film of him actually playing, and even less evidence to suggest he'll be a go-to player in this offense, but it's hard not to be excited about a player with his tangibles and all the good news we've heard about him so far.
X Receiver: Anthony Schwartz
Now I might ruffle some feathers with this decision by not going with Seth Williams, but when I imagine this offense and it's potential, my ideal X receiver is a developed route runner who can blow the top off of a defense, competently run block, and threaten a defense with lateral motion. Schwartz's speed makes him a no-brainer for the lateral speed and deep ball potential, and he's a willing blocker. His route running was the only real downside to his game a year ago, but even then, he was consistently creating separation by eating up the cushion that DBs would give him.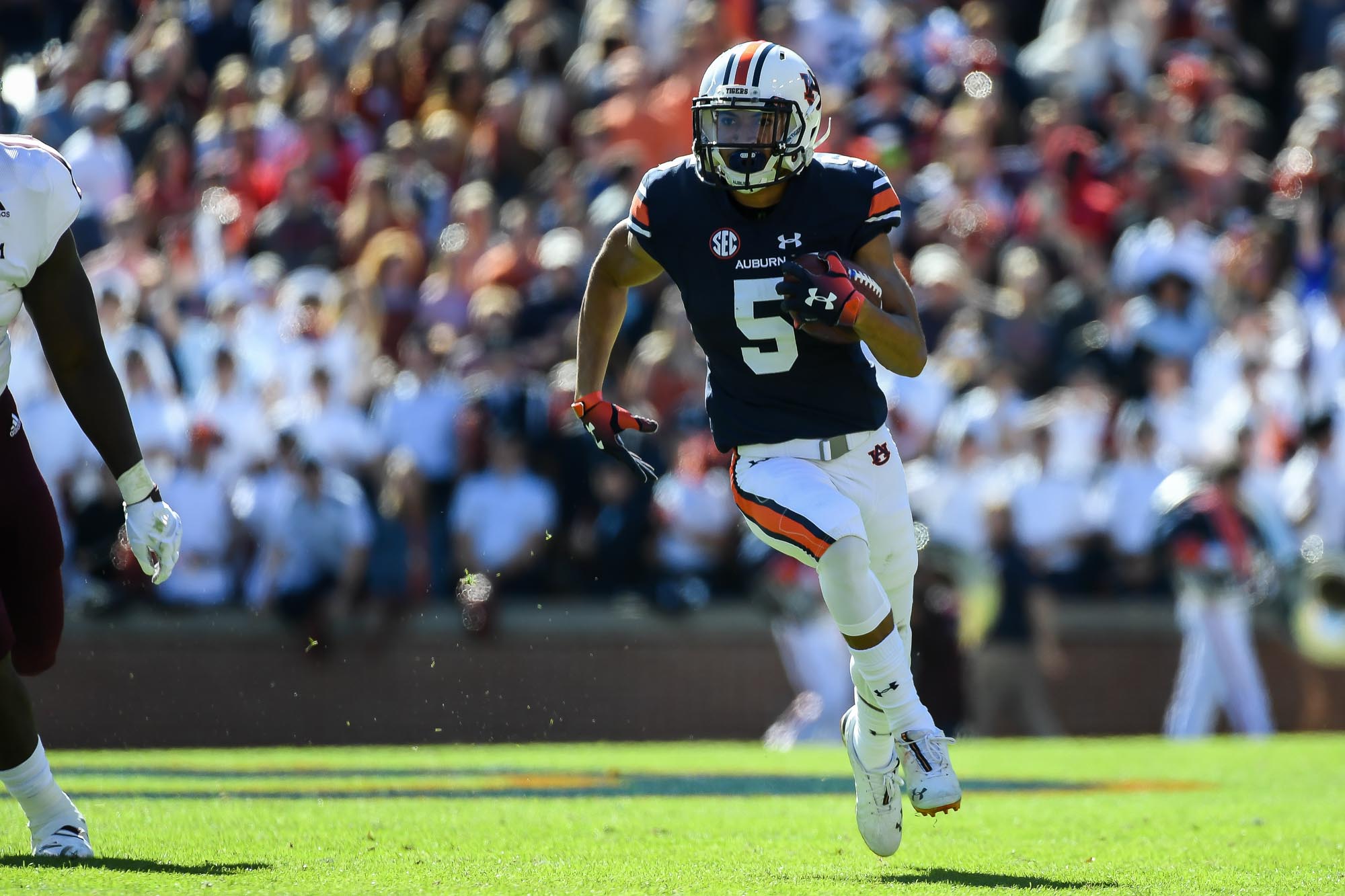 Even with a slow break, he was still getting truly ridiculous room to operate. If the word I've heard from preseason practice is right, and Schwartz has improved his route tree, I would not be at all surprised to see him spend a lot of time on the outside. This does come with the caveat, however, that the WRs have been doing a lot of cross training this fall, and seeing Schwartz in the Slot or at Y receiver would not be at all strange.
Slot Receiver: Will Hastings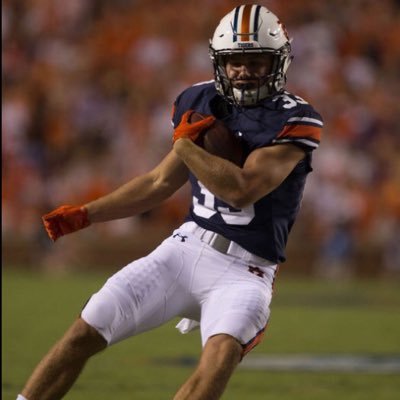 You may notice my offensive lineup thus far contains a lot of speed, and not a whole lot of size. It's not completely intentional, but it's also not entirely an accident. Nix at QB brings a certain philosophy to the offense when it comes to passing specifically, that being that Nix can scramble and create plays on the run quite effectively. He hates to throw the ball away, and having two of the fastest, most agile players on the team playing at the same time means when things break down, these two have a very good chance of finding room downfield.
Hastings is also a very willing blocker despite his size disadvantage and is invaluable as a short yardage safety valve (see also: 2017 Iron Bowl). In my mind, he's simply just one of those guys that is far too talented to take off the field.
Y Receiver: Seth Williams
Alright, let's talk about Seth Williams. Give me four of this guy, and I will make a challenge to any receiver group in the SEC. He's that good as a raw talent. And I do mean raw. In his freshman year, he was a crazy athletic asset, but he suffered at times because he couldn't create lots of separation. Beyond that, he wasn't especially proficient at getting yards after the catch (aside from one big catch against Ole Miss) and got called for holding on runs a couple of times. If it sounds like I'm being nitpicky, it's because I have to be. It's tough to look at his game and say he's not looking like a legit WR1.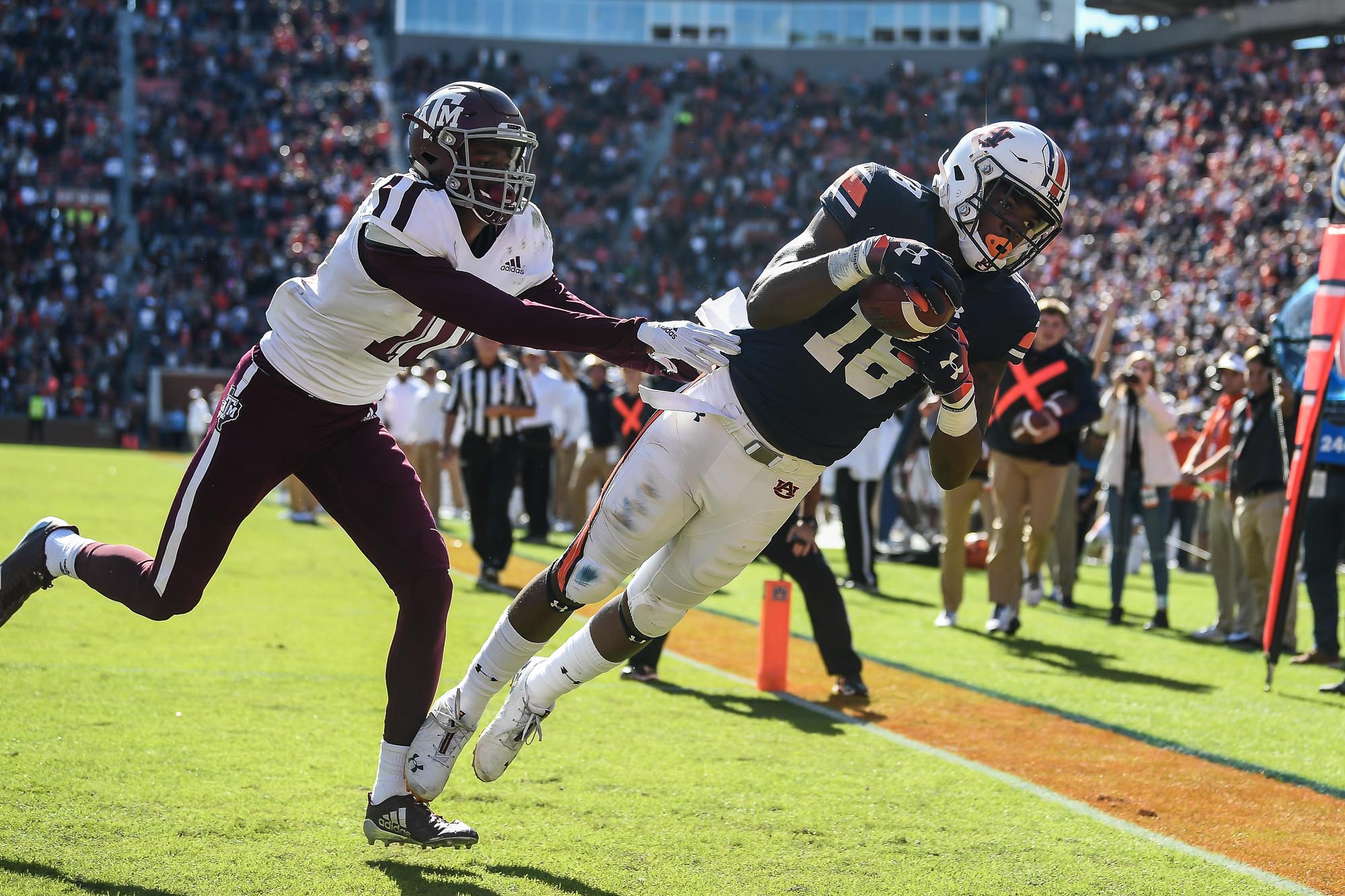 Now let's talk about why I put him at Y instead of X. I really like what his frame can do for blocking, and I feel like the small bit of extra congestion that comes with a Slot and/or TE on his side of the field can help him break free better in route concepts. Again, like everyone else in the WR room, I fully expect Seth to move around, especially to Big Slot as it lets him attack the seam like no one else showed an ability to in 2018 (fingers crossed Jay Jay Wilson) and block OLBs on the regular. The only reason I don't place him full time at Slot is I think Hastings needs to be the go-to in that position.
Harold Joiner: Harold Joiner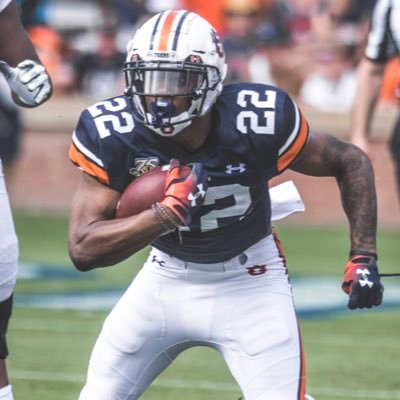 This man gets his own position in the offense because otherwise I have zero clue what he does, but I know what he's not gonna do in 2019 and that's ride the bench. I expect Joiner to be subbed in for Jay Jay Wilson for entire series at a time whether that's as an RB2, a HB, slot WR, Wildcat QB, hell they might put him at flanker or X receiver for all I know. That's how much this staff seems to trust him to make plays.
I know it's hard to get a hold on what his role is without a comparison, so here's one I know Auburn fans will begrudgingly respect: 2017 DeAndre Swift. In 2018, Swift took over RB1 duties for UGA, but before that, he was largely a big play threat behind Sony Michel and Nick Chubb, and a big part of why Auburn accomplished that dismantling of UGA in 2017 was Kevin Steele telling the defense to pay special attention to shutting down Swift. Joiner can be that guy for us, the guy that demands more than his fair share of eyes in the defense. Gus is a master at using those kinds of players to get defenses running themselves silly.