It was one of those days. We had seen some good things this year. We had seen some signs that there was some bad hiding in there until a better team would expose it. On Saturday in College Station we saw more bad than good. Obviously.
We can start with the offense. Payton Thorne showed against a lesser opponent last week that he had legs and knew how to use them. This week, after two plays, it was apparent that part of the game plan wasn't going to work.
The Aggies were hellbent on putting pressure on Thorne to make the passing game tougher. And what that did was also completely kill his running game. This was mainly due to the fact that their ears were pinned back nearly every play and they were able to slash through the offensive line with ease.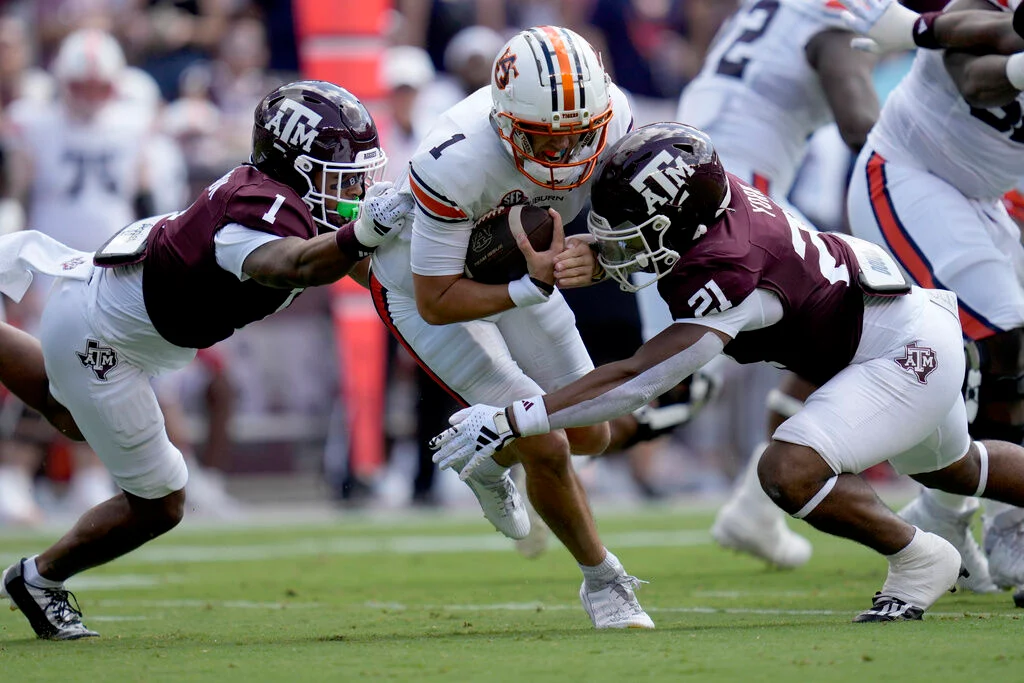 We saw issues last week against Samford that the offensive line wasn't even able to open holes for Auburn's running backs to get going. Weirdly, they had more success clearing the way for Jarquez and Co. against a much better defensive line, but then also couldn't give Thorne more than one second to look for a receiver.
Of course, that's all Thorne's fault to the casual observer because the ball is in his hand, but I'm not sure how many football players at any level are going to be able to move on from sack #9 with an average of 2 seconds to try and find a receiver open. There were a few plays where he could've stood tall in the pocket, or stepped up, but again, when a thing happens 9 out of 10 times, you're probably thinking about those 9 more than the 1.
It was a positive to see the running game and Jarquez get going when those plays were called, but the lack of any sort of passing game, ended up closing that up as well. Note: receivers have to catch balls when it's one of those days where they aren't going to get many balls thrown their way… or anybody's way.
The defense and their elaborate blitz packages have been the story of the season. They were the main positive of the day. Given how badly the offense played, it's easy to act like the game was a blowout. Until the Aggies had the long run aided by an egregious uncalled block, it was a 10-point game in the 4th quarter. It was also a 10-point game because the defense scored the lone touchdown.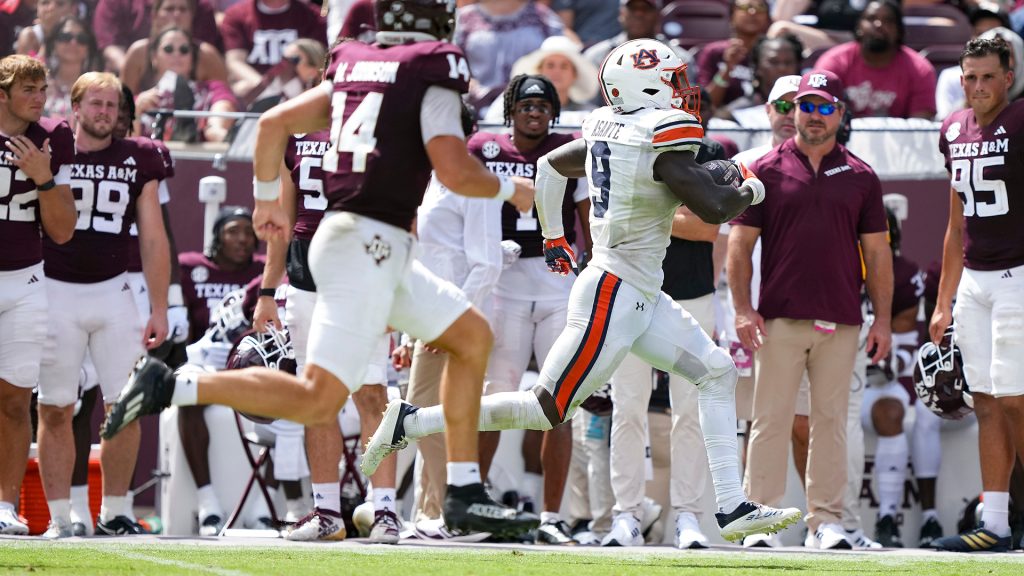 However, when you start every defensive stand with a 60 yard field due to a punt from inside the 20, eventually there's going to be one or two breaks in the dam. That's exactly what happened Saturday. And honestly it's exactly what happened in 2021, the last time Auburn was in College Station.
Plain and simple, it was a terrible day for the offense. It was a great game plan by the Texas A&M defense that is anchored by a defensive line of 5-stars. That's all it comes down to.
Every time something seemed to go well, it was called back, or ended up being a bigger negative than before. The defense held as long as they could. Auburn just looked like a team of new-ish players, coaches, and scheme playing a team with better players and a founded coaching staff. On the road.
Now, Auburn gets another team that sounds a lot like that, but this time it will be at home against a UGA that doesn't seem to have the power it's had the last few years. We'll get more into that over the week, but it's just best to just take this one as tough SEC road loss and learn from it.