Well alrighty then, Auburn.
I want to pat myself on the back for a second before I get started. I pointed out a few examples of the Auburn offensive line putting good reps on tape against Alabama, and I said I wanted to somehow frame the gifs of them performing well and hang them in the OL meeting room.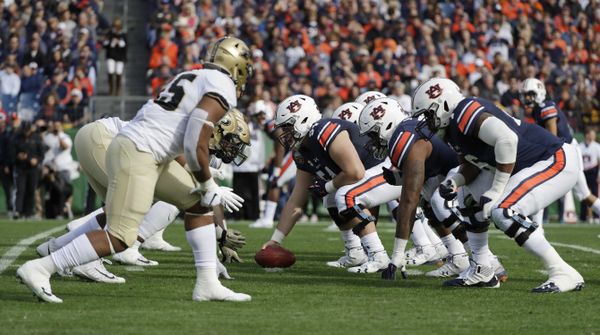 Well, it turns out they might have heeded my advice by playing their best game of the season by a country mile. This game was not the result of Purdue being worse than we thought they were, though the talent gap was obvious. We've seen that level of competition play against Auburn this season, and the offense did not score 63 points against Tennessee, Ole Miss, Arkansas, Southern Miss, or Liberty. No, this Auburn team got better between the Alabama and Purdue games, and they did it in a hurry.
With that said, I don't want to cover the highlights. I want to hit some smaller plays that, while not as flashy as all the touchdowns, were just as indicative of the game Auburn played, if not moreso. Without further adieu, let's get started.
The first thing that isn't a touchdown to note is the defensive gameplan: protect the edge and kill any chance of Rondale Moore having a big game. The defense did their job about as well as you can expect them to against a great athlete like Moore.
Welcome to the show Javaris! The fact that a cornerback beat a defensive tackle to the edge and brought Blough down tells a lot of the story as far as the pass rush is concerned. Auburn wasn't that great in coverage on Friday, but more than made up for it with their constant presence in the Purdue backfield. On the same play you'll start to notice a theme as well: Auburn's DL is upfield on near every play, disrupting all of the gadget plays Purdue likes to run. It makes sense, really. Put Derrick Brown in any QB's lap and he's gonna make a bad read or two.
But I know what y'all are here for. Kam Martin running the ball… right? Pay special attention to Chandler Cox's beautiful block sealing the seam for Martin. And just LOOK at that OL, playing physical and violent downfield. Just think, we could have this all the time if this line keeps developing. If they improve at the rate they did between Alabama and Purdue, we will have another 1000-yard rusher to get the streak going again in no time at all.
Look at this perimeter blocking! The combo blocks! Combine that with Kam Martin running quick, fast, and in a hurry around the edge and it's a recipe for success.
Just marvel at this pocket for Stidham to throw from. This man has not had this since he came to Auburn, not with Braden Smith and Austin Golson, not in 2018 either. Dump on the Purdue defensive line all you want, this is an excellent rep of technique no matter who you're playing. Chandler Cox is looking for the delayed blitz on the strong side, and Stidham steps up. This is just execution at its best. I need to look up more adjectives for this performance, I literally do not know how to say how much better this is.
While we can compliment the blocking all day in this game, here's an example of a great little RPO concept that setup Auburn's 3rd touchdown of the day. The idea here is for all the receivers to "block" (read: break down in front of their man) for a QB run while Slayton runs to the corner of the end zone for Stidham to either throw a short pass. Stidham just needs to make one read: does the corner stay with Slayton or come to stop the QB run? He opts to stick to Slayton, so Stidham tucks it, the blocks cement, and Auburn is up 21. I love this play call, especially for the red zone.
Oh my bad, not yet, Auburn would have to run the exact same Wildcat off guard play before they got to 21 points.
Here's one that's not gonna make it to the highlight reel, but very nearly did. Dean has to catch this if he's gonna do so well as to cradle it. Excellent read all around, there was never anywhere for this ball to go barring a very un-WR-like throw from Moore. The secondary sealed the edge hard so there wasn't anywhere to run, either. Just make sure you catch that ball in the NFL, Jamel. Not gonna get many freebies like that.
This is going to sound ridiculous, but for the next few minutes of football I could not identify anything that wasn't either an explosive play for an Auburn touchdown or a defensive curb-stomping that I've already covered. Derrick Brown is a large, mean human being.
Here's a fun stat: Auburn had less than 5 minutes of time of possession with 10 minutes to go in the half. There's explosive, and then there's 42 points in 5 minutes of time with the ball.
This catch is convincing me more and more that Sal Cannella is actually only capable of making SportsCenter catches. It seems like every time the ball reaches his hands it's a spectacular grab. Again, however, the protection is impressive, and Stidham has all day to get rid of this ball.
Go get paid, Derrick Brown. Go get paid. The feeding frenzy in the Purdue backfield was in full swing at this point, but I felt the need to show that Derrick Brown just tossed a man aside to go get the QB. This is savagery at its most brutal and I am a proud fan to have seen it.
This throw right here is the kind of thing that's gonna get Stidham drafted. Stepping up in the pocket and laying a dime in tight coverage on a high pressure down and distance. He has been able to make this throw all year but has struggled to deal with pressure. Here he seems to have learned quite a bit in a short time. I'm sure the NFL scouts have noticed the learning curve.
But with all that said, all of the optimism in the world I can muster, I just want to say I'm happy for this Auburn team. Auburn needed this game in the worst way after the last month of speculation and political intrigue in the Auburn program. Nothing shuts up the haters like winning, and the first returns for the changes made for 2019 are very, very positive. For now, War Damn Eagle, and I'll see y'all for the Spring game.