It felt very much like the other trip to Mississippi. The home crowd was in it (albeit mostly illegally), and the typically inferior team was ready to take out decades of frustration on the Tigers in a down year in a very down situation. The firing of Bryan Harsin just six days prior was like blood in the water to the Bulldogs.
The game certainly started that way as Mississippi State went down the field without much trouble. It was 17-0 pretty quickly and the apathy moved in. But then Auburn's defense started getting in the backfield almost every play. They caused a sack-fumble to stop the State momentum, but the offense could only muster a field goal. Either way, after a bunch of punts and a failed 4th-down conversion, it was progress.
That feeling ended quickly as the Bulldog kickoff returner took one to the house. It was 24-3. But don't worry! State fumbled AGAIN! But again… Auburn was only able to muster a field goal. It was 24-6 at the half.
The offense hadn't done anything, but something clicked and the Auburn defense was on Will Rogers like stank on the Tide. That continued in the 2nd half for the most part.
Auburn started the half with a punt, but the thought of Auburn's defense getting in the backfield must've scared the Bulldogs' punter because he whiffed on a snap, giving Auburn the ball on the State side of the field again. Two plays later, Robby Ashford got his legs going for a 20 yard touchdown run.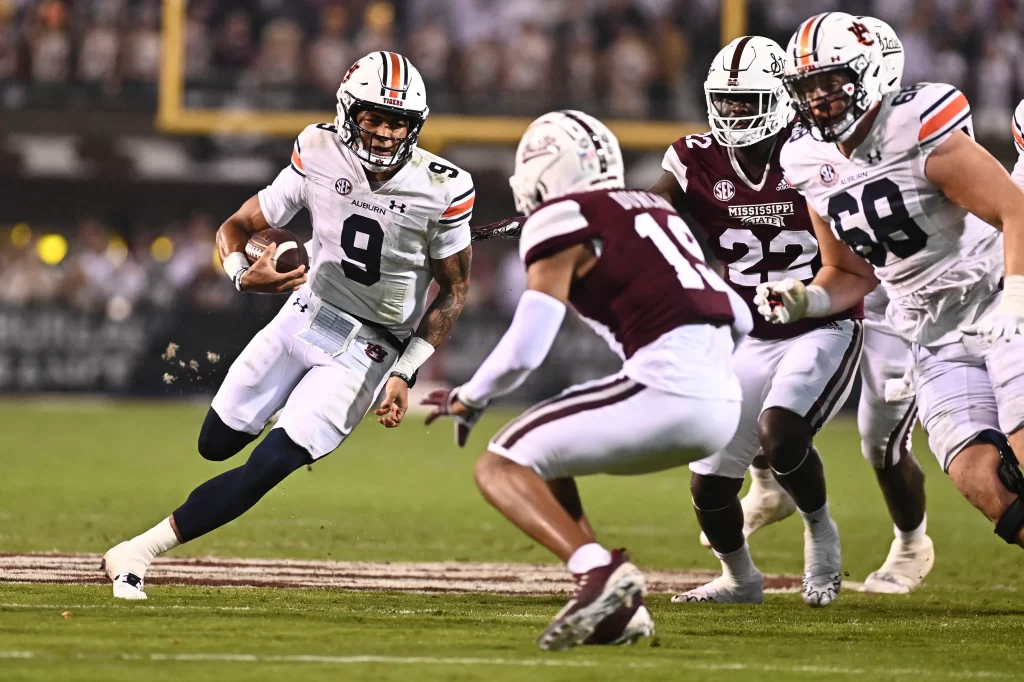 Auburn decided to go for 2 because being down 11 or down 12 is pretty much the same, so might as well try to make it a 10-point deficit. The conversion failed. The score was 24-12.
Two plays later, the Auburn defense showed up again with… what's that? An interception?! What is that? Oh when we catch a ball the other team was throwing. That's fun!
Now I get that Auburn had nothing to lose and Coach Cadillac was flying by the seat of his pants, and field goals are almost giving up. But…
Faced with a 4th and 5 on the 14 yard line, Caddy decided to go for it. It was unsuccessful. Those 3 points would matter. I get it, but that's now 4 free points left on the field…
But don't worry, Auburn forced another punt, and it was a terrible one. Auburn started their drive on the State 35-yard line. A few plays later, Robby ran one in again. This time the Tigers kicked the XP and the score was 24-19.
After trading a few sets of punts, Auburn put a real drive together. It was just a short one of four runs for 60 yards, capped off with a classic Tank run of 41 yards. Before the extra point, this gave Auburn a 1-point lead of 25-24. The analytics say go for two. Auburn did, and they did not convert. (that is 5 free points left on the field)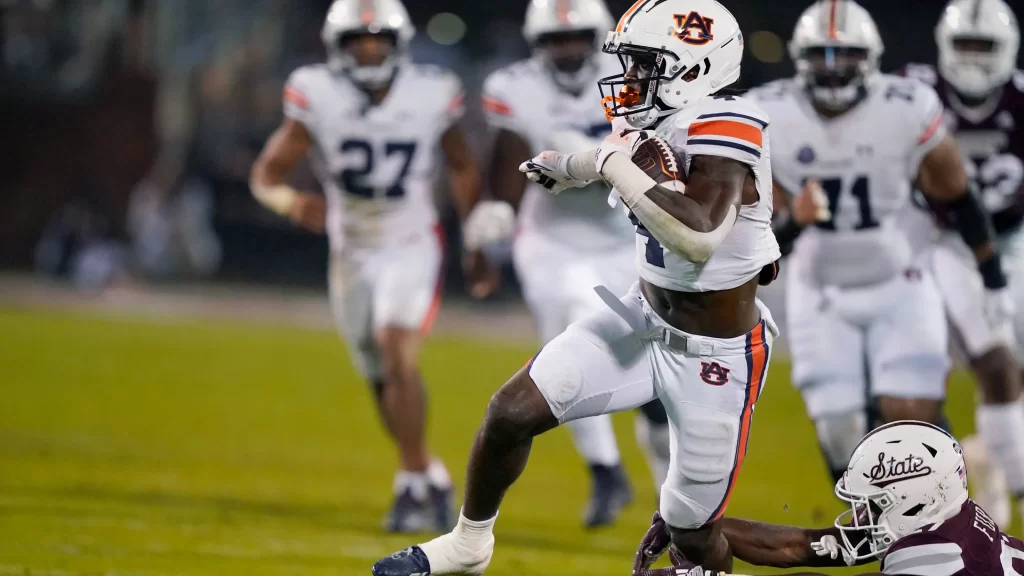 Well, then State put together their only true scoring drive of the half following Auburn's 22-point comeback with an 8 play, 65-yard drive. Their 2-point conversion failed so the lead was 30-25.
Auburn had roughly 3:45 to score a touchdown for the win. They delivered. 75 yards in just over 2 minutes. Three 3rd-down conversions. Jarquez Hunter 8 yards for the score with a minute to go. Auburn led 33-30.
Remember that field goal that was passed up? Remember those two 2-point conversions early in the game? 5 points. 33+5=38. 38-30=8.  It is literally impossible to lose an eight-point lead on one drive. I get it, but just saying…
All Auburn needed was one more stop.
With a field goal needed, it's pretty detrimental to kick the ball short to start the drive at the 35, BUT THEN have some sort of personal foul away from the play that was never found or shown.
So State started their game-tying drive on the 50. It was actually a small victory to hold them to a field goal. And it was even more impressive that their kicker made a 44-yard field goal from the left hash three times due to Caddy's triple icing attempt.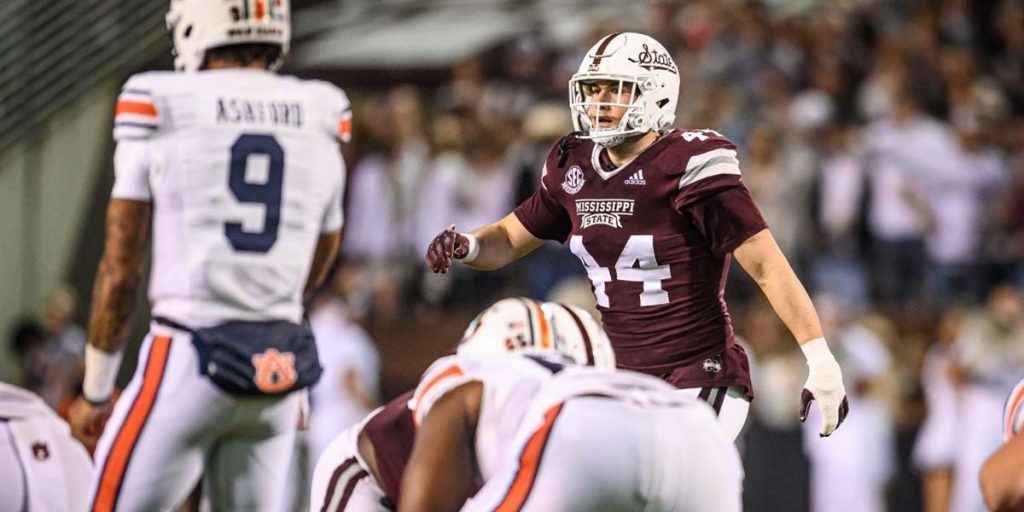 Alright, Auburn had roughly 30 seconds to try and kick a field goal. NOPE. The kicker tried to squib the ball and it hit Sean Jackson at 100 mph, which allowed State to jump on the ball and actually give themselves 30 seconds to get into field goal position.
After a few positive plays and a State penalty, they were left with a 56-yarder to win the game. It wasn't even close.
Auburn started off overtime with the ball, and it looked more like 1st half Auburn. Incomplete pass, short run, incomplete pass…. missed field goal. Don't ever get married before you turn pro, folks.
State got the ball only needing a field goal to win. It wouldn't matter because the worst pass interference call you'll see gave State a short 1st down inside the 10 and they ran it in for a touchdown.
Again, I get the whole situation and the "nothing to lose" attitude, and the Auburn defense stepped up for 2 quarters and changed the game with turnovers and giving Auburn a short field. But those 5 free points that would've virtually won the game or at least caused Mississippi State to need to score a touchdown with a 2-point conversion in one minute should be a story.
It won't be, and I get why. But imagine if Auburn's last two coaches called the exact same game.
Anyway. It was a good close SEC game following a week of turmoil. Auburn is not near as bad as the world wants to say just because it relieves pressure or is convenient. And they weren't near as bad 2 weeks ago either.
Here come the Aggies, it's the most winnable game Auburn has left, and yes I'm including Western Kentucky. Let's get us another SEC win.