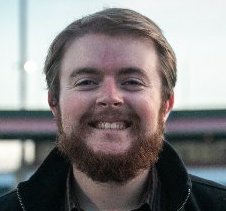 Alex Simon is an editor and reporter for the San Jose Mercury News, where he's been at since the start of 2022. He's covered college football all over the country, from the FCS to the Mountain West and the Pac-12. You can follow Alex on Twitter at @AlexSimonSports. Alex is making his first appearance on the 'Blogle and he does a fine job, except for that one statement down there.

1. What's the first thing a San Jose State fan thinks of when Auburn football comes to mind?
How close it was back on Oct. 3, 2015. Onside kicks aren't dependable, but it's wild to recall that the Spartans were only down 7 with less than six minutes left and they decided to try and get the ball back. If SJSU had recovered the onside kick… what could have been?
2. What's the vibe like in San Jose after a close win over Portland State?
Some relief and some worry. Relief because a veteran group with some conference-winning aspirations barely snuck out a win against an FCS school (even if they had plenty of FBS-level transfers). Worry because … well, read that last sentence all over again.
3. Name two Spartans that Auburn fans should look out for and why?
If San Jose State is going to have a big day, it'll be because Cade Hall and Viliami Fehoko get to the quarterback. SJSU's two edge rushers have both shined for a while and will have some NFL interest. If one does well, it's a good sign for the Spartans. If both names get said a lot, it's a great sign for the Spartans. (For more on Hall and Fehoko, read this)
4. Which two Auburn Tigers worry you the most?
Derick Hall is the guy who could have a feast on Saturday. SJSU's offensive line looked vulnerable against an FCS opponent. What could a potential first rounder like Hall do to this inexperienced group? Additionally, Tank Bigsby was excellent against Mercer, and though he'll get a much harder test this week, he's one of the best offensive players SJSU will face this season.
5. Where does San Jose State have an advantage in this game?
Togetherness may be a hard thing to see on the field, but there are a ton of Spartans who have been around the program for a while. Brent Brennan still has several defensive starters from his first two recruiting classes in 2017 and 2018, and the group won a conference title together in 2020. If push comes to shove in a tight game, San Jose State feels like they'll fight for each other. Does it feel like that on the Plains right now? From the outside looking in, it sure doesn't seem that way.
6. Bryan Harsin and his Boise boys have lots of history with the Spartans and they with him. Do you think that could be a factor in the game?
It has to be something to watch, right? Harsin and his staff coached against plenty of Spartan players as recently as 2020, and some faced Harsin's Broncos multiple times. It will be fascinating to see how the Auburn offense and SJSU defense stack up.
7. Who are you two favorite Auburn Tigers of all time and why?
Chris Davis and Cam Newton: Davis because the Kick Six is forever legendary and Newton because watching his one season in Auburn remains one of my favorites as a college football fan — even if Michael Dyer was down ;)
8. What is your score prediction/analysis for this game?
San Jose State's very inexperienced offensive line allowed seven sacks, several pressures and forced QB scrambles to an FCS defensive line. It is hard to fathom that group somehow performing better against an SEC d-line. The Spartans defense may be able to keep it close, but in a low-scoring affair, I see Auburn winning 27-7. But… well, read one question down quickly for a crazy hypothetical.
9. Where will Auburn and San Jose State end up this year?
From the outside looking in, it sure seems like Harsin is not long for the Plains. If this game is close — or even, somehow, a miracle San Jose State upset — it probably spells doom for the next few weeks and, before October, a firing. San Jose State was one of the biggest nails in Chad Morris' coffin at Arkansas in 2019 when they pulled off the upset there, so Brennan and plenty of fellas on this team remember that. Okay, back to the question: Auburn ends up firing Harsin, but rebounding a tad to finish 6-6. For SJSU, it will be a close-but-no-cigar season, 9-3 but a loss to Fresno State keeps them out of the Mountain West title game.
10. Do you know the way to San Jose?
I do, but more importantly for Auburn fans, I also know the path to Berkeley, too. See y'all next year up at Cal?