Well Auburn, here we are.
The long-awaited SEC Media days have come and gone, and our coach has made his remarks on the state of the program, and all eyes now turn to the Fall. There were some highlights as usual. Clark Lea has famously declared Vanderbilt will be "the best football program in the country" and Jimbo Fisher wants a cut of Kirby Smart's pay raise. Kirby himself wants to move Florida-Georgia to home and home, but who honestly cares about what schools in red think?
Besides, the event that everyone was waiting for was Bryan Harsin. After a tumultuous offseason that saw the boosters attempt a more successful Jetgate 2.0, the Auburn players and fanbase rallied support behind our coach to ensure the man gets a damn chance. And after watching him take the stand yesterday, who honestly would not want him to? Couple of things that impressed me (and you, if you were watching)
An Auburn Man – I thought it was touching for Harsin to recognize the loss of Mr Auburn himself, Buddy Davidson, before he began his opening statements. I would have expected something about his loss being sad, but to go into his history as a member of the 1957 National Championship team and the 700 game streak caught me by surprise. That shows a man who's truly invested in the place that brought him in to lead them to the mountaintop, and I appreciated the effort he put in to make sure everyone in the room understood who Buddy was. (Rest well, Buddy Davidson. Thank you for representing Auburn and her family well).
There was a glow in Harsin's grin as he raved about Jordan-Hare and the atmosphere at Auburn. I don't see a recruiting pitch as much as I see a man who loves where he's landed and is excited about the days to come.
An Unblinking Man – If anything, the last nail has been put in the coffin for the whole drama about "mistressgate" or whatever we're calling it. All Harsin said before announcing that he would not be taking any more questions on the matter were "There was an inquiry. It was uncomfortable. It was unfounded. It presented an opportunity for people to personally attack me, my family, and also our program. And it didn't work."
Translation: I won. It's over.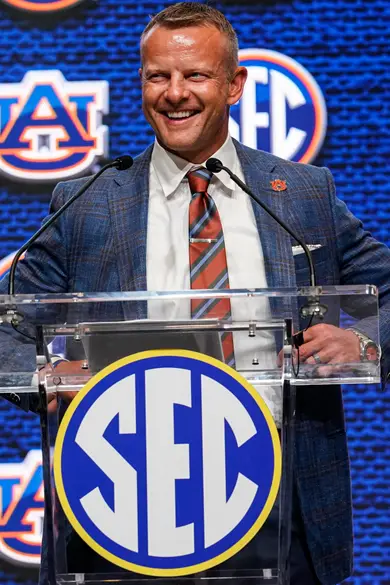 He knows why the inquiry happened. He knows what they think of him. He knows what the media says about "the outsider" who never had a chance the minute he walked off the airplane.
He looked each one in the eye and told them to go cry about it.
He then went about his offseason as normal, brought in Ike Hilliard from notorious NFL wideout factory Pittsburgh, and started a podcast. The pressure now falls on him to deliver this season with a strong start, middle, and finish.
And that's exactly where he wants it.
And that's exactly where his players want it.
And that's exactly where we got 'em.
The players have bought in and WANT to play for him. Tank Bigsby, who withdrew his name from transfer portal consideration and chose to play for Harsin another year, said it himself.
"I just felt like this school is different… I want to change, and I want to do the things I need to do for Auburn… You have to be a different man to be in this program, because a lot of people don't like us."
The media then backed up those comments with rewarding Auburn the highly coveted last-place finish in the West. Nobody is a fan of what Harsin is building. It seems that everyone outside of myself and Charles Barkley want him to fail, but for what reason? To have yet another rebuild year? To make the program seem more unattractive to other coaches? To break trust with future recruits? If the same coach who took the podium yesterday walks out onto the sidelines, Auburn is going to surprise some people.
Well, some people. Just not our coach.