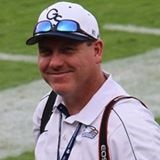 Paul Barkley (@GSUFANS/Facebook) owns and operates GSUFANS.com, an independent site covering Georgia Southern athletics since 1997. In his spare time, he serves as the current Georgia Southern Alumni Association President. GSUFANS.com is the source for Georgia Southern Sports talk, and is also a proud partner of GATAdb.com, together providing Eagle fans to a wealth of historical statistics, exclusive photos, and imagery.

1. What's the first thing Georgia Southern fans think of when Auburn football comes to mind?
Probably depends on the age of the Georgia Southern fan. An older guy like myself, harkens back to the first time we played in the 1991 opener. We started the 1991 season how we finished 1990 … kicking butt. We led that opener 17-3 at the half, before falling to the Tigers 24-17. I was there that day, and watched Rodney Oglesby drop what would have been a sure-fire pick-6 … right before the end of the first half.
I always looked to that game as what if ? In 1990, the Sun Belt had been on campus evaluating our sports program, and there was talk of moving up to Division I-A. Had we made that move in 1991, perhaps we would now be an AAC program or somewhere else, who knows.
2. What's the mood like for the 2017 season? Is head coach Tyson Summers the guy to lead Georgia Southern to the top of the Sun Belt?
Cautiously optimistic for the 2017 season. As for the question on Summer's, I'm going to have to give a pedestrian answer and say that the 2016 version isn't, and that the jury is still out. Summers never seemed to have an in-game brain cramp, which is reassuring, but some of the program structure outside of game-day in 2016 (especially the coaching composition) never positioned us to exploit a talented and dangerously good roster.
Fast forward to this year, and we (the fans) think that some of those "structural" issues have been addressed, but yet we now have a young roster. Summers had a strong first recruiting class in a very short span of time after taking the job, but last year's recruiting haul wasn't as highly regarded, but it came on the heels of a disappointing season. So there really aren't enough data points yet to fully answer the question. The Sun Belt has some excellent coaches and the competition for the top spot doesn't come easy.
3. Name two Eagles that Auburn fans should worry about and why.
Running back Wesley Fields. If Georgia Southern fans know anything, they know a good looking running back when they see one. Fields should be a big part of our success in 2017, so if we're clicking on all cylinders Fields is having a great day.
Myles Campbell. Shifty and fast, if we incorporate him into the game plan to utilize his strengths he could cause some problems. Scored a TD vs. Ole Miss, he's a small guy who can hide behind the line and move around without being seen, only to reappear and toast the defense.
4. Name two Tigers that worry you and why.

Jarrett Stidham. Seems like he might be pretty good. Georgia Southern has struggled at times with dual-threat QB's, especially those who are accurate passers.
Jalen Harris is another worry, if not so much for his stats but what he is capable of. Historically we haven't covered tight ends very well. Harris could be in for a big day if we don't pay him some attention.
5. Who are your two favorite Auburn Tigers of all time and why?
Erk Russell, Auburn's last 4-sport letterman. If your readers have never really read up on Erk, once they do they'll understand what he means to the Georgia Southern family, which extends well beyond the realm of football. I was fortunate to get to know him on a casual basis, as a number of my fraternity brothers played for him when I was in school (1987-1990) and he was truly one of a kind. He never met a stranger, and was as genuine as they come.
Bo Jackson. I'm showing my age here, but how can you not be impressed by someone who is one of the few people in the history of sports to be named an All-Star in two professional leagues.
6. Where do you see each team having a decided advantage?

Georgia Southern has a slight (not decided) advantage by using an option attack that is still rather unique due to the style of blocking. Auburn has limited tape to prepare from, so there are some unknowns that might give the Eagles an early advantage they must seize upon if they hope to win. Auburn clearly has an advantage in quality depth, experience and talent on the roster.
7. What's the best and worst case for Georgia Southern this Saturday?
Best case would be a win of course, but outside of that prospect a solid outing for the offense and redshirt-FR QB Shai Werts. After an extremely lackluster 2016 season with a lot of returning talent, most Georgia Southern fans just want to see some semblance of a cohesive attack. Should it resemble anything close to our 'usual' production I think most Eagle fans will be pleased.
Worst case would be to get completely curb-stomped and lose some key young players to injury. With only 8 seniors on the entire squad, we can't afford to have the youth movement completely demoralized. That would be a bad start to the 2017 campaign.
8. What's your score prediction and analysis for this game?
Auburn 42, Georgia Southern 27. I haven't spent too much time dissecting this game but will predict that Georgia Southern will lead in time of possession, turnovers and field goals, but probably not points. Outside of that, the game shapes up as one where I think both squads will end the day knowing that they had to earn what they got.
9. Where will Auburn and Georgia Southern end up this season?

I think Georgia Southern is looking at a 7-5 overall mark, finishing 4th in the Sun Belt standings. The conference road schedule is not favorable to the Eagles in 2017. Auburn will get to a 10-2 record, finishing 2nd in the SEC-W.
10. Why did you steal our pregame eagle flight idea?

It is an easy decision, really. If you're going to steal an idea at least let it be a cool one. God help us if we had a Bulldog as a mascot.
We first tried flying a tiger off the press box but that didn't work (whoops), so we went with the next best thing, a Bald Eagle named Freedom. 'Merica. How fortuitous for us, that our mascot was an Eagle. What most Auburn fans don't probably know is not only has Freedom appropriated Spirit and Nova's pregame routine, Freedom has taken the art of independence one step further to the highest possible level.
While Spirit and Nova were busy FLYING INTO PRESS BOX WINDOWS and GOALPOSTS, Freedom has perfected the art of deviating from the designated flight path, where she plops down into the tailgating lots surrounding the stadium. Rather coincidental that Freedom decided to do that just 3 weeks after Spirit flunked flight school, but it is what it is.
And while we're on the subject matter of thievery, we know your affection for Toomer's Corner and trees, but we are not impressed. We won't poison your trees, but if you are ever in Statesboro, Georgia on campus, be sure to check out our own Sweetheart Circle, which has its own 110+ year history of beautiful live oaks and traditions. Oh, and the burial site of a Pygmy whale. Perhaps we need to try tossing the whale carcass off the press box.