19. Auburn 20 vs. Florida State 17 – Oct. 20, 1990
Note: This game was #16 in the 2010 edition of this list.
How I Remember It: I don't. I was just told this one was good enough to be on the list, and after doing a little research, I agree.
What Really Happened: Auburn came into the game with a 4-0-1 record and ranked 5th in the nation. The tie was to Tennessee which is 27th on the list. Florida State was 4-1 and ranked 7th.
Auburn took an early 7-0 lead late in the 1st quarter with a 6-yard touchdown run. However, Florida State scored 17 points in the 2nd quarter alone to go into the half with the 17-7 lead.
Auburn would add a field goal by Jim Von Wyl in the 3rd quarter to go into the 4th down seven points.
For some reason, with a 7-point lead the Seminoles tried a fumblerooski, but were unsuccessful as Auburn fell on the ball before the Florida State lineman had a chance to pick it up.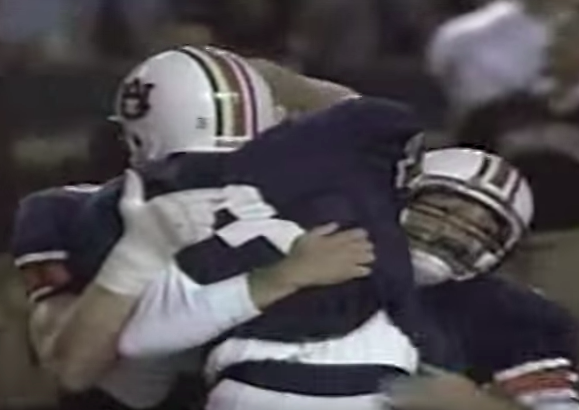 Auburn running back, Stacy Danley, scored the tying touchdown with 3:47 left to play. Florida State would drive down to the Auburn 37-yard line, but on 4th and 5, Seminole quarterback, Casey Weldon, was sacked for a 22-yard loss with 1:04 to play.
The Tigers then drove down to the 21-yard line where Von Wyl kicked the game winning field goal as time expired.
Fun Fact: Miami (#2) and Tennessee (#3) both lost that day and the Tigers jumped to #2 in the nation in the polls. The win also gave Auburn sole possession of 1st place in the SEC.
Why did I pick this game? Like I said, I didn't remember this game. I should have, but I guess I had a tree to climb or something. When I went back and read about it, though, there was no way I could leave it off the list. A top-10 battle going down to a last second field goal with a bonehead play call to allow a comeback that vaulted the Tigers to #2 in the nation? Yeah, that's pretty big.
Play of the Game: The failed fumblerooski was big, but the last second field goal won it, so I'll give it to the kick.
Player of the Game: Jim Von Wyl kicked two field goals, including the game winner. Plus, he has an awesome name.
Notes: Box Score | Auburn Game Program Cover

Final minute of game:
You can view the rest of the 2015 edition of this list here.