I'm not going to sugar coat anything. I'm not going to try to blow smoke up anybody's butt about what happened Saturday and what could still happen. Auburn flat out got embarrassed. That was an absolutely pathetic display of offense and that's really all you can say about it. The most frustrating part was how well the defense played. Auburn didn't allow a single offensive touchdown and still managed to lose by 14 points. That is just sickening and disgusting and embarrassing and nauseating and where is the damn Tylenol? So, what went wrong?
Give credit to Texas A&M first and foremost. They were coming off their bye week and had a great game plan defensively. The soft holes in the zone that Auburn has been exploiting just weren't there. The offensive line got man handled up front and got absolutely no push all afternoon. The combination of Tank, Hunter, Shivers, and Nix only ran for 73 yards on 29 carries. For you math lovers that is a whopping 2.5 yards per carry. Do I even need to try and explain that this is the only stat that matters? You simply must be able to run the football in this league to have success, especially on the road in a tough environment.
Are you guys picking up on the constant theme when Auburn loses? The inability to run the football and the inability for the receivers to create any separation is glaring. It's called a talent gap folks. Auburn struggles with teams that have talented defensive lines. The lack of true talent on the offensive line makes Auburn one dimensional in big games forcing Auburn into more passing situations than they really want to be in. For some teams that might not be the death knell, but it exposes the next glaring talent gap on the team in the wide receiver position.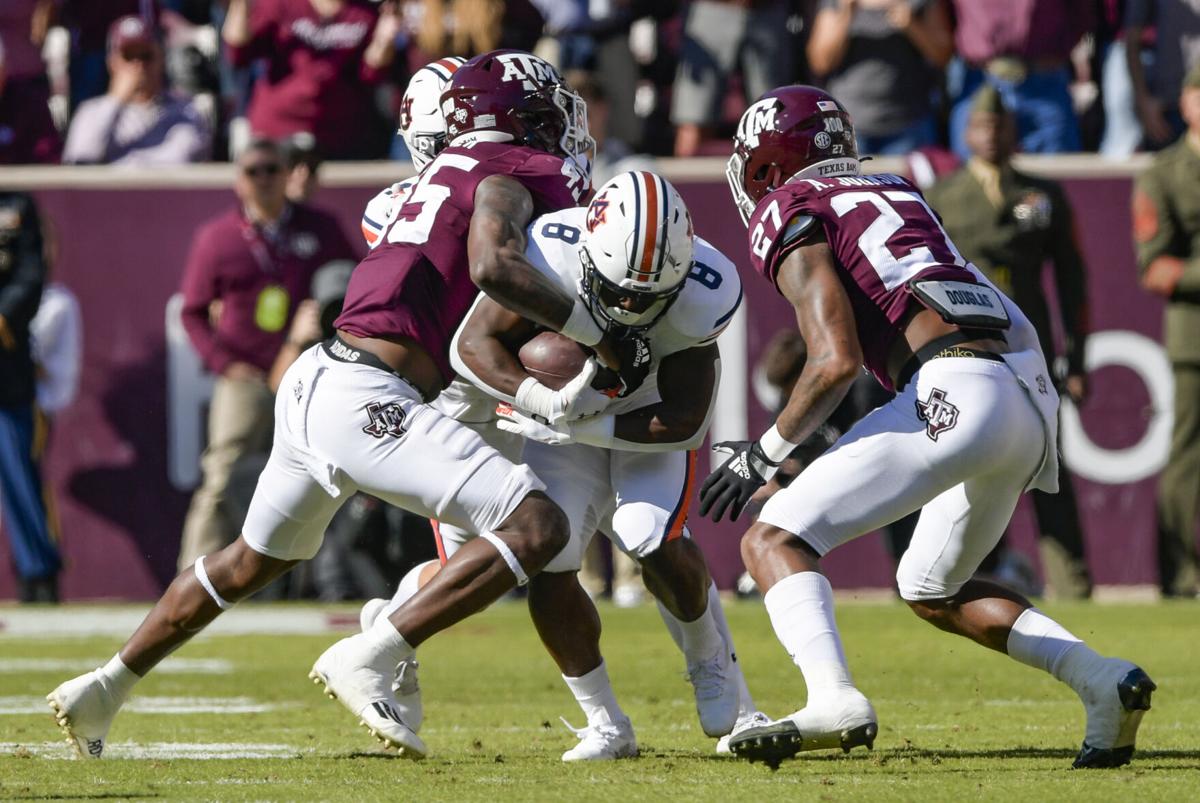 This isn't Seth Williams, Eli Stove, and Anthony Schwartz lined up out there unfortunately. (Could you imagine if we still had those three in this system, brb, going to go cry) In all seriousness, Auburn can't be forced into being one dimensional. They simply don't have the talent to do so against the best teams in the country. Auburn's recipe for success is balance and they didn't have it Saturday.
So where do we go from here? No time for sulking. We're coming back home with yet another big matchup with Mississippi State. You honestly just never know what you're going to get out of the cowbells. I do know that they have a solid defensive line which has been Auburn's kryptonite to this point. The Pirate's Air raid offensive has suddenly found some balance with the running game and are anything but an easy win. Auburn will have to bring it Saturday to avoid back-to-back losses.
As far as the West is concerned, for Auburn to make it to Atlanta they would have to win their remaining three games in Mississippi State, South Carolina, and Alabama. Texas A&M still has both Ole Miss and LSU on their schedules. Alabama still has Arkansas and Auburn looming. If Alabama wins out, they are heading to Atlanta. What Auburn fans should be cheering for, besides winning out obviously, is for A&M to lose to either Ole Miss or LSU. If Auburn can somehow manage to win the next three and A&M drops one more to the aforementioned, Auburn will win the west.
Let's not worry about the formula. Auburn needs to be 100% focused on the task at hand in Mississippi State or none of it will matter. If there was ever a week to have the 1-0 mentality, this is it. Flush it and move on.