WHERE TO WATCH
Kickoff – 6:00 PM CT, October 30th 2021
Watch –  ESPN
Listen – Auburn Website
Gamecast – ESPN
TEAM HISTORY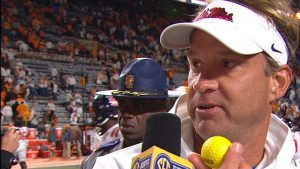 I feel like Ole Miss is a team that should have had a lot of historical success, but actually don't. At a 653-538-35 all-time record, Ole Miss barely has a winning record. In fact, in terms of winning percentage, they're 65th overall. Not. Great. Honestly, if it wasn't for a family whose best athlete attended Tennessee, Ole Miss would be even worse.
SERIES HISTORY
I'm not sure what you'd call this series, but rivalry sure isn't it. Both teams have to have at least a relatively even margin of wins. Auburn leads the all time series 34-10. Outside of the now vacated 2012 win (which never existed because there was no 2012 season, Ole Miss hasn't beaten Auburn by more than 10 points since 1992 (in 2008, Houston Nutt beat Auburn by the score of 17-7).
Auburn has won 5 in a row, and 7 of the last 8. It's actually so bad, that Auburn has won 25 of the last 30 matchups. I hesitate from saying "we own you" or "little brother", but we own this little brother.
WHAT TO WATCH
Lane Kiffin is a wild card. Lane Kiffin is also a joker, and he plans to drop his deuce (#2 Matt Corral) on Auburn. There has been a big deal about Lane Kiffin honoring the analytics and going for it on 4th down a lot. What worries me is Auburn's defense losing morale if a lot of 4th and shorts get converted.
Offensively, Bo Nix is focused, he's having fun. If you think he hasn't improved in this offense, you're a dolt. I'm interested to see if we can finally get our running game back to what it once was. I, personally, love watching Jarquez Hunter spin. I think Auburn wins this one 45-42.