Continuing with coverage of fake (yet based on real facts/stats) football, the gaming website Operation Sports has given us a quick glimpse of the top 10 players, based on overall player rating, from NCAA Football 14. It isn't the whole team, as we saw last year, but it looks like this is all we're getting,
As expected, EA Sports believes the top player on Auburn's 2013 squad, a full three ratings points above the next best player is… Steven Clark? The punter?! I mean I know he had the most reps of any punter in the nation last year, but come on EA. I'm sure his rating is high because he's one of the top punters and that's all they are comparing him too, but that's a little rough to see.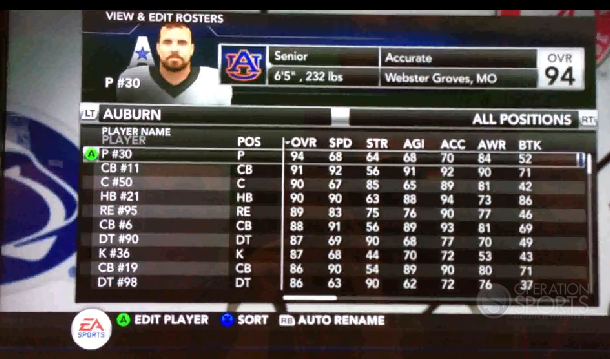 If you aren't privy to the roster, here's how the real life list would look. And yes, regardless of what EA Sports says, these do represent actual unpaid college players.
Steven Clark (Sr.), P
Chris Davis (Sr.), CB
Reese Dismukes (Jr.), C
Tre Mason (Jr.), RB
Dee Ford (Sr.), DE
Jonathon Mincy (Jr.), CB – They have his number wrong. He was #6 last year. He will wear #21 this year. Ricardo Louis (WR) will wear #6 this year.
Gabe Wright (Jr.), DT
Cody Parkey (Sr.), K
Ryan White (Sr.), CB – Interesting since he pretty much as only been the holder for most of his career. Maybe they see a breakout senior year.
Angelo Blackson (Jr.), DT
You may have noticed that there is not a quarterback in the top 10 (and nowhere near the overall top 25 quarterbacks in the game). That's not good, but it was the same way last year. Also, ten players into Auburn's roster, they are already down into the mid-80's in ratings points. Not ideal there either. I love having two great kickers, but having two in the top 10 players of your team isn't what you hope for.
Chris Davis is the fastest and most agile. Gabe Wright and Angelo Blackson are the strongest. That should start a few locker room debates.
You may ask why this matters. Well, because it's June and college football is 79 days away. That's why. And it's also cool to see what an educated company that's not worried about selling magazines thinks about the upcoming year.