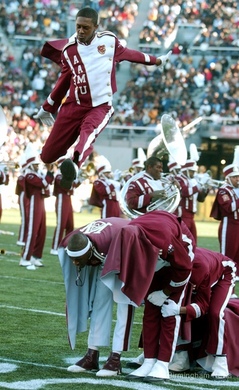 It's rare for a non-conference opponent to take their band to an opposing stadium, especially when it's a paycheck game, but given the close proximity of Alabama A&M in Huntsville to Auburn, it's going down this weekend. The Marching Maroon & White Band, AKA the "Showband of the South" will bring their two dozen bass drums, ear-splitting brass, and astoundingly sensational dancers (known as the Maroon Mirage) to Jordan-Hare, for what should be, hopefully, an otherwise boring game.
I got nothing but love for the AUMB, but it should be fun to see a band with a style that we aren't used to seeing in the SEC come in from a school that takes their marching band as seriously, if not more seriously than their football program. On a day like Saturday, with a year like this, it will be a welcome addition to normal gameday.
The band, which began in 1890, even existed before the school had a football team. They have represented the state in the Rose Bowl Parade, the Independence Day parade in Washington D.C., and many other national events. They have also been named one of the Top 10 Marching Bands among Black Colleges and Universities by Sports Illustrated.
Yeah, yeah, it's just another band, so what? Ok, I'm just going to say it. I love black bands. I love 'em. I love the beats. I love the dancing. I love the loudness of the horns. I love it all. Is that racist? I can say black, right? I don't care. I'm just being real. I love it.
Here's a video from the 1991 Magic City Classic that shows exactly what I'm talking about. It's pretty long because there appears to have been a logjam in the stadium that kept the members from getting into the seats, but watch it all. It's funny to see old video, but it's still the same as today.
And here's what you can plan on hearing all day Saturday from the visiting corner seats.
Bring it on, Bulldogs. Just don't win the game.