Things went about as expected in Week 1. Nobody knew the pirate was going to stymie Coach O that much, so that one can't be held against me. A passing grade is good enough, though. It's still early.
Last week: 7-2 (77.8%)
This week: 5-4 (55.6%)
Overall: 12-6 (66.7%)
This week is about like last week. One or two good games, and then a bunch of games that will give mediocre teams too much credit.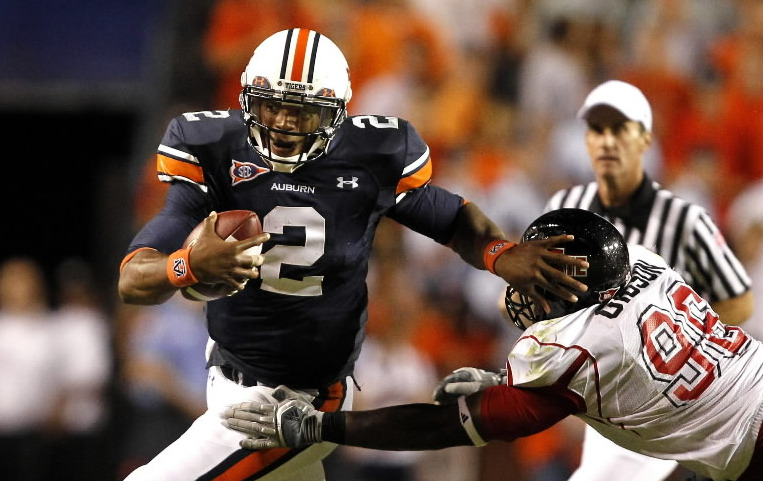 10/3
South Carolina at Florida – Florida will bolster their point total against their former coach's floundering team. I'm not sure the Gamecocks really care about football anymore, as if they ever did. Florida has gotten a pretty nice schedule so far, huh?
Florida 34, South Carolina 10
Florida 38, South Carolina 24 – SUCCESS!
Missouri at Tennessee – Tennessee is on fire! Going back to last season, they have won seven in a row! Let's took at the murderer's row… South Carolina, UAB, Kentucky, Missouri, Vanderbilt, Indiana, and South Carolina again. How have they done it?! And yet again, the dumbs will be duped again after this week's tough opponent.
Tennessee 27, Missouri 13
Tennessee 35, Missouri 12 – SUCCESS!
Texas A&M at Alabama – The Aggies' national championship run had to take a hit last week with a 5-point win over Vanderbilt. Alabama did what they should against Missouri, but looked sorta sloppy in the 4th? This won't be very close, and Alabama will get too much credit.
Alabama 31, Texas A&M 10
Alabama 52, Texas A&M 24 – SUCCESS!
Ole Miss at Kentucky – We will see that Kentucky is actually pretty good after this one. Ole Miss has an offense, but Kentucky will outscore them.
Kentucky 38, Ole Miss 31
Ole Miss 42, Kentucky 41 – FAILURE
LSU at Vanderbilt – Uh ohhhhhhhhhhh………  What do we have here………  nope.
LSU 31, Vanderbilt 3
LSU 41, Vanderbilt 7 – SUCCESS!
Arkansas at Mississippi State – The Maroons are scarier than we thought they'd be, but they may be getting too much hype. LSU was nowhere near last year's LSU and it was the first game of Mississippi State's new offense. It was sort of a perfect storm for the Purple Tigers. Does that mean Arkansas will play them better? No, but this shiny new toy will definitely dull over the course of the season.
Mississippi State 38, Arkansas 21
Arkansas 21, Mississippi State 14 – FAILURE
Auburn at Georgia – Check back tomorrow for my prediction in the game preview, but SPOILER ALERT: Georgia ain't figured it out yet.
Auburn 31, Georgia 14
Georgia 27, Auburn 6 – FAILURE
Other Games of Note
TCU at Texas – The national slate is rough. Texas should've lost last week, but somehow got to overtime with Texas Tech and won. TCU barely lost to Iowa State, who lost to Louisiana-Lafayette. I think that means Texas might be a little bit better. That big ol' stadium is going to seem very empty, but the Longhorns should pull it out.
Texas 31, TCU 17
TCU 33, Texas 31 – FAILURE
North Carolina at Boston College – The Tarheels are ranked #12?!? I guess the Big Ten and Pac-12 really are affecting the polls. Both teams are unbeaten, but neither have done anything special. North Carolina beat Syracuse easily. Boston College beat Duke easily, but only beat Texas State by three. That probably means they aren't very good.
North Carolina 24, Boston College 14
North Carolina 26, Boston College 22 – SUCCESS!
Now that you know who will win, head on over to the 2020 War Blogle Pick 'em and get your picks in. There will be weekly prizes and an overall winner at the end of the season. It's easy. Do it.