2. Auburn 48 vs. Alabama 45 – Nov. 30, 2019
Note: This game was not in the 2010 edition or 2015 editon of this list because it was played in 2019.

How I Remember It: It was an Iron Bowl day. November, cool in the shade, hot in the sun Auburn had played the toughest schedule so far, came in with 2 close losses, and was facing an Alabama team down their starting quarterback. Despite that, Alabama was still top 5.
It felt like an old Iron Bowl where national title implications weren't necessarily on the line every year. You just wanted to beat your rival. If Alabama lost, they were out of the Playoffs, but that was about it. I liked it.
It was back and forth. There were two pick-sixes. Kicks returned for touchdowns. Missed field goals, made field goals. Clock issues, screaming coaches, and a flying helmet. It had nearly everything from start to finish. It was honestly the best, most exciting Iron Bowl I have ever seen. There's just one play that kept this one from taking the top spot in this list.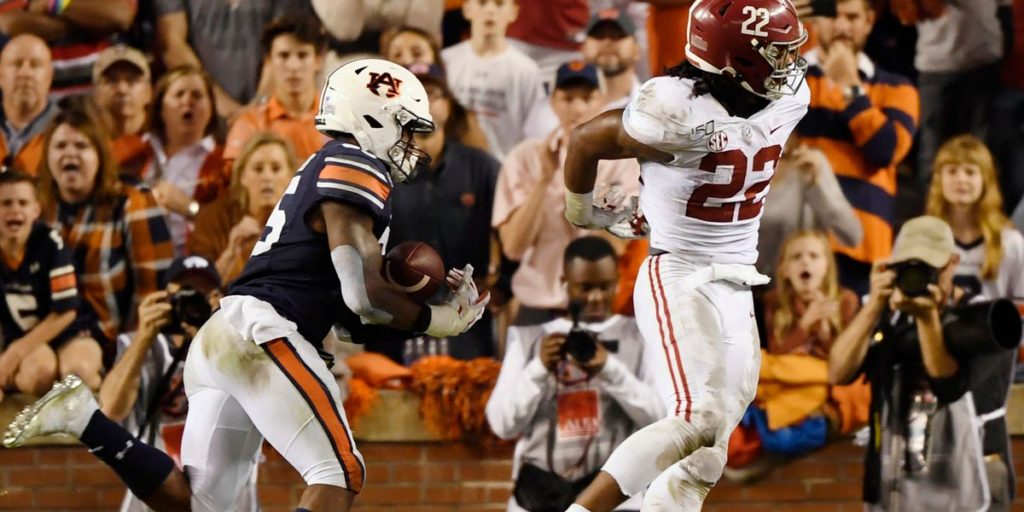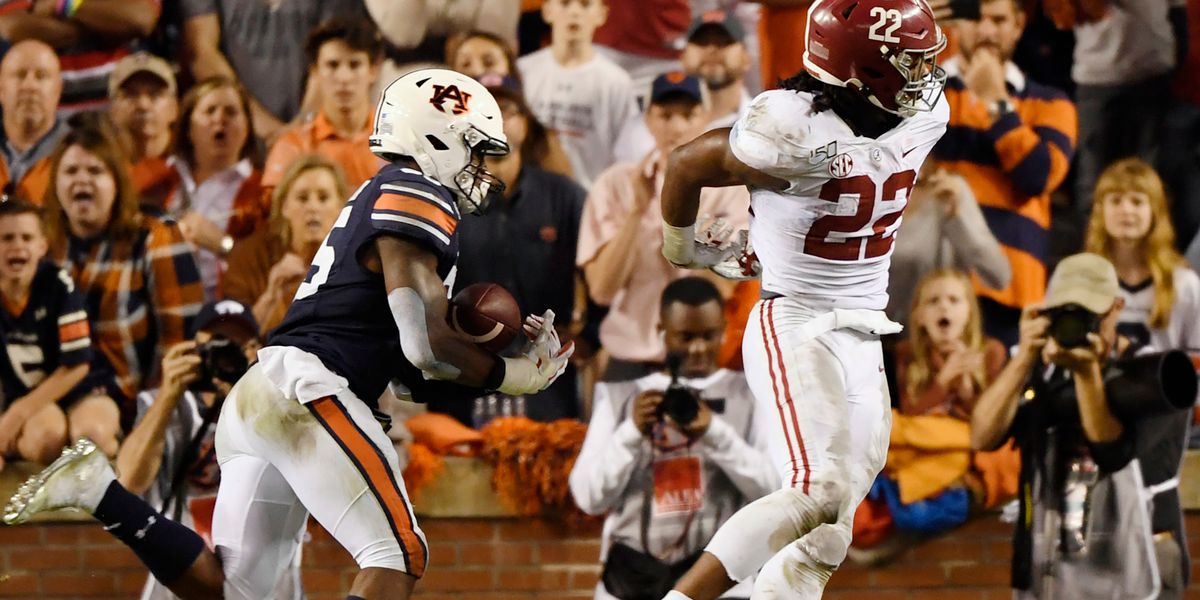 What Really Happened: Auburn had lost on the road at Florida and LSU. They could've and should've won both. Alabama lost to LSU in Tuscaloosa. Tua was hurt against Mississippi State two weeks prior and was unable to play.
To start the scoring, Alabama's field goal actually MADE a field goal. Yeah, weird. Following a good punt return, Auburn had a short field and Bo Nix ran it in a few plays later. After one quarter, Auburn led 7-3. Then it went crazy.
The 2nd quarter featured 48 points: 28 from Alabama, and 20 from Auburn. Here is a breakdown of the nine drives in the 2nd quarter: Alabama touchdown run, Auburn field goal, Auburn touchdown on a pick-six, Alabama touchdown on following kickoff return, Auburn fumble, Alabama touchdown pass, Auburn touchdown pass, Alabama touchdown pass, Auburn field goal after one second was put on the clock. The last play caused a hissy fit a rule change for the 2020 season. At the half, Alabama led 31-27.
Anders Carlson would bring Auburn within one with a field goal on the 1st drive of the 2nd half. Just when it looked like Alabama would extend their lead to eight, the Auburn defensive line got to Mac Jones quickly causing him to throw the ball into the back of his running back who was running a route in the end zone. Auburn linebacker Zakoby McClain grabbed it off his back and ran it back 100 yards. I jumped up so quickly, I almost passed out.
The scoring wasn't over. Alabama receiver caught his 3rd touchdown pass of the day a few minutes later and Alabama took a one point lead. Carlson would give Auburn the lead back with a field goal to close out the 3rd quarter.
Mere moments later, Waddle caught his 4th touchdown pass of the day and the Tide was up five. But…
On the following drive, the little ball of hate Shaun Shivers ran through an Alabama defender, removing his helmet, and more importantly his soul, on his way to the end zone. Auburn took the lead and wouldn't give it up this time.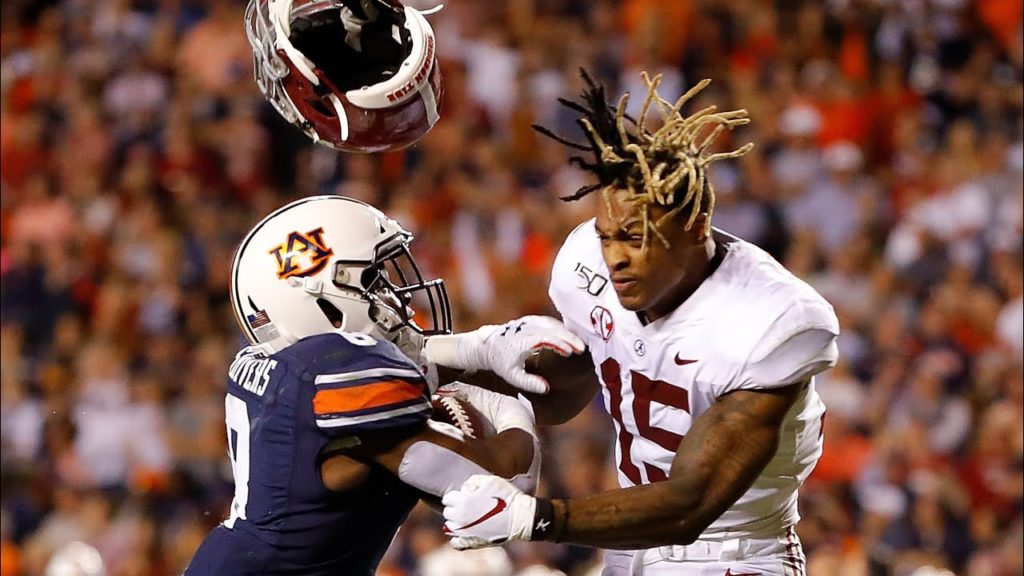 After Alabama missed nearly a chip shot field goal to tie thegame and a few clock draining plays, Auburn lined up with the punter at wide receiver on 4th down and a minute to go. Alabama was confused, expecting a punt, and left the returner on the field. 12 players, illegal, game over.
Why did I pick this game? Iron Bowls usually don't have points galore. This one did. And it had them in every way possible. It was fun, regardless of who won.
Fun Fact: This was not highest scoring Iron Bowl of all time. Just 5 years prior, Alabama beat Auburn 55-44.
Play of the Game: Shaun Shivers running through Xavier McKinney was a good play in an of itself, but the fact that it was basically the winning touchdown made this an easy choice.
Player of the Game: This was truly a team win, with six players scoring points for the Tigers. So in that case, it has to go to Bo Nix. He was only 15-30 with a rushing touchdown, but didn't make a mistake in his freshman Iron Bowl.
Quote of the Game: "It was a good win for us. I'm so proud of our team. When you look at this whole season, we knew it was going to be a gauntlet. We played the toughest schedule in college football, and our guys hung in there. At times it was tough. They never flinched. Going into this game, we felt like we had the better team. Give them credit — they're a big-time team. Our guys hung in there. The first half was crazy. It went back and forth with touchdowns. They had a lot of momentum swings with the kickoff return. Really, what ended up being the difference in the game was the field goal right there, right before halftime with one second left." -Gus Malzahn
Game Story: ESPN
Game Highlights:
You can view the rest of the 2020 edition of this list here.