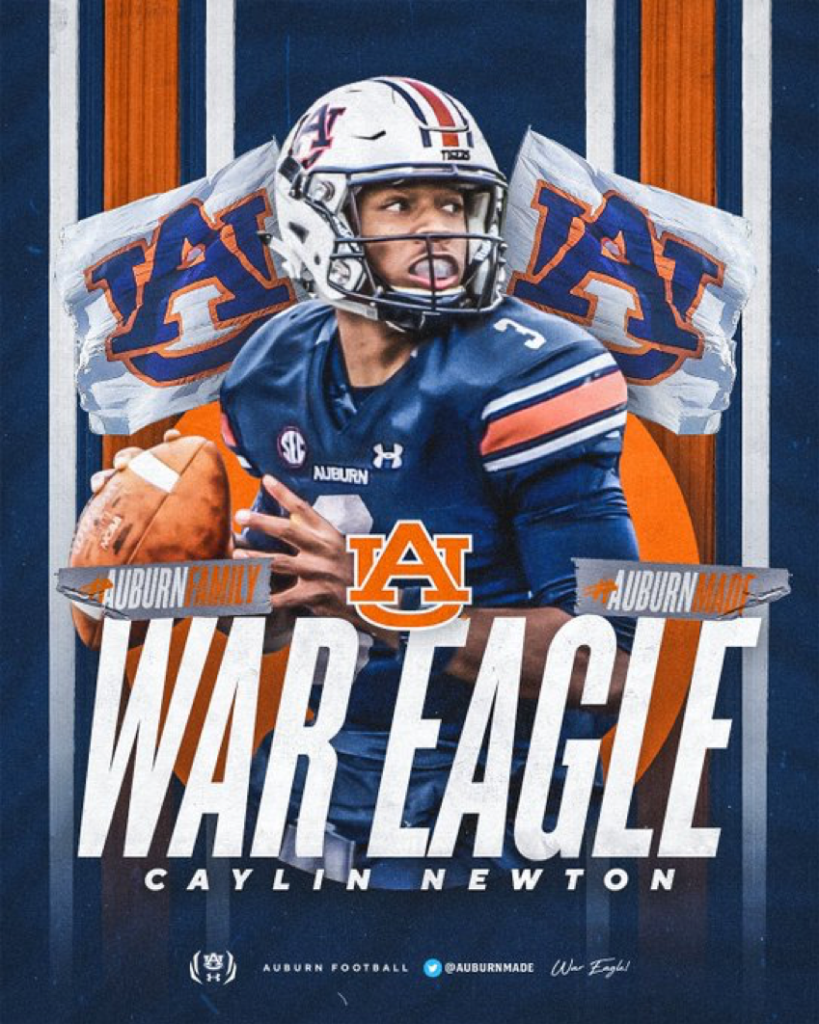 While his older brother continues to seek a new home in the NFL, Caylin Newton has found a new college football home with his brother's old home. The younger brother of Auburn's 2010 Heisman Trophy winner Cam Newton announced on May 22nd that he would join the Tigers for the 2020 NCAA season as a grad transfer.
A quarterback like his older brother, Caylin Newton left Howard in October and announced that he would be transferring.
"While I'm playing football, I want to be able to compete at the highest level and compete for a championship," Caylin Newton told The Undefeated at the time regarding his decision to leave Howard.
Since Auburn is already at its 85-scholarship limit, Newton arrives on campus as a preferred walk-on. As a grad transfer, he'll be eligible to play immediately. Newton has two years of NCAA eligibility remaining.
An Upset Maker At Howard
Caylin Newton at Howard. Photo by Everipedia.org.
The 6-foot, 195-pound Newton certainly posted some eye-catching numbers while under center at Howard. As a freshman in 2017, he was named MEAC rookie of the year while leading the Bison to a 7-4 record.
Working under Howard offensive coordinator Brennan Marion, a protege of Auburn head coach Gus Malzahn when Malzahn was head coach at Tulsa, Newton passed for 2,432 yards and 13 touchdowns, completing 133-of-263 passes for 2,432 yards. He also gained an additional 753 yards on the ground, running for 12 TDs.
In his first season, Newton also garnered a piece of NCAA history, engineering the greatest upset in college football history in terms of point spread margin. Newton passed for 140 yards and a TD and rushed for 190 yards and another pair of scores as the Bison, 45-point underdogs, upset UNLV 43-40.
He was selected the MEAC player of the year and was an FCS Sophomore All-American choice in 2018. That season, Newton passed for 2,629 and 22 TDs. Four times he went over 300 yards through the air, topping 400 yards in one game. He rambled for an additional 504 yards while carrying the ball, finding the end zone 14 times.
In four games last season before entering the transfer portal in October, Newton threw for 815 yards and six TDS. He also ran for one score.
Caylin Isn't Cam
Cam Newton. Photo by Matthew Tosh (Flickr).
While comparisons to his Heisman Trophy-winning older sibling are inevitable, Caylin, 20, no longer puts much thought into the attempts of people to draw parallels.
"I think I used to think about being in his shadow, but now it's like I really don't care what people think," Caylin told AL.com. "I can't really worry about what people are going to call me. I know who I am. I know my title as Caylin Newton, so a person coming up to me and saying, 'Oh, you're Cam Newton's little brother,' it doesn't faze me any more like it used to.
"I'm just trying to find my own identity, and I've found it."
There already is one shared parallel between Cam and Caylin as the latter arrives to suit up for the Tigers. Cam also came to Auburn as a transfer.
Cam Newton joined the Tigers in 2010 after leading Blinn College in Brenham, Tex. to the 2009 NJCAA national championship. He'd previously played with the Florida Gators in 2007-08.
Carrying Auburn to a national title in 2010, Newton passed for 2,854 yards and 30 TDs, while also rushing for 1,473 yards and 20 TDs. He topped the Heisman balloting in a landslide victory.
"Proud of you, brah," Cam Newton posted on his Twitter feed upon Caylin's announcement that he was transferring to Auburn.
Malzahn was Auburn's offensive coordinator during that championship season, so he's familiar with the level of performance that the Newton family brings to a football field.
A Crowded House
The chances that Caylin will follow in Cam's footsteps and move right in under center for Auburn would appear to be remote. Bo Nix is entrenched as the starting QB. In 2019, Nix passed for 2,542 yards and 16 TDs, leading the Tigers to a 9-4 record and earning SEC Freshman of the Year honors.
Behind Nix, there's redshirt sophomore Cord Sandberg and incoming freshman Chayil Garnett, a three-star recruit. In 2021, Auburn will welcome four-star recruit Dematrius Davis from Houston to campus. Davis has passed for 5,743 yards and run for another 1,592, accounting for 100 TDs while leading North Shore High to a 31-1 record and consecutive 6A Texas state titles.
Auburn is No. 10 in the preseason rankings at NCAA.com. Online sportsbooks list the Tigers at odds of +2500 to win the 2020 national championship.
Could a position change be on Caylin Newton's agenda? Curiously, there are images of him posted on his Instagram account working out at wide receiver.
Cam Still Waiting
Who would've thought that Caylin would be the Newton brother to first find a team?
Another NFL free agent quarterback has signed, and yet again, it wasn't Cam Newton. The New York Jets inked Joe Flacco as insurance behind Sam Darnold. The Jets will be Flacco's third team in as many years.
Cam Newton, the 2015 NFL MVP when he led the Carolina Panthers to a 15-1 record and the NFC Championship, has been out of work since he was released by the Panthers in April. Just 31 years old, Cam Newton missed all but two games in 2019 due to a Lisfranc injury in his left foot which required surgery. But he's just a year removed from the 2018 season, in which he passed for 3,395 yards and ran for an additional 488 yards.