If you're trying to maintain a healthy lifestyle this year, Auburn basketball just isn't for you. In what was the most stressful set of games this season, the team showed their toughness by winning at Ole Miss and beating a really good Kentucky team at home on Saturday. Both games came down pretty close to the wire, and Auburn is now sitting with a two-game lead above most other teams in the SEC.
The Tigers are now 11th in the latest AP Poll, inching closer and closer to a potential 3 seed in the NCAA Tournament next month. Wow, that's weird to say, we are only a few weeks away from being pissed off that Auburn got put in the West bracket again. Enjoy the rest of the season while you can folks, we have some big-time games coming up this month!
That being said, let's get to the review.
Game 20 @ Ole Miss
These are the type of games that separate the die-hard fans from the casual fans. 8pm tip on a weekday against a team that's not supposed to be very good. Well of course they were good on Tuesday, and Auburn had their worst half all season, scoring 20 points in the first half.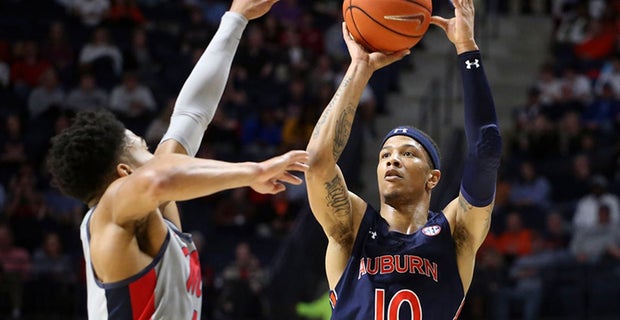 In the end, Auburn somehow came away with a victory in double overtime. How? Bruce Pearl said it best, "I have no idea." And I agree with coach on this one, all I know is we got the W, and I lost a lot of Z's on Tuesday night.
J'Von and Samir just weren't good enough on Tuesday against the Rebels, plain and simple. Here are the two's combined stats: 29 points, 8-25 from the field, 1-9 from three, 5 assists, and 12 turnovers. All in all, it wasn't great. Normally, I wouldn't take too much stock in just one game, but these two have got to start playing better on the road. We don't have the luxury of having multiple guys off the bench that can keep the pace going. It's just those two. And when they play bad, it's usually a bad sign for the rest of the team.
That being said, Anfernee McLemore picked a heck of a time to have the best game of his Tiger career. My man scored 19 points off the bench, including a career high 5 three's. Anfernee was spectacular in relief of Austin Wiley. Without Anfernee, this game isn't even kind of close and the disgruntled Auburn fans on Twitter would really be active.
You know who also had a nice game? That dude Isaac Okoro. He really filled up the state sheet, scoring 14 points with 9 rebounds, 3 assists, 2 steals, and a block to go along with everything else! Bruce has really gone to Okoro on offense the past few games, he's starting to get the keys to the car. By the end of the season, I expect Isaac to be a lot more involved on offense.
Game 21 vs. Kentucky
Before we break down the game, I wanted to start this section by shouting out everyone who attended the game on Saturday. That was the loudest game I've been to in Auburn Arena, and I've been to a lot of games. Tony Barbee being in attendance made the game that much sweeter, so he could see that you can actually win at Auburn if you aren't a bad coach.
Hopefully Gameday will make an annual trip to Auburn for basketball games in the future, so at least the beat writers will have a chance to tweet about how unfair the system is toward students. Guess what…students are going to come to Gameday regardless of what the system is. I personally liked the way Auburn handled it because you had to earn that wristband by being in line super early!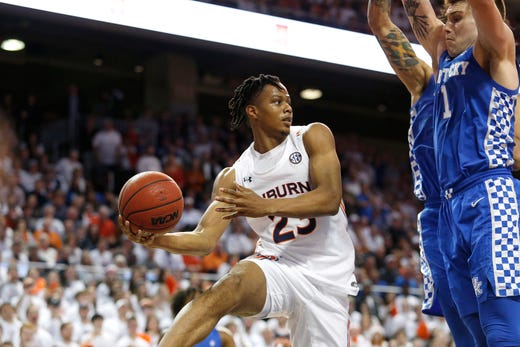 I've also come to the realization that Kentucky basketball fans are way worse to deal with than Alabama football fans. Both teams are similar in the fact that they have been recruiting the top talent for over a decade now. The major difference is that Alabama football has 5 National Titles in the Saban era, while Kentucky Basketball has 1 National Title in the Calipari era, but you wouldn't know it based on the way their fans talked.
Social Media was blowing up after the game with salty Kentucky fans complaining about foul calls, and Auburn's team celebrating at midcourt. Here's a fun stat, Kentucky scores over 25% of their points from the free throw line, that's good for top five in the country. To complain about the other team getting to the line, when that's what your team is known for is hilarious. Secondly, the Wildcats gave up 17(!!!!!!) offensive rebounds to Auburn on Saturday. You know what's not going to win you a lot of road games? Giving up 17 offensive rebounds.
Onto the actual game, Auburn beat Kentucky by a score of 75-66 to move to 6-2 in conference play. The Tigers scored 33 of their 75 points from the free throw line after struggling again from beyond the arc.
Samir Doughty lead the way for the Tigers, scoring 23 points and going 14-15 from the line. I know Samir has been struggling from the field over the past few weeks, but when he's aggressive and getting to the free throw line, that makes us so much better on offense. At one point, Doughty had 16 of Auburn's first 24 points. It's not ideally how you want to start a game, but we'll take it.
I wish Bruce would play Doughty at point guard a little more. I know he plays point whenever J'Von rests, but I just think our offense runs better with Samir being the lead guy. He gets to the rim better than J'Von, and he's more of a threat from outside.
The only other standout player from Saturday was Austin Wiley. He ended with 12 points and 10 rebounds IN ONLY 18 MINUTES OF PLAY. If Austin doesn't pick up three fouls in the first half, he easily finishes with 20+ points and 15+ rebounds. Kentucky had zero answers for Wiley on Saturday. 7 of Austin's 10 rebounds came on the offensive glass, which I still don't really believe even though the stats are sitting right in front of me.
Auburn also got 11 points from Danjel Purifoy and 14 points from Isaac Okoro. Both guys stepped up when the team needed them to the most. Isaac also had just a really mean step back three in the second half, which tripped up the Kentucky defender. It was the kind of play where the Kentucky player questioned all of his life choices up to that point.
Week 15 Preview
It's another big week for Bruce Pearl's squad, with games against Arkansas and LSU on the docket. Auburn hasn't won at Arkansas since 2016 (yikes). After a big win Saturday against Kentucky, it's easy to see where this is a trap game of sorts for the Tigers. But Auburn really needs this game to push their lead out against the middle class of the SEC. That double bye for the conference tournament is a must for Auburn.
After that, LSU comes to town for an early morning top 25 showdown on ESPN2. The Tigers and Tigers will be tipping off at 11AM CST in what could be a battle for the regular season conference title. LSU hasn't really played anyone that great in the SEC, with their best win coming against Tennessee. If Auburn can beat LSU and the Bayou Tigers can slip up a couple more times, March will become very interesting for both teams.