The hype surrounding the fifth ranked Auburn Tigers Men's basketball team is legit. In a season which has seen every top ranked team outside of current number one Gonzaga has been knocked off the mountain top shortly after reaching the peak. One of two remaining undefeated teams, the 14-0 Tigers have reached their highest rank in twenty years. After winning two straight SEC Championships and making a run to last year's Final Four, Coach Bruce Pearl is looking to add a NCAA Division I championship to top off his resume that already includes a Division II title.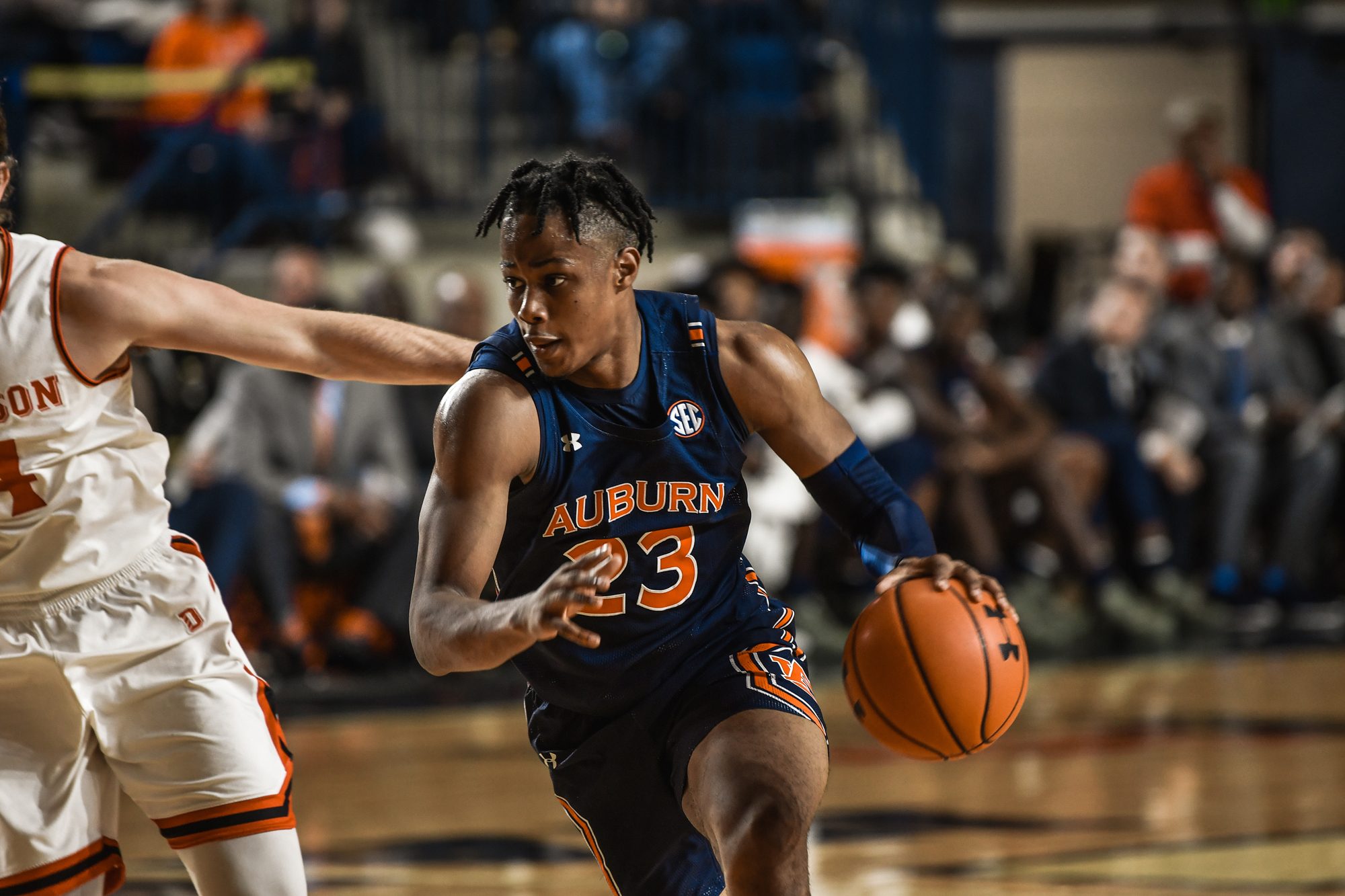 In an era which has seen more college programs deal with early entry draft players, the Tigers have flipped the script and have turned to a loaded senior class to find their success. Yes, freshman Isaac Okoro is projected to be a first round draft pick and the other four members of the starting unit will struggle to hear their name called in the second round if at all in the 2020 NBA Draft, their sole focus is cutting the nets down in Atlanta.
Currently the Tigers have three seniors scoring in double figures while the fifth member of their starting five is just on the outside of averaging ten points a game (Danjel Purifoy is averaging 9.8ppg at the time of this article). Throw in the fact that all five are averaging at least four rebounds per game and it is easy to see how the Tigers are one of the best defensive teams in the SEC.
Samir Doughty has led the Tigers scoring in six of the fourteen games, hitting for over twenty points in five of those games and averaging a team high 15.6. J'Von McCormick, who joins Doughty in the Auburn backcourt, is pacing the team with 5.3apg and has posted team highs in eleven of the fourteen games.
Austin Wiley, who is averaging a career high 9.4rpg is having the best year of his college career and Danjel Purifoy has bounced back from a struggling 2018-19 season in which he started only one game and averaged a shade over twelve minutes of playing time. While all four senior starters are key to Auburn's current success, it is 6'6" freshman forward Isaac Okoro who has caught the eye of NBA scouts the most.
According to their 2020 mock draft, NBADraft.net has the first year small forward projected to go late in the first round (they also have Wiley as a mid-second round pick), while Bleacher Report has him listed as the second best small forward in the class. Defensively, Okoro has been praised for his ability to guard multiple positions similar to the role that Stanley Johnson played with the Arizona Wildcats.
While Okoro did not walk onto campus as much of an offensive threat, especially one with any sense of range, he has found a way to shoot 57% and average nearly thirteen points a game. His skill set offensively continues to improve and he has a physique that could rival a stallion competing in the Kentucky Derby horse race. He could by all accounts use another year of seasoning at the college level to raise his draft stock, but don't expect Okoro to hang around campus for his sophomore year.
Although the depth of the senior class has helped Auburn post its highest win total in school history for a group of four-year players, many teams and college basketball fans are still sleeping on the Tigers because of the strength of their schedule.
During their current fourteen game winning streak, they did not face a single ranked opponent and the last time they faced a top 25 team during the regular season was last March when they dropped then eighth ranked Tennessee by twenty points. If everything stays according to plan, the first time the Tigers will face a ranked team will be when they host 14th ranked Kentucky on February 1st.
Regardless of who they have faced, Coach Pearl's team is bound for their third straight NCAA Tournament and could with all of the parity and uncertainty of this season's top teams. A return trip to the Final Four could result in the team cutting down the nets and having their one shining moment in the spotlight.