Alright, Blogle. Thattaway to come back big in the 1st half of week 2. You're a dang professional. Show 'em what's up.
Bowls: 24-13 (64.9%)
Regular Season: 119-26 (82.1%)
Overall: 143-39 (78.6%)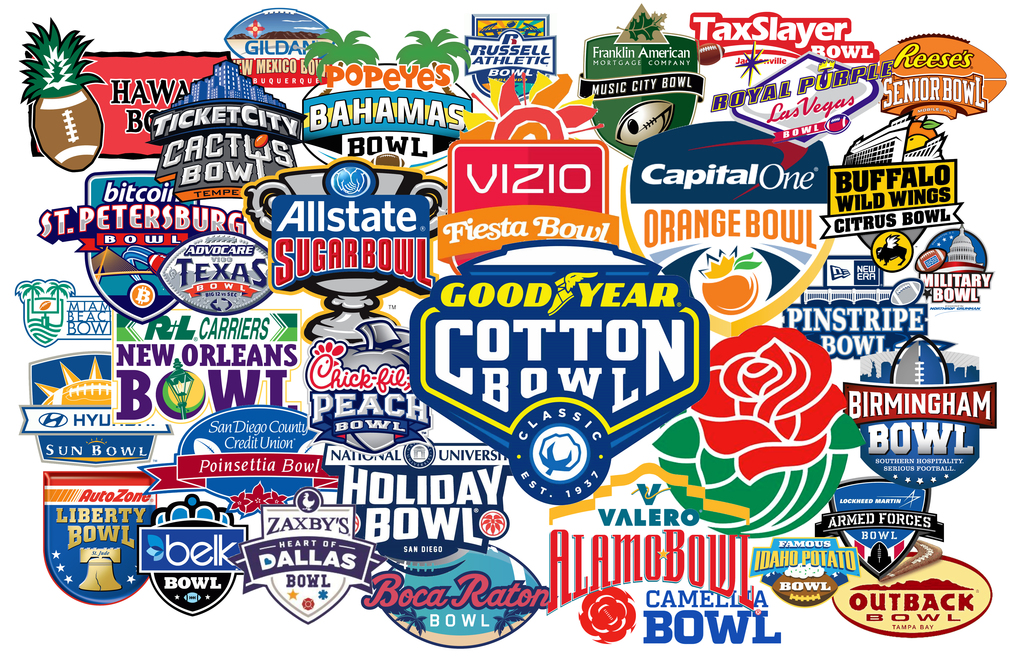 The 2nd half of Week 2 gets into New Years games, so you know it's… real? Or tougher? Or maybe easier? We'll see.
12/31
Belk Bowl (11 a.m. ESPN)
Virginia Tech vs. Kentucky – Nothing, and I mean nothing, says Belk Bowl like Virginia Tech and Kentucky. Seriously, when I think Belk Bowl, I think of exactly these two teams. Kentucky got better at the end of the season (thanks to former Auburn assistant Eddie Gran). Virginia Tech was aight. This one's a toss-up so I'll go with the SEC.
Kentucky 23, Virginia Tech 21
Kentucky 37, Virginia Tech 30 – SUCCESS!
Tony the Tiger Sun Bowl (1 p.m. CBS)
Florida State vs. Arizona State – I can't believe the Seminoles still snuck into a bowl game. I mean, one of their six wins to make them bowl eligible was a 1-point overtime victory over UL-Monroe. Arizona State has some losses, but they beat Oregon. They're better.
Arizona State 34, Florida State 13
Arizona State 20, Florida State 14 – SUCCESS!
AutoZone Liberty Bowl (2:45 pm ESPN)
Navy vs. Kansas State – Navy is good. Kansas State lost to 5-7 West Virginia. That's about all I got.
Navy 41, Kansas State 17
Navy 20, Kansas State 17 – SUCCESS!
Nova Home Loans Arizona Bowl (3:30 p.m. CBSSN)
Wyoming vs. Georgia State – What? On New Years Eve?
Wyoming 31, Georgia State 17
Wyoming 38, Georgia State 17 – SUCCESS!
Valero Alamo Bowl (6:30 p.m. ESPN)
Utah vs. Texas – Utah was given tons of credit for beating nobody with any clout this season. Texas is given tons of credit every year because of their name. It's the Undeserving Bowl. But it's in Texas at the Alamodome, so it just feels like the Longhorns should take this one. And Utah isn't good, so…
Texas 24, Utah 20
Texas 38, Utah 10 – SUCCESS!
1/1
Outback Bowl (12 p.m. ESPN)
Minnesota vs. Auburn – Check back later for my prediction in the game preview, but SPOILER ALERT: remember Purdue?
Auburn 38, Minnesota 17
Minnesota 31, Auburn 24 – FAILURE
VRBO Citrus Bowl (12 p.m. ABC)
Michigan vs. Alabama – "Hey, do you see these two helmets we got?!!!" said the Citrus Bowl. That's seriously all it is. Alabama is still a strong squad despite not beating a single ranked team all season. Michigan got better over the course of the season and then lost badly to Ohio State. Oh hey look, these are the two losers of the two biggest rivalries in college football. Cute.
Alabama 38, Michigan 21
Alabama 35, Michigan 16 – SUCCESS!
Rose Bowl Game presented by Northwestern Mutual (4 p.m. ESPN)
Oregon vs. Wisconsin – The Ducks were likely a loss to Arizona State away from the playoffs. The Badgers were never in it after losing to Illinois. Both teams are strong, and Rose Bowl worthy, but does anybody outside of these schools and the Rose Bowl care? Maybe that's my SEC bias showing. The Ducks are better, but do they want to be here? Sure.
Oregon 31, Wisconsin 21
Oregon 28, Wisconsin 27 – SUCCESS!
Allstate Sugar Bowl (7:45 p.m. ESPN)
Georgia vs. Baylor – The College Football Playoffs are killing these New Years Six bowls (also see: Virginia in Orange Bowl). I get it. These two teams both only have two losses, but they are only here because teams that would normally be here were playing for the National Championship. I mean, Georgia vs. Baylor in what is supposed to be the premiere SEC vs. Big 12 bowl game? Again, I know why it's not as premiere this year, but come on. I can't think of anything more boring than Georgia and Baylor in the Superdome. Georgia's on the way down, man, and Baylor feels like this is their Super Bowl, though.
Baylor 31, Georgia 28
Georgia 26, Baylor 14 – FAILURE
1/2
TicketSmarter Birmingham Bowl (2 p.m. ESPN)
Boston College vs. Cincinnati – What a Birmingham Bowl matchup. Seriously, it's peak Birmingham Bowl. If things go perfectly, it will be a light drizzle in 42-degree weather. The Bearcats are better than this. They have 10 wins and basically just couldn't beat Memphis. Boston College is 6-6. The disrespect.
Cincinnati 31, Boston College 14
Cincinnati 38, Boston College 6 – SUCCESS!
TaxSlayer Gator Bowl (6 p.m. ESPN)
Indiana vs. Tennessee – Whooweee! Indiana football vs. Tennessee. Yeah, man, I'm pumped. Again, for the 40000th straight year, we pretend Tennessee has got it all figured out to finish the season out strong. Let's take a look at their schedule to end the year: South Carolina, UAB, Kentucky, Missouri, Vanderbilt, and now they get a bowl game with the mighty Hoosiers. People will rank Jeremy Priutt's Vols after this. They'll be 8-5!
Tennessee 38, Indiana 10
Tennessee 23, Indiana 22 – SUCCESS!
Now that I've picked the bowls, you should go join the bowl pick'em. Just make sure you have them in prior to each game, but go ahead and do them all so you don't have to worry about it. There's prizes and stuff.