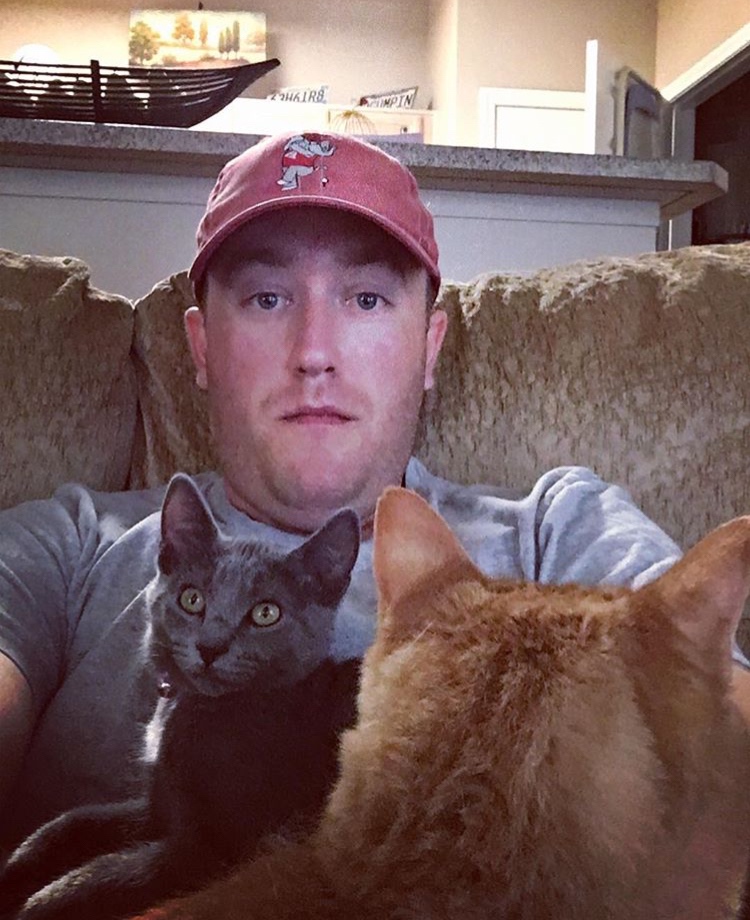 Hunter L. Johnson (@HunterLJohnson) is what I would be if I was an Alabama fan, liked cats, didn't accept reality, and was a whole lot dumber. But really, he's a good Alabama troll that has collected a few minions along the way, and just knows how to play the game. This is his 2nd time on the Blogle, so I'm not sure if that makes him a regular. But I am sure he's an idiot.

1. What is an Alabama fan's first thought of Auburn right now?
The defense is legit. Glad that y'all have Offensive Wizard Gus who has wasted this generationally good defense. Davidson and Bryant are going to be a huge problem. Bo Nix isn't good but I'm not sure that's on him. It's probably because your coach's passing schemes are straight out of high school. Cannot imagine what Patrick Nix thinks watching from the stands when Gus gives Bo one read and then makes him run for his life.
2. I heard they were redoing Alabama's fight song to just be a beeping sound, since every year they try to back their way into the Playoffs. Is this true?
Bama Privilege is great. Honestly cracks me up that we have won 4 National Championships this decade with one loss while Auburn went undefeated in 2004 and no one outside of Lee County thought that y'all deserved to play for the title.
3. With the gross mismanagement of the team and annual losses on Alabama's schedule, should Alabama move on from Nick Saban?
Maybe this coal miner will learn how to recruit linebacker depth. But seriously, no.
4. Which positional matchup are you most interested in watching this weekend?
Definitely Bama's OL vs. Barn's DL. Like I said, Bryant and Davidson are ridiculously good. I like our OL, but blocking them is going to be a problem. And we ain't winning this game without being able to run the ball successfully.
5. Who are two Tiders that aren't big names that Auburn fans should look out for?
Mac Jones. Obviously I realize that Barners know who he is but I think he's going to have a good game. He's cocky enough that I don't know that the stage is going to affect him. I also am ready to eat my words on this but as a wise man once said: "When the Gumpin gets tough, the tough get Gumpin'." (Blogle here: for the 2nd year in a row, Hunter has proven that he can't read, and only gave us one Tider when I specifically asked for two.)
6. Are there any guys on the current Auburn roster that scare you and why?
Big Cat and Marlon. Both incredible players and again I am glad that Gus has essentially wasted them.
7. Have you consulted Aaron Murray's mother on the best ways to deal with an Auburn defensive lineman destroying your team's quarterback?
If I was a Barner in this situation, I would get my panties in a wad and say that it's too soon to be talking about QB injuries after what happened to Tua, but I don't have a stick up my a$$ and I'm not perpetually offended, so it's fine.
8. What's your prediction/analysis of the game?
I think we win. Am I extremely confident? No.
9. Where will Auburn and Alabama end up this season?
I think that Alabama will win and will end up in the playoffs(like every year) after Oregon beats Utah. I think that Auburn will end up in not the playoffs (just like every year) and hopefully your kids get a trip to Disney World out of it.
10. What will they call this game when all is said and done?
Hopefully they don't call it anything, because other than The Kick, only Barners name Iron Bowls.