We all knew deep down it was coming, whether it was truly fair, or warranted, or not. Auburn president, Chris Roberts made decision this weekend, after a 14-point loss to Arkansas, to move on from Bryan Harsin.
The short statement from Auburn read:
"Auburn University has decided to make a change in the leadership of the Auburn University football program. President Roberts made the decision after a thorough review and evaluation of all aspects of the football program. Auburn will begin an immediate search for a coach that will return the Auburn program to a place where it is consistently competing at the highest levels and representing the winning tradition that is Auburn football."
As was pretty much known before the firing took place, Auburn had hired away John Cohen from Mississippi State to be their next Athletic Director. Was the firing made before the hiring? Was the firing made as part of the hiring? I think it was done before to give Cohen a clean slate.
Welcome to the Plains new Director of Athletics, @JohnCohenAD!
#WarEagle

— Auburn Tigers (@AuburnTigers) October 31, 2022
Shortly after Auburn announced the Cohen hire, they tweeted that former All-American running back Carnell Williams would be the interim head coach for the remainder of the season. Was he vaulted to such stardom after his 15 minutes of being in the wrong English class with me at Auburn? We may never know.
https://twitter.com/AuburnFootball/status/1587220675311591424
It was then reported by many that the remaining members of the coaching stuff that came from Boise State were let go as well, minus Defensive Coordinator Jeff Schmedding.
It left Auburn with this coaching staff for the remaining four regular season games.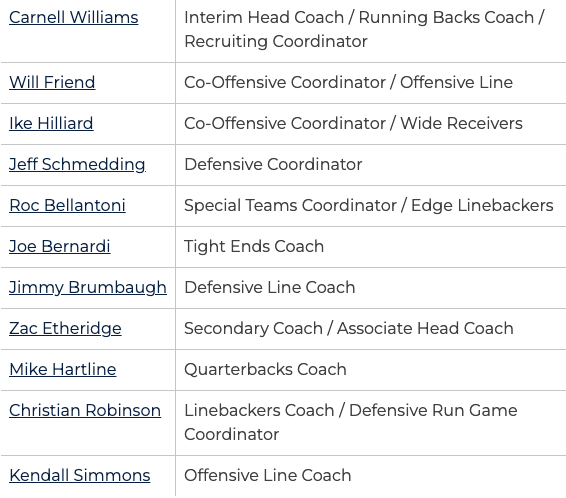 A day later, former Auburn University football coach, Bryan Harsin, released a statement.
"I am incredibly disappointed that I won't get to lead the Auburn football program and these players into the future. I poured my heart and soul into this program and team. We stood together in the face of considerable challenges and outside noise.
Through my entire time at Auburn we did things the right way, which is not always the easy way. I am very proud of the resolve shown by everyone in our facility and incredibly grateful for those at Auburn who stood by me and my family. I am certain that this group of players will do great things.
I will miss you guys tremendously but will always be there for you and do anything I can to help moving forward. Thank you for believing in me.
Like any coach with the benefit of hindsight, there are things that could have been done differently.
I don't pretend to be perfect but I am certain I will be better moving forward because of this experience.
I truly believe Auburn has the potential to be a championship program once again. The resources, financial support and fan base are in place. There are good people throughout this program and University. With complete alignment, the possibilities are endless.
I hurt for the coaches, staff members and families who are left in limbo. This team and staff came here fully committed to our vision of what we could accomplish in time. That time has been cut short.
They will all persevere because of their tremendous character and ability and I will do everything I can to help them with this transition.
As is life, my family and I will now turn the page and chart our next course, always grateful for the positive relationships formed and memories made on the Plains. Thank you for allowing us to be a part of the Auburn Family."
Earlier today, Coach Carnell Williams sat down with Andy Burcham to talk about the Auburn's decision to name him interim head coach.
A short era is over and a shorter one has begun as we likely wait a month or more to find out who will lead Auburn into the future. These will be my final thoughts before moving on.
https://twitter.com/WarBlogle/status/1587129398901100544