It's finally basketball season again back on the Plains. The Tigers will look to pick up where they left off last season and make another run at a conference title and a spot in the NCAA Tournament. This squad looks vastly different than last year's historic team, having eight freshmen on this roster with most playing valuable minutes.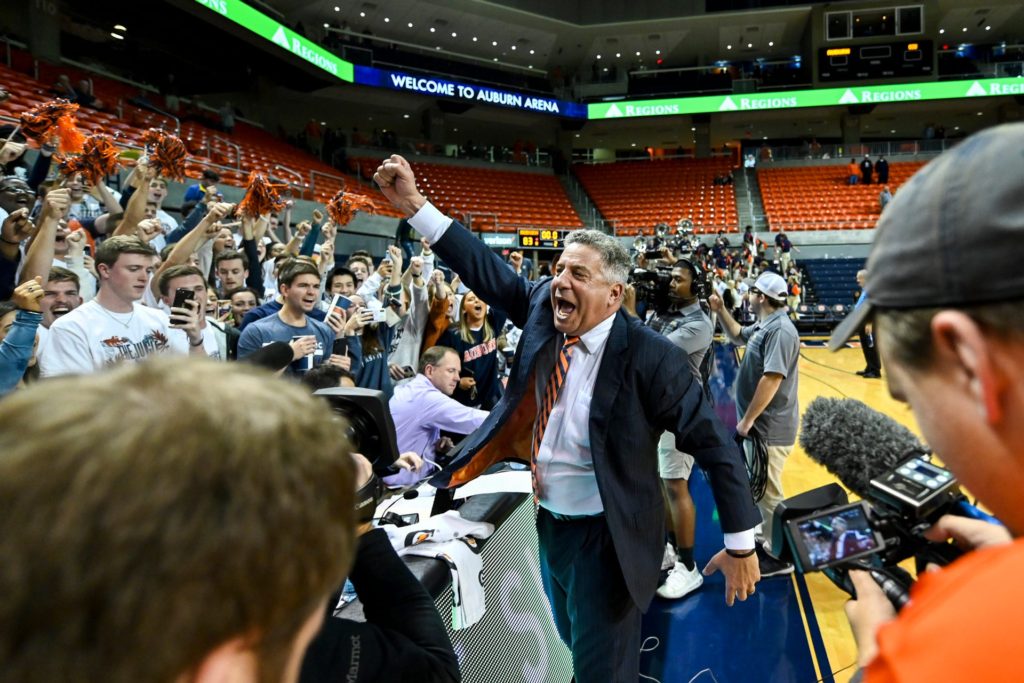 This is a look at the first week in the new season. Just a house keeping note, these articles will be weekly reviews, not just game by game reviews. Once we get to conference play, then these posts will transition to game reviews. I hope everyone enjoys, let's get the new season underway.
Game 1 vs. Georgia Southern
The shortest off-season in Auburn basketball history came to an end Tuesday night with the first regular season game against the Georgia Southern Eagles. The Tigers began their post Final Four campaign with a hard fought 83-74 win.
Don't let the score fool you, Georgia Southern was not intimidated by the atmosphere and held a lead for almost 10 minutes in the first half. The Eagles were undersized but constantly finished shots from midrange and underneath the basket. However, only shooting 27.8% from outside is ultimately what doomed Georgia Southern in the end.
The seniors did most of the damage for Auburn offensively, scoring 57 of 83 points. Samir Doughty lead the Tigers in scoring with 20 points, 7 of which coming from the free throw line. Samir looked sharp in the opening game, finishing shots close to the rim, and also did a nice job splitting point guard duties with J'Von McCormick.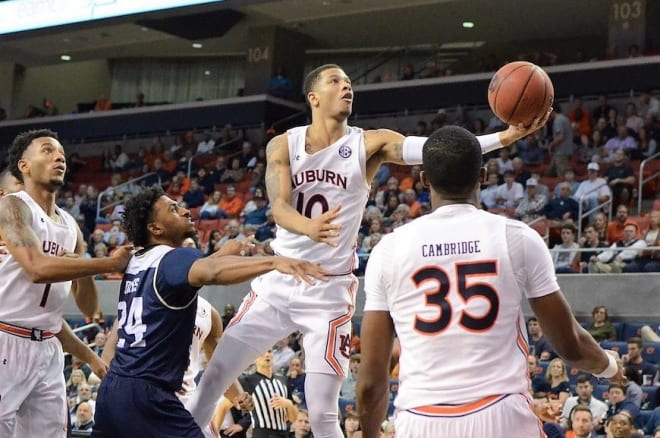 Danjel Purifoy provided a nice first half spark, finishing the game with 13 points and 3-7 shooting from outside. Purifoy also did a nice job handling the ball, breaking Georgia Southern's press on multiple occasions looking like a gazelle effortlessly running in a field.
One other player worth mentioning is Isaac Okoro. The freshman from Georgia played the most minutes on the team, and had 12 points in his Auburn regular season debut. Okoro was everywhere on the defensive end, and on the boards. I'm really excited to see what he becomes this season. His shot isn't there right now, but even if he can just be a threat from outside, that will open up driving lanes for him, where he can be devastating finisher.
The Tigers definitely have a lot to work on, which is to be expected considering what they lost in the off season. The offense wasn't going to be as crisp as it was back in March. There are also 8 freshmen on this roster, most of whom are going to get extended playing time this season. I expect the offense to get better as the season progresses, but the team showed flashes of how special they can be.
As a whole, the defense was subpar. Auburn picked it up in the second half, but Georgia Southern had way too many wide open three pointers that just happen to miss. The Tigers over helped on the shooters, sometimes three people would converge to the corner, leaving a player wide open at the top of the key.
Overall, Auburn fans should be happy with how game 1 went. This was a good Georgia Southern team that will win a lot of games this season. With all the turnover from last season, any early win is a good win while all the young guys get settled in.
Game 2 vs. Davidson
This game was a concern for the Tigers, Davidson brought back almost every player from the NCAA tournament team a year ago. Even with all this, Auburn prevailed in a gritty 76-66 win in Annapolis, Maryland. That makes two wins against possible NCAA tournament teams in the early season.
The Tigers started fast, opening the game on a 12-2 run. Davidson clawed their way back but Auburn was in control for most of the game. After taking a two point lead into the locker room at halftime, Auburn came out in the second half again on fire, jumping out to a 46-36 lead and never really looked back after that. Davidson went 20-23 from the free throw line, which is the only reason they stayed in the game at all.
Isaac Okoro lead the team in scoring with 17 points, including 2-3 from the three-point line. That last part is huge moving forward for Auburn. If Okoro can improve from outside, then the rest of the SEC needs to be put on high alert. Okoro was already one of the best defenders on the team, helping hold Davidon's two best players to 13 points combined in Jon Axel Gudmundsson and Kellan Grady.
Afernee Macklemore had a huge game for Auburn. For the second game in a row, Austin Wiley drew the start, but Mac ended up playing more minutes. Anfernee had 12 huge points off the bench, to go along with 5 rebounds and 3 blocks. 1 of those blocks was on a Davidson three pointer, which Mac promptly swatted into the stands. I expect Mac to play a ton as Bruce is going to try and monitor Wiley's minutes moving forward.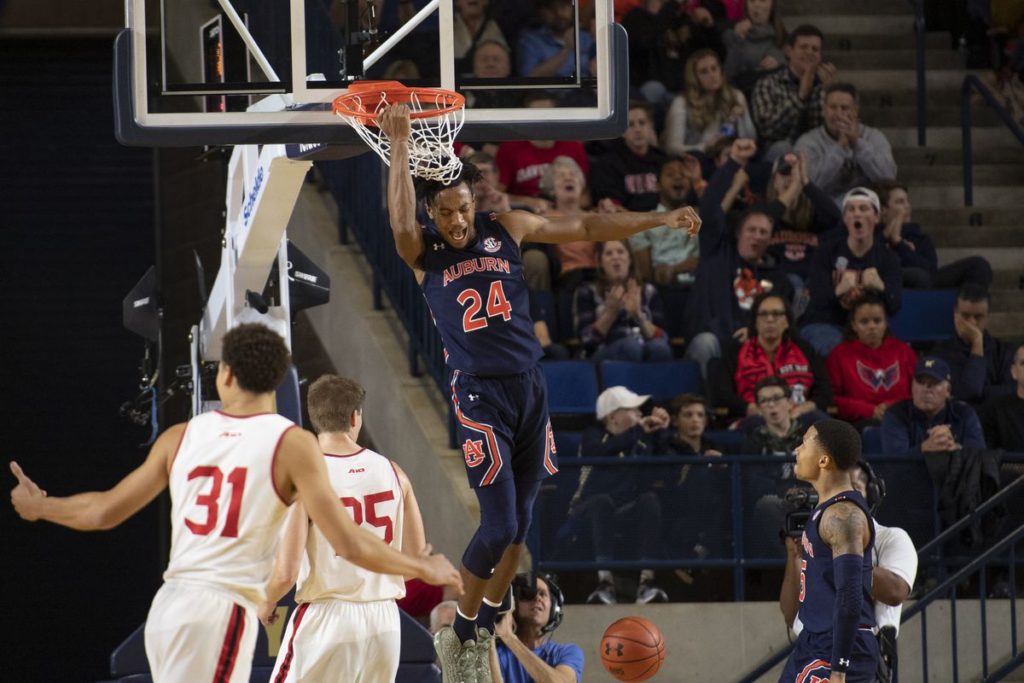 There wasn't a whole lot to complain about in this game. The two areas I'm worried about moving forward this season is the three-point shot and free throw percentage. The Tigers went 6-24 from three-point land on Friday against Davidson, half of those belong to Danjel Purifoy. If the team isn't going to give up 70 points a game on defense, then the three-point shot won't matter as much. I just worry about where the scoring is going to come from.
Auburn as a team shot 62.9% from the free throw line on Friday. That's not going to cut it, it's just not. That's part of what made last year's Final Four squad so good, they were good from the free throw line, often icing games late when the other team would foul. I don't know if this year's team can do that. The only player I trust at the free throw line is Samir Doughty and maybe Jamal Johnson.
The good news is that Auburn's defense looked so much better than against Georgia Southern, forcing Davidson to shoot less than 30% from the field. The biggest difference in this year's team and last year's team is going to be the improvement on defense. Auburn just has so many more guys that are long and can defend. I'm expecting the Tigers to rank at the top of the conference in terms of defense.
With two early wins under the team's belt, Auburn has another tough test on Tuesday against South Alabama. The Tigers will need to travel with that stellar defense in order to come out a winner yet again.