The leaves are changing colors, the weather is getting cooler, the football team has two losses, and some fans are questioning Gus Malzahn's job security. That can only mean one thing: it's basketball season on the Plains!
After a historic season during which Bruce Pearl's squad set a program record for wins, won the SEC Tournament, and made the state's first ever Final Four, it would be easy for this season to be a hangover season for the Tigers.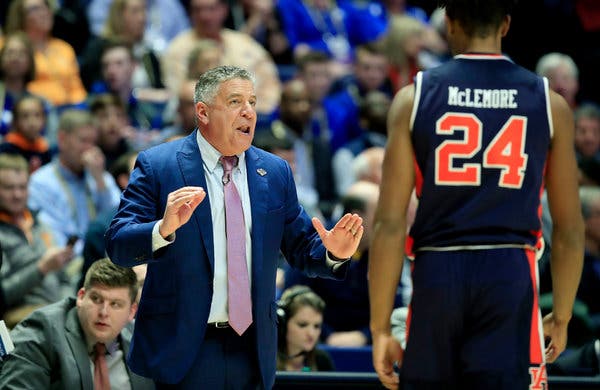 That's not who Bruce is though, we know that. This is the first season since Pearl has been at Auburn where he's having to really reload talent. Losing upperclassmen is always tough, but with five of them playing professional basketball, including the best backcourt in school history, well that would be enough to make any coach sweat. However, Bruce has done a fantastic job on the recruiting trail and picking up productive transfers to make this squad competitive in a loaded SEC.
During this preview, we're going to be taking a look at the returning players, the new faces on the team, the 2019 schedule, and my prediction for the 2019-2020 season!
Returning Players
Danjel Purifoy
2018 Stats: 3.7 PPG, 2.1 RPG, 0.6 APG, 40% FG%, 35.7% 3P%
This could be a really big year for Danjel. I know it feels like we say this every year, it seems like Bruce is always praising him in the off season for his work ethic and dedication. While that has never really come to fruition during the actual games, this season is different. It's Purifoy's last year, and we are going to need his size and shooting with the loss of Bryce Brown and Jared Harper.
Defense is what keeps Danjel on the bench. I swear he has the slowest horizontal movement of any basketball player I've ever seen. He's got to get better on defense if he wants to stay on the court. I think he starts at the beginning of the year, but don't be surprised if Issacc Okaro is taking his spot in the starting 5 as the year moves forward.
J'Von McCormick
2018 Stats: 4.1 PPG, 0.9 RPG, 1.4 APG, 52.5% FG %, 50% 3P%
J'Von isn't our best player, but he's going to be the most important player on the team this year. As good as Harper was last year being a floor general, J'Von can be just as good. The way he attacks the rim constantly will put pressure on the opposing defense, and open up shots for the other players.
McCormick is undersized, but he's a bulldog on the defensive end of the floor. I predict he's going to lead the conference in steals, he's that good. We are going to really rely on J'Von to be that floor general this year, and I believe he's up to the task.
Samir Doughty
2018 Stats: 7.3 PPG, 3.5 RPG, 1.7 APG, 45.8% FG%, 42.5% 3P%
After the Final Four game against Virginia, once the initial sadness departed, the only thought I had was "I hope Doughty is doing okay." It would have been a brutal way to end any meaningless regular season game, much less a Final Four matchup. From everything I've seen and read, Bruce and the rest of the guys rallied around their teammate, which is great to see. Something like that could have easily broken Samir mentally, and I wouldn't have blamed him at all.
The truth is, we really need Doughty this year. We need him badly. He's the best three-point shooter on the team, and he's started in big moments. We have a lot of young guys who are very talented, but are going to get that deer in headlights mentality every now and then, which is totally normal. Samir is going to need to be the steady presence that can get us a bucket in big moment.
Anfernee Mclemore
2018 Stats: 6.7 PPG, 4.0 RPG, 0.3 APG, 45.3% FG%, 33% 3P%
How many more times this year are we going to hear that Anfernee could have gone to MIT instead of Auburn? I'm betting at least a thousand. I'll be telling my grandchildren about that because it'll still be drilled into my brain.
Out of everyone on the team, Mac is the one that needs to make a leap this season. He has all the tools on offense and defense. The lineups that are the most effective are when Mac plays center, because he can shoot the ball and also guard the other team's center. If Anfernee can average double digit points a game, along with 7 or 8 rebounds, we will be in good shape.
Austin Wiley
2018 Stats: 7.7 PPG, 4.3 RPG, 0.1 APG, 57.5% FG%, 0% 3P%
For Wiley, to have a successful season comes down to just one thing. Can he stay healthy? If he can, he can be a force in the middle The best version of Wiley is him leading our team in scoring while also making an All-SEC Team. But for the first few years of his Auburn career, he hasn't been healthy.
Wiley also needs to get better at passing the ball. He is the definition of a black hole on offense – if he gets the ball in the post, it's not coming back out. There would be times where Wiley would get the ball and have a wide-open shooting in the corner, but instead he would try to do a weird fade away hook shot against two defenders. He needs to be more aware of his surroundings if he wants to get better on offense.
New Players
Tyrell Jones
Don't sleep on this kid. A top 100 prospect out of Florida, Tyrell could make an immediate impact for the Tigers this year at the point guard position. Jones averaged over 18 points and 5 assists his senior year. He can shoot it deep and with a nickname like Turbo, we already know he's fast. He had surgery back in June on his left leg to alleviate pain in his shin, but this shouldn't affect his availability to start out the season.
Isaac Okoro
Coaches will often try to pump up young players in preseason media sessions. Bruce is no different, he likes to give all his guys credit. But he usually doesn't say anything particularly outrageous unless he really means it. That's why when he called Isaac Okoro "the best defensive player he's ever coached" it raised a lot of eyebrows.
You don't just say that unless he's already shown it in practice. If that statement is true and Okoro can already guard anyone on the court, then that's a fast track to playing time. If Okoro can just be a lock down defender and progress his offensive game as the season rolls on, he could be Auburn's best player in no time.
Jamal Johnson
Jamal transferred to Auburn in 2018 from the university of Memphis, where he started as a freshman and averaged just under 7 points a game. As a former Spain Park star, Johnson is known as a guy who can fill the stat sheet and hit the outside shot. I look for Jamal to be a vital contributor coming off the bench this season.
Jaylin Williams
Jaylin is probably my personal favorite prospect in this year's recruiting class. A big man who plays above the rim and can shoot from the outside. The best part…he's a lefty! I'm so excited to see how his skills translate to the college game. I do worry a little bit about his handle just because he's used to blowing by high school kids since he was bigger than everyone else.
Williams was also a great shot blocker in high school, I'm interested to see if that continues at Auburn. I worry about him getting in foul trouble early on, but if he can find his place in the rotation, Jaylin can look to make a big impact in his first season on the plains.
Babatunde Akingbola
When I was a kid, I was homeschooled for two years. This may not seem important, but those two years are when most kids learn about phonics. I did not, so I have no idea how to pronounce Babatunde's name. His nickname is "Stretch", so from here on out I will just refer to him as Stretch.
Stretch is a beast on the defensive end of the floor. He mercilessly blocks anyone's shot, and he can pass well for a big man. I look for him to back up Wiley, and see extended playing time if Austin gets in foul trouble.
Allen Flanigan
Son of Auburn basketball great Wes Flanigan, Allen was the number one player in the state of Arkansas coming out of high school. A wing with tremendous athleticism, Allen is still pretty raw. I'm not sure how much playing time he will get, however, I think he will develop a good offensive game and be a reliable player. It just might not be this year.
Schedule
Last season, the Tigers really had to be sharp from the jump in order to not fall behind. This year the schedule is more relaxed, which will work out better for this year's squad. With all the new faces and a completely different rotation, Auburn will need a few games to work in the new freshmen. The Tigers won't really face a challenge until December 14, when Auburn will face Saint Louis in Birmingham, AL. NC State will make the return visit on December 19, and Iowa State will visit Auburn Arena in January for the Big 12/SEC Challenge.
Auburn once again has a tough draw in conference play, The Tigers will play Tennessee and Kentucky twice, while also traveling to Florida. The good news is we will not have to play at Vandy in their outrageous gym, and Auburn will not travel to South Carolina, where the Tigers have been cursed.
The SEC as a whole got much better over this past off season. Both Alabama and Texas A&M brought in experienced coaches in Nate Oates and Buzz Williams, respectively, while LSU and Ole Miss will look to build on success in both of their coaches' second seasons.
Prediction
This is going to be a very different team that the one from the past two years. Auburn does not have proven shooters everywhere on the court anymore. There are also a ton of young players on this roster, including eight freshmen. This team is going to rely a ton on those younger players getting caught up to speed on the college game. Can they do it? Absolutely. The question will be when will that happen? It could be at the beginning of the season and Auburn picks up right where they left off in March.
The media predicted Auburn to finish 4th in the SEC. That seems a little high to me, but I am more down on this team than most, I just want to see the product first hand.
Final Record Prediction: 21-10