Week 17 is officially in the books, and I can't wait for Isaac Okoro to return to the court. Obviously, his health comes first, but boy does Auburn need him back in a serious way. With his recent surge on offense, we need him to be our go to player and closer at end of games/possessions.
Auburn split the week, losing at Georgia but getting a huge comeback win against Tennessee. The AP Poll seems to be giving the Tigers the benefit of the doubt with Auburn only dropping to 15 in the latest poll. The Tigers are still in the hunt for the SEC regular season title, but will need to really get going this week to make it happen.
But enough about that, let's take a look at what really happened last week, and how Bruce Pearl's squad can possibly make a late season run.
Game 26 @ Georgia
Georgia playing bad but still winning against Auburn could define the 2019-2020 Tiger's season across all sports. The Bulldogs beat Auburn in Athens on Wednesday 65-55. When you give up 65 points on the road, you have to feel pretty good about your chances.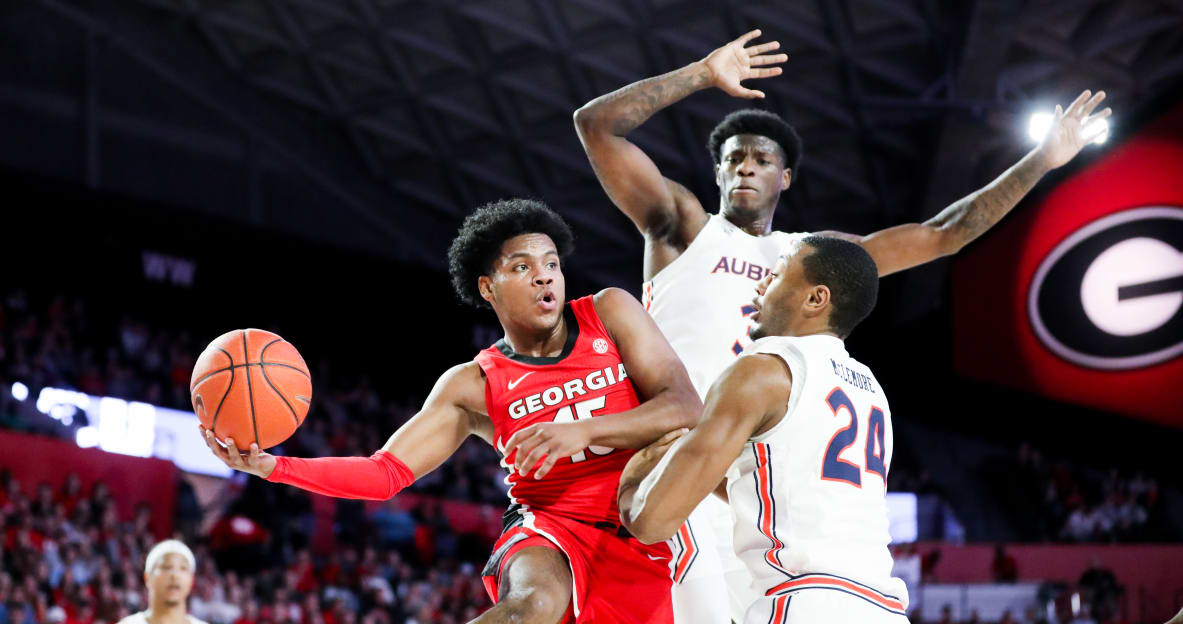 Unfortunately, in the game of basketball you have to make shots in order to win. Shooting sub 40% from the field and 15% from three just won't cut it on the road. The Tigers did shoot 69% from the free throw line, which I'm told by the internet that that is in fact, nice.
The lone bright sports for Auburn on Wednesday were J'Von McCormick and Austin Wiley. McCormick led the Tigers in scoring with 22 points, including a monstrous first half where he was the Auburn offense for a good stretch.
Wiley finished with 11 points and 9 rebounds on 5-7 shooting from the field. With Auburn down double digits for a majority of the second half, it was tough for Austin to really get anything going.
Game 27 vs Tennessee
The more you really dive into the game from Saturday against Tennessee, the more ridiculous it becomes. Auburn pulled out a win after being down as much as 18 to beat the Volunteers 73-66 inside Auburn Arena.
On the surface, Tennessee should have won this game with little problem. Here's what statistics Rick Barnes' squad held an advantage in: field goal percentage, three-point percentage, free throw percentage, rebounds, assists, and blocks. Virtually the entire ballgame except for one important stat, steals. Auburn's defense came away with 18(!!!) steals on Saturday, forcing 24 overall turnovers from Tennessee.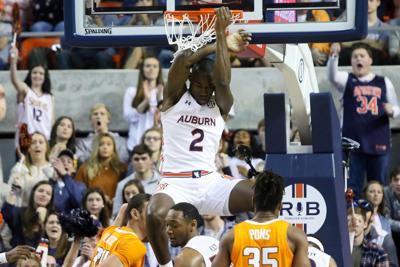 When someone looks in the dictionary for the definition of a choke job, this is what you say. Tennessee had this game in the bag, and couldn't deliver. We've seen time and time again if you give this Auburn team any breathing room, they will make you pay for it.
Samir Doughty once again led the Tigers in scoring on Saturday, pouring in 22 points along with 4 rebounds, 3 assists, and 3 steals. Not the most efficient day for Samir, he only went 7-16 from the field, but he did go 3-5 from deep. Doughty was the only Auburn player in double figures against the Volunteers, making the comeback that much more improbable.
Devan Cambridge didn't' score 30 points off the bench on Saturday, but he was key in the comeback against Tennessee. In 25 minutes of action, Cambridge scored 9 points and also had 6 rebounds. Devan is going to see increased action as long as Isaac Okoro is still hurt, and we need him to take advantage of that opportunity.
It was a big week for Jaylin Williams, reports are he made an A on his Biology exam (remember the players are students first and then athletes). When Jaylin isn't busy concentrating on his studies, he practices ally-ooping it to himself off the freaking backboard. The combination of athleticism and the amount of stones a player has to have to try this move in an actual game is just insane, and Jaylin did it. Williams was also Auburn's most efficient producer in the paint, going 4-6 from two-point range.
I believe Jaylin's big week is going to evolve into something more. He has big time potential and eventually Bruce isn't going to have a choice but to get him more minutes. I think that time is now, Jaylin should replace Danjel in the starting lineup.
Here's Danjel's past month dating back to the South Carolina game on January 22nd: 7.1 PPG, 3.5 RPG, 31.5% from the field, 25.5% from three in 9 games. Yes, Purifoy has turned into a pretty good defender, which is something I never thought I would say, but Auburn needs more of a spark on offense. Last week, we established that Auburn can't shoot the long ball consistently, and that's what Danjel is suppose to be on offense. A guy who can stretch the defense with his shooting, and that just hasn't been the case.
A lineup with Jaylin at the 4 and Wiley at the 5 would be the best rebounding duo in the SEC. Williams has shown over two games that he can create offense for himself, and even lead a fast break or two. Moving Danjel to the bench would also give him a chance to play against the other team's reserves.
The Week Ahead
There's no sugarcoating it, this is a huge week for Bruce Pearl and the Tigers. Ole Miss comes to town on Tuesday, having given Auburn all they could handle in Oxford a month ago, with the Tigers winning in double overtime.
Following that game, the team heads to Lexington for a rematch against the first place Wildcats. If Auburn doesn't win that game, I don't see any scenario where they can come back and win the SEC regular season championship. Winning in Rupp is a really tall order, but Auburn played Kentucky really well at Auburn Arena back on February 1st. We'll see if Auburn can get some shooting on the road, and also some solid defense from Wiley and Anfernee.