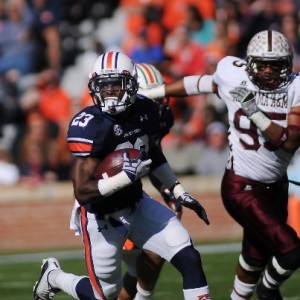 Given that the Iron Bowl is this week, and that's really all we want to think about (or maybe not), let's roll right on through this review of the Alabama A&M game. It was what you would expect from a game between an SEC school and a SWAC school. From start to finish, the superior talent dominated. It was actually the first and only easy win of the season for Auburn.
The Tigers drove down the field on the first possession and didn't let up from there. I don't think Steven Clark even punted until the 2nd quarter, which was a sign of how the game was going to go.
The running game was consistent which opened up the passing game. The long sustained drives gave the defense a chance to get a breather on the sideline. It's amazing how that works. When you get one thing working, the rest kind of just falls in place and benefits from the other pieces working as expected.
If I have to point out a negative or two, there were some deep balls to Sammie Coates that were overthrown or dropped. You could tell the coaches were trying to exploit that matchup, but it took four or five passes until Coates caught one, which just so happened to be a touchdown.
Another negative was the amount of penalties called against Auburn. It had to be the most for one game this season. Auburn shouldn't have to break the rules to beat a SWAC team, and they technically didn't, because the penalties never really ended a drive. They usually opened up a chance for an explosive play. I believe two or three of the longer touchdown runs came on a long yardage down.
Oh wait, how can I forget the Alabama A&M fans and band. They were, for the most part, one of the best visiting section I've ever seen at Jordan-Hare. They didn't care how the game was going. They cheered every positive play, and just looked happy to be there. It was refreshing to see.
The band, as expected, did an awesome show at halftime, which got the loudest ovation from the fans all day. Here, watch it:
As I said, it wasn't the prettiest game, but when you can faults in a 51-7 win, you know you're looking a little too hard. Auburn must take all positive momentum from this game and multiply it by 2,827 as we go right into Iron Bowl Week.