Welcome back to It's Pronounced GIF, the (hopefully) recurring article where I attempt to identify what works, what doesn't work, and all the why's of Auburn football.
This week we're looking at the Iron Bowl, and while it wasn't pretty by the end, there was a lot to be happy about in the first half, and even a few good things going in the 2nd half before the game got away. So without further adieu, here we go.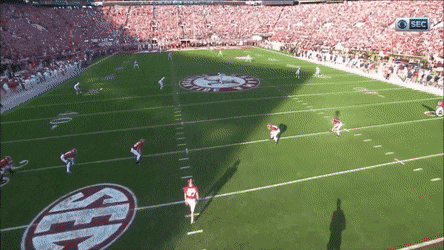 From the first offensive snap you can see a lot of things that would end up biting Auburn, mainly unforced errors that even as sloppy as the team has been this season, are uncharacteristic. This Seth Williams drop is the first of those, but I want to stress that this look was open, and Stidham put it on target and on time. The protection held for the half-second it needed to, and merely having this route available in the playbook did a lot to slow down the rush the whole game. Just a missed opportunity, and an example of the little plays that go a long way to winning games like these.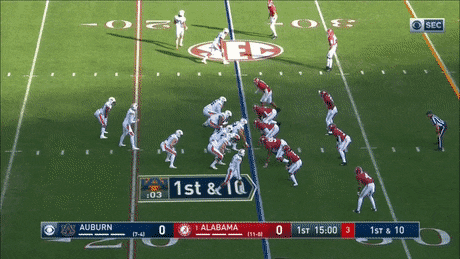 I want to point out this play and the coverage bust here because it's an example of a reason why we did better than expected in the first half, but lost control late. Look at the coverage by Noah Igbinoghene and Javaris Davis. Noah misreads his assignment which opens up the easy 15-ish yards to the Alabama WR, but it betrays the philosophy on defense for Auburn that served them well in the first half: play everything in front of the safeties, make Alabama drive the whole field. The strategy worked fairly well, as Auburn ended up owning the time of possession with 33 minutes. Later breakdowns in coverage are going to be a result of Tua manipulating the high safeties with play action or look-offs.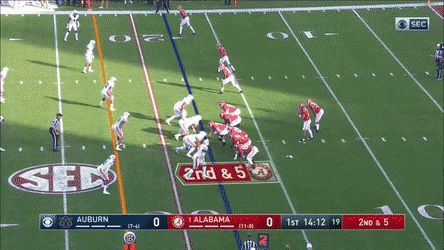 And in a game without a whole lot to praise the secondary for (they did give up 5 touchdowns through the air after all), I want to highlight this great play by all the levels of the defense. Everyone has their assignment well covered and Marlon Davidson gets himself in great position. This sets up for Tua having to make a perfect throw to beat the coverage, and Javaris makes a great play on the ball to set up 3rd down. Bama would fail to convert the 3rd down and punt the ball back.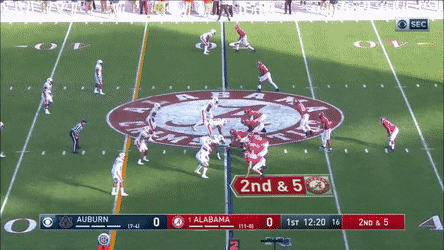 I want you to look at the run lane created by the offensive line right here. This is exactly the kind of thing I think we all have known this team is capable of, but consistency has been the issue. This line can absolutely get it done, and Kam Martin doesn't do a bad job exploding through the hole either. I want to frame this GIF of the line somehow and hang it in every OL meeting so they know this is what they're capable of. This was a pretty play.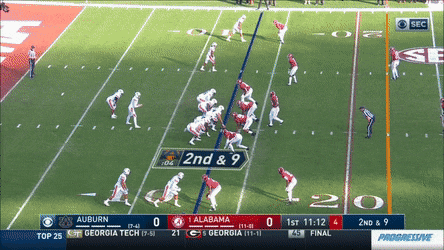 And here's that beautiful 75 yard TD that never was. I'm telling you guys, Shaun Shivers is gonna be something special for Auburn, and I knew from the moment I watched his high school film. The man runs with a violence and burst that very few running backs in the game have. None of them work through contact like he does. I don't want to undersell Shivers at all, the skill on display here to see the hole develop and burst through all the trash to get in the open is legit special, and I really hope he gets more work down the line. Excellent job all around, just clean up that block Sal.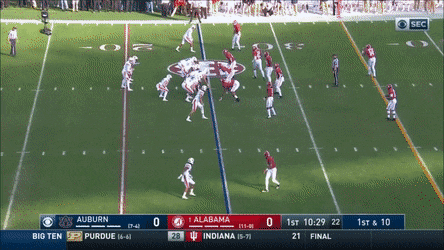 Another thing I don't want to undersell is how well the run game was doing for going up against one of the best defenses in college football. Quinnen Williams is no joke, and he was a non-factor in the run game. Show me someone who says this offensive line has no talent and I will show you a liar. Auburn was winning one-on-one battles up from with Alabama defensive linemen.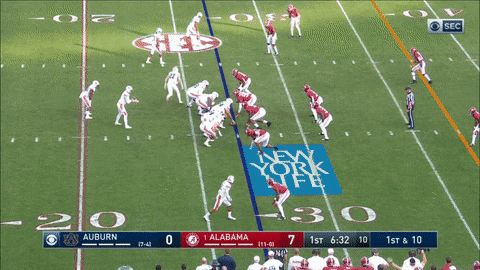 But with that I'm going to switch gears somewhat and start hitting only the highlight plays because I think you get the idea. It was not as bad as the score suggested, especially before the 2nd half. The major themes I want to make sure I get across are that offensively, the run game was working quite well, and the offensive line was doing a good job. Defensively, we kept everything in front of us to start with, but lack of speed and experience in the secondary bit Auburn late in the form of big plays.
Okay, one more bragging session on the offensive line. Look at this protection. It's only a 3-man rush, but you see some really promising things here. The left tackle runs a great rep against Quinnen Williams, and the left guard starts looking for work after he sees no late LB blitz. Stidham has a really clean pocket here, but the fact that it's 3rd-and-17 right here means Stidham is looking further downfield than he normally would. My best guess is he rolls out to try and free up a receiver from the coverage. Not a bad call, but when you have protection like this, I really wish he would have stood in and pushed the ball downfield. OL Good, Stidham okay, just a bad situation to be in.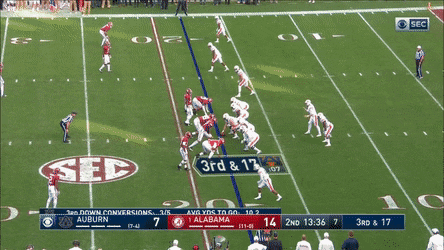 Here's a trend I noticed looking back at the game. We got waaaaaay away from running the ball on early downs, and it killed our drives more often than not. We had something working and for whatever reason we let ourselves get away it. It's worrying, but I get it, as a coach you understand you're not going to have the run game working all the time. If you attack the game with the same philosophy at every turning point you're not doing yourself any favors.
There's not much really to say about the blocked punt except for that special teams has been a huge strength for us this year and this swing very nearly got Auburn in position to take control of the game. The trick play afterward I am a huge fan of because it's an innovation on an already established trick play where Darius Slayton streaks down the middle during a "WR screen" to catch a pass from Ryan Davis. You can see him draw the corner playing press man out of position, and the fake is sold well enough by Davis to get Miller free on the wheel route to the end zone. Really just a beautiful play design, and I can't say enough good things about it.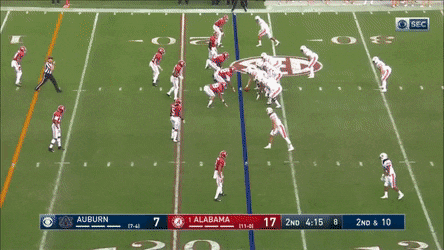 What I can criticize, and what I will forever maintain is the biggest reason we couldn't compete in the 2nd half  is the decision to sit on the ball after Bama went 3 and out on the ensuing kickoff. As I write, I try to be careful about criticizing coaching decisions as that's a world I'm very very foreign to, but Gus and the Auburn staff's refusal to work with the 2:30 given to them is indefensible.
3-and-outs are an extremely precious resource with this Alabama offense, and getting one should be treated as if it's a turnover because it is that important. The Auburn defense stepped all the way up from front to back to get a stop against the best offense in the country after seeing their offense step up to the plate, and for their effort there was zero urgency in the playcalling from Chip Lindsey. That's not a fireable offense, and in some ways it makes sense especially considering Stidham's hot and cold performance, but for me at least, the last drive before the half is the precise moment I felt like my team had thrown it's last punch.
Well that was a bit of a downer to end on huh? I want to end this by saying we played well enough on Saturday to beat a lot of teams, just not the one in front of us, and my only regret about this season in general is that it never came together for these seniors. Ryan Davis, Deshaun Davis, Darrell Williams, Chandler Cox, and many others deserved better than this season of missed opportunities and "almosts."
I have faith it's going to get better, and I think it will as soon as next year. Until then I would counsel patience. It would be very easy to screw up a good thing here with this team and even with this staff. This team is young, but they're talented as hell, and time will make them contenders again very soon.
War Eagle Y'all. Let's go win a bowl game and start focusing on next season. Hit me up on my Twitter or in the comments if you want to tell me how wrong I am about everything.
P.S. Here's a Gif of Anthony Schwartz being a fast human to speed you through the offseason.