"O Death, rock me asleep, bring me to quiet rest, let pass my weary guiltless ghost out of my careful breast." – Anne Boleyn
I promise this is the theme of every tweet in my mentions right now. Everyone is so sad that everything is taken out of context. I get it, I'm not thrilled with the last two games, but I am also not forgetting about the fact that Auburn beat Washington, a team that has an inside track to making the playoffs.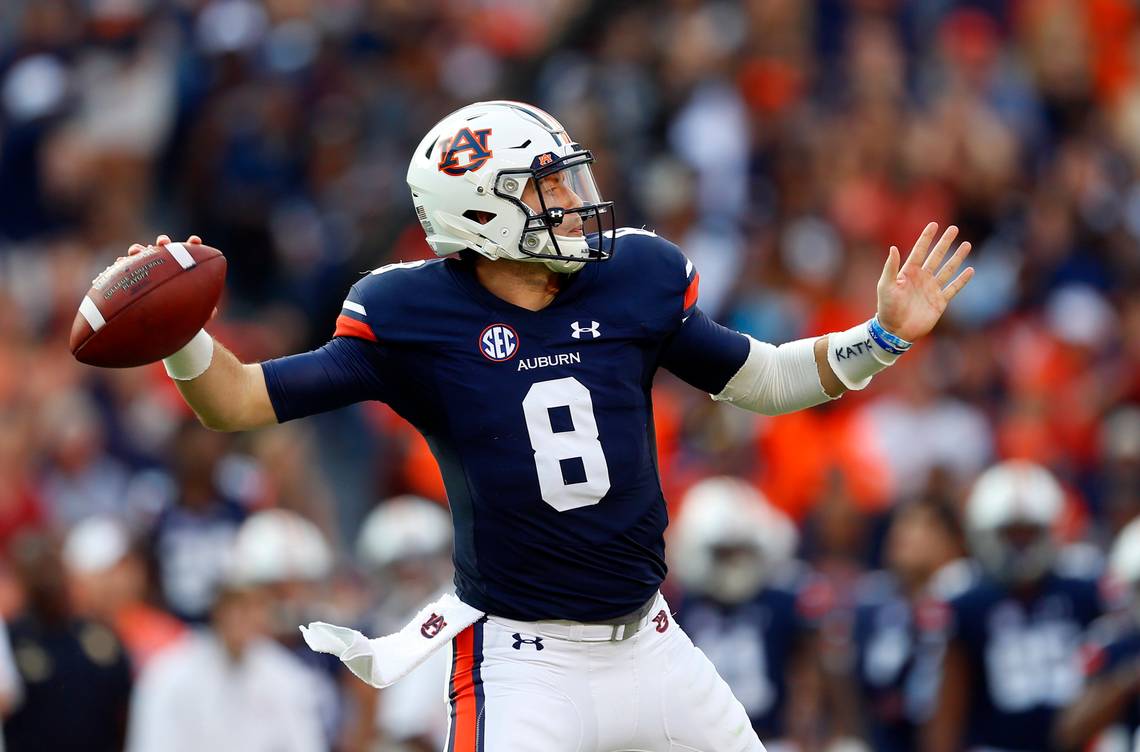 Auburn has work to do, but how different is it from last year? Honestly, Everyone was ready to throw in the towel on Jarrett Stidham after the Mercer game, but he ended the season as the best QB in the conference, statistically. Auburn has a chance to right the ship, but let's face it, if Auburn would win 84-0, Twitter would find a reason to be offended. Here are 5 points to the Southern Miss Game.
GOOD GAWD ALMIGHTY pic.twitter.com/7zyFCZtiSl

— Skye Underwood (@SkyeUnderwood) September 23, 2018
1. Stidham needs to find his accuracy
He's been off the last few games. It happens. However, going forward, Stidham needs to get back into the rhythm he had in SEC play last year. He's got the tools around him to succeed, he needs to get things right between his ears before. I'm aware that it's hard to be a great quarterback when you're running for your life (more on that later), but he's been missing people since the Washington game that he doesn't normally miss.
2. Offensive line
We all know it. It takes time for the offensive line to gel under Gus Malzahn. This is a fair point to argue. It is the responsibility of the coaching staff to make sure we recruit top quality players and have them ready to be successful each week. This hasn't happened this season. Boobee Whitlow and Jarrett Stidham are being hindered by the porous line.
Nick Brahms started a game at center for the first time since seventh grade. He was also Auburn's highest-graded offensive lineman against Arkansas, says Prince Tega Wanogho. That's quite the feat.

— Brandon Marcello (@bmarcello) September 25, 2018
Prince Tega went on to say that he believes the offensive line is close to turning the corner soon. Let us all hope.
3. Brett Favre ain't walkin' through that door!
Possibly the best QB in NFL history. Definitely the best QB in Southern Miss history. Auburn has is 17-5 vs Southern Miss. Southern Miss has NOBODY that can keep up with Auburn. So let's just look at some Brett Favre highlights.
4. Realignment of Focus
Auburn can use this game to try things to create continuity. Auburn needs to create positive plays to build confidence and the offense can continue to gel. Defensively, I'm hungry for a shutout. I thought Alabama State could be it, then I thought Arkansas could be it. This will be one of the last chances Auburn has at a legit shutout. All the rest of the offenses will be solid. Even Liberty can score points.
5. RELAX
To all the Auburn fans that want to share their stock in the team. RELAX. Auburn still has as much of a chance to make the playoffs as they did last year. Auburn can split the games between UGA and Bama and still make the playoffs. The season is far from over. Fans are there to cheer on the team. They need you now more than ever. Auburn needs JHS rocking every home game to help them. Show up. Be loud. Support them.
@AuburnEinstein's PREDICTION
Auburn wins. Big. 42-0.