This is getting tough, folks. There's only so much I can do to take a bad situation and find a way to make it seem like the sky isn't falling. I'm to the point that I don't want to think about it. I definitely don't want to blogle about it, and I know you probably don't want to read about it. But in the spirit of consistency and never giving up, let's get through this quickly and as best we can without throwing things, lighting something on fire, or bursting in tears.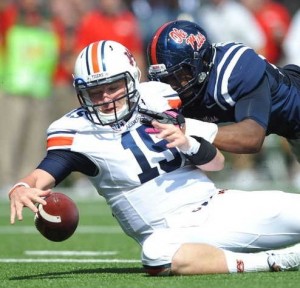 For whatever reason, I was unusually upbeat last week about the matchup with the Rebels. I have no real idea why. I kept hearing how Ole Miss fans were still certain they would find a way to lose to Auburn, and I guess that gave me solace. Because in the end, they were still Ole Miss, and we were still Auburn.
Even though my spirits were slightly dampened with the news of what seemed like a panic quarterback change, I still felt like history, and hopefully a decent running game, would give Auburn the win. For most of the game, I was pretty much right.
Auburn got off to a terrible start. After the offense showed semi-signs of life with a 1st-down in the first drive (progress!), the defense allowed the Rebels to run it straight down the field, and gave up a pass back to the quarterback for a touchdown. Media members furiously typed jokes relating to Auburn and Cam Newton catching a pass in Oxford just two years before. Original, witty guys they are.
Then to make it worse, there was a high/missed snap that traveled 26 yards before being jumped on by an Ole Miss lineman in the endzone. It was 14-0 before I had even eaten a hot wing. The Auburn world was on fire.
For the next quarter or so, Ole Miss became Ole Miss for a little while, and Auburn played to their strengths. They ran the ball very well, opening some nice passing opportunities. It was halfway beautiful. Two touchdowns were scored, Ole Miss was punting, and the game was tied. Things were looking good.
The next thing I know, I'm looking down to pick up a hot wing, and I hear one of the Daves yelling about an onside kick. THAT CHIZ!! HE DID IT AGAIN!!! RIVERBOAT, WHITE-SHACKETED GAMBLER!!
Auburn was playing so well that they were just toying Ole Miss. They had the crowd out of it. They had that swag. It was time to turn things around. A pass here and a pass there, and they were down inside the 20, ready to take over the game. Then something happened.
Moseley fumbled the snap, Mason ran for one yard, a five-yard penalty, and a five yard loss on a McCalebb run. They went from on the way to score and go up by a touchdown before the half to leaving Parkey with a 46-yard field goal. It's a good thing he's got the leg of stallion.
He made the kick, but I felt like it was nothing. So did Ole Miss. They went right down the field in 50 seconds and tied it up right before the half. That one drive, whether it was play calling or what, killed the momentum after so much was gained with that onside kick.
Even then, and even with the return of questionable play calling, Auburn hung with Ole Miss for most of the 2nd half. However, the curse of Dyer, showed up as it already has once this season.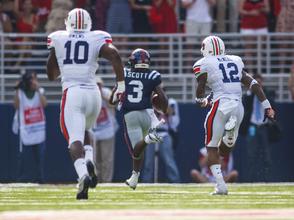 With about five minutes to go, on 3rd-and-16, Jeff Scott took a short pass and ran up the middle. Auburn linebacker, Ashton Richardson, grabbed his waist and slung him down, but as Scott rolled over, his butt barely stayed on top of Richardson's arm. That allowed Scott to hop up and run 40-something yards uncontested.
Look, I know it's easy to get frustrated at something like that and yell "play to the whistle, finish the tackle, blah, blah, blah," but 999,999 times out of 1,000,000 that is going to be a tackle. It wasn't anything Richardson did wrong, and it wasn't anything Scott did right. Richardson's arm just happened to get under Scott's butt keeping it from touching the ground.
From that point on, Auburn lost and I'm not going into it. Until then, Auburn was in the game and had control for a good part of it. The Scott play would have stopped the drive, causing the Rebels to punt, and given Auburn the ball down a touchdown with five minutes to play.
The common theme I heard from Auburn fans after the game was that we were terrible and got blown out by a team like Ole Miss. That's just wrong. They may have won by 17, but the game was  in reach until 5 minutes to go when a fluky play happened. Yes, I agree, Auburn should never lose to Ole Miss, but didn't most of you pick Auburn to lose to Ole Miss anyway? Why are you so mad? It's because you knew they still could have and should have won. Don't say they played terrible just because they got your hopes up until late in the game.
They didn't finish. That's the problem they've had all year. Is it conditioning? Is it because Coach Yox wouldn't let me do a workout with them earlier this summer? Is it just mental? Is it youth? It might be a bit of all of those.
Either way, Auburn played better, but better still isn't good enough. Getting better every week would be a start, but consistency has been lacking as well. That's the small thing that gives me hope. They have the talent and they have the ability. It's just the mental part of the game that's keeping them back. It's not that they are a bad team, it's just that they are a confused, down, swag-less team.
That can return, and hopefully it will sooner than later.