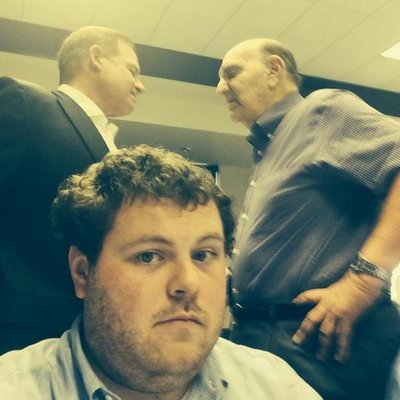 James Moran (@SmartestMoran) is the associate editor of Tiger Rag Magazine in Baton Rouge, where he covers the LSU football and baseball beats. This is his second appearance on the 'Blogle, and he's still a little meh on LSU football. He surprisingly likes Cam and says he has a better golf swing than Charles Barkley. Who doesn't?

1. What do LSU fans think of Auburn football right now?
Much like last year, I still think the general consensus is that Auburn is at least a half step above LSU right now as a program. I'm a journalist, not a fan, so I can't share much insight into what they think beyond that.
2. What's the vibe like in Baton Rouge after the big(?) win over Miami? Is there too much excitement about that?
If there was any excitement, it has already dissipated. The vibe is wait-and-see until LSU proves this isn't the same stagnant offense that's weighed down the program for years. LSU may be 2-0, but people range from concerned to angry about them being last in the SEC in total offense and second-to-last in passing.
3. Why did LSU only score 7 points in the 2nd half at Southeast Louisiana last week?
Pass protection was a big issue as LSU played without both of its starting tackles. LT Saahdiq Charles is back from a one-game suspension and RT Badara Traore may lose his job in practice this week as LSU searches for answers up front. The play calling was also extremely conservative. Ed Orgeron claims LSU hasn't held anything back for Auburn in terms of rolling out the "new" offense, but he's either lying or the offense isn't as aggressive and pass happy as Orgeron and Steve Ensminger claimed. Dropped passes have also been a big issue. So, aside from Joe Burrow, who has been solid, the passing game has largely been a mess.
4. Which two unheralded LSU Tigers should Auburn fans look out for and why?
Devin White and Greedy Williams are the stars of LSU's defense, but Grant Delpit is quickly joining the list of their most indispensable players. He's a rangy safety by trade, but LSU has taken to using him as a hybrid linebacker since losing their best edge rusher (K'Lavon Chaisson) to a torn ACL. He leads the team with two sacks and is one of LSU's better safeties in coverage. To borrow a phrase from Orgeron, he's like having three players in one. I'll go with Justin Jefferson as the second unheralded guy because he's quickly emerging as Burrow's go-to receiver and is seemingly the only reliable wideout LSU has at this point.
5. Which two Auburn Tigers worry you the most and why?
Considering LSU's problems up front, I'd say it's a tie between all of those big, fast and physical dudes Auburn rotates in along the defensive line. LSU had trouble blocking Southeastern on the edge, and obviously Auburn boasts a lot more talent than do an in-state FCS foe. If you're pressing me for two names, let's go with Derrick Brown since Orgeron likened him to Reggie White and Big Kat Bryant because that's just a fun name to type.
6. Where do you see each team having an advantage over other?
Well Auburn's defensive line certainly has the edge on paper against LSU's offensive line. To me that'll be the defining matchup of this game. If LSU can't figure out a way to protect Burrow, this game could get ugly. I'd say LSU's advantage comes from the speed and versatility of its linebackers and safeties. That depth and athleticism allows Dave Aranda to cook up a lot of different things.
7. Who are your two favorite Auburn Tigers of all time and why?
Cam Newton because he once won me a fantasy football league and is once again my quarterback in said league. Then maybe I'll switch it up and go Sir Charles Barkley since he may have an uglier golf swing than I do. I find that oddly reassuring.
8. What's your score prediction and analysis for this game?
I try to stay away from score predictions, but if you're a gambling type, I'd probably take the 9.5 points LSU is getting in most places. Unless the offense self destructs — a definite possibility — this feels like a low-scoring game somewhere in the 17-14 or 21-17 range.
9. Where will Auburn and LSU end up this season?
I'd think Auburn winds up 9-3 while LSU is somewhere in the 8-4/9-3 range if everything breaks right. Both teams have to deal with the harsh realities that come with playing a brutal SEC West schedule.
10. How did y'all get Goat Boy to play quarterback there?
I assume you mean Joe Burrow? His father has a longstanding relationship with LSU safeties coach Bill Busch, so once Burrow left Ohio State, that and the obvious opportunity to win the starting job seemed to be more than enough for LSU to land him over Cincinnati. LSU's biggest concern at this point may be keeping him upright and playing quarterback. In case you haven't heard, he plays behind a shaky offensive line and is NOT a big fan of sliding.