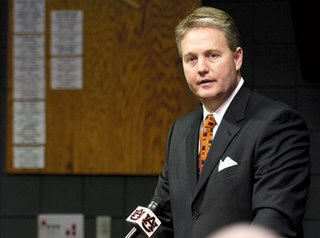 As we all remember from a few weeks ago, Auburn's current offensive line coach, Jeff Grimes, was being courted by the University of Texas for the same position. As we all know by now, he turned that position down. Take that Mack.
If you were like me, I was worried about Grimes taking the job solely on the fact that it would have shown that even though Auburn won the national championship, Texas would still be considered a better destination for assistant coaches. Of course Grimes is a Texas native so it made a little more sense, but after losing two defensive coordinators to the Longhorns in that past, I definitely didn't want another coach leaving for Austin.
Many of you probably thought that Grimes's spurning of Texas had to do with secretive talks behind closed doors of contract extensions and money, but you would be wrong. We can all thank one 'Blogle reader, Nicole Nichols (@IAM4AU).
Her very quick and simple email to Auburn Athletic Director Jay Jacobs was to the point and obviously did the job:
To: athldir@auburn.edu
Date: Sat, Jan 15, 2011 at 5:54 PM
Subject: Jeff Grimes
Please keep Jeff Grimes!!! War eagle
Sent from my Verizon Wireless BlackBerry
Jacobs was nice enough to take time out of his busy day of dodging FBI wiretaps and NCAA investigations to respond as follows:
From: Athletic Director <athldir@auburn.edu>
Date: Tue, Jan 18, 2011 at 1:21 PM
Subject: Re: Jeff Grimes
Nicole,
Just wanted to let you know that I received and read your e-mail and
that I appreciate the input. Staff continuity is important to us, and I
am sure you saw the recent news about Coach Grimes returning. Thanks
again. God Bless and War Eagle, Jay
Jay Jacobs '85 '88
Athletics Director
Auburn University
athldir@auburn.edu
334-844-9891
I know an email isn't a huge deal, but I do think that it's pretty big that the Athletic Director of the recently crowned national champions had enough time to respond to a quick, one-line email from a devoted fan. War Eagle.
Did anyone else email him and get a response? I'd like to see it. Email me.
UPDATE: Apparently this whole emailing thing isn't a new fad for Jacobs. He was responding to emails about Tuberville way back in 2007.