It's amazing the difference a year can make. This time last year we were all anxiously awaiting a decision between Zach Calzada and TJ Finley and my oh my, times they are changing.
I know Coach Freeze said this depth chart is tentative at best, but we're going to break it down, nonetheless. Even at this tentative period, it makes perfect sense how its set up.
There may be a few minor changes but for the first time in a long time this depth chart makes as much sense as any I've seen at Auburn in a long time. I knew we dominated the transfer portal, but I didn't realize how many starters we actually pulled in. Auburn now has quality depth ladies and gentlemen. Let's dive into this depth chart.
OFFENSE
QB1 #1 Payton Thorne (6-2 203lbs) Jr
QB2 #2 Robby Ashford (6-3 218lbs) So
It was surprising to me how surprised some people were at this decision. This was always Thorne's job to lose. The guy holds Michigan State's single season passing touchdown record. A guy off the street just simply doesn't do that. Robby is an electric athlete and will undoubtedly have a role in this offense. Don't sleep on Holden Geriner either. For the first time in what seems like forever we have quality depth in the Quarterback room.
RB1 #27 Jarquez Hunter (5-10 212lbs) Jr
RB2 #22 Damari Alston (5-9 209lbs) So
Allow me to introduce you to one of the best running back rooms in the country. Excited to see what Hunter can do with a lead role. With the additions of Brian Battie (USF) and Jeremiah Cobb, Auburn is very deep and very talented in the backfield.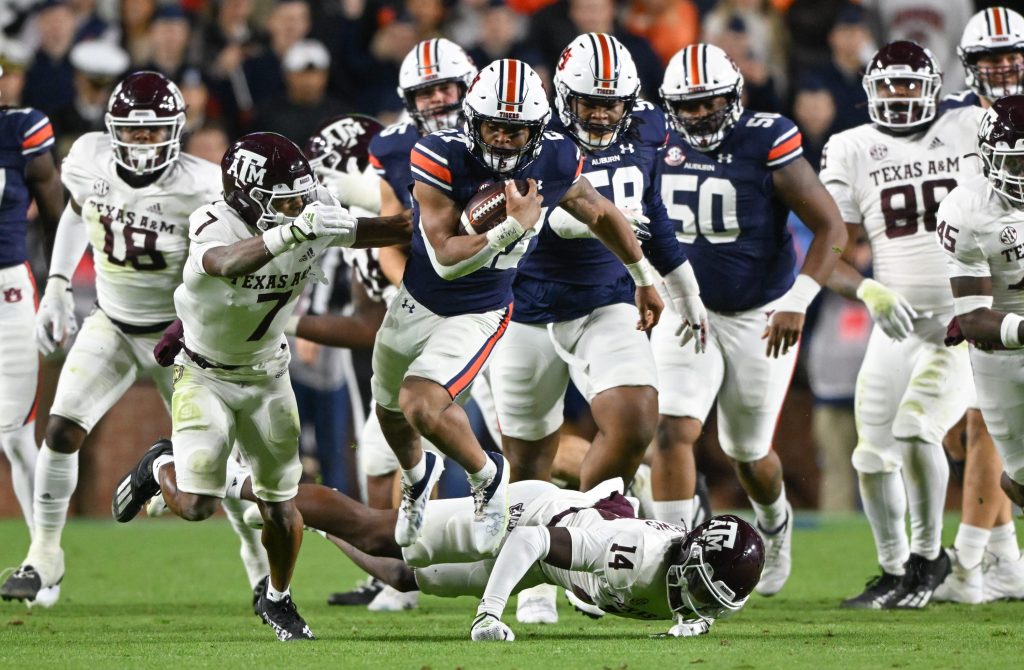 WR #14 Jyaire Shorter (6-2 209lbs) Sr
WR #19 Omari Kelly (6-0 178lbs) So
WR #5 Jay Fair (5-10 186lbs) So
WR #6 Ja'Varrius Johnson (5-10 167lbs) Sr
WR #11 Shane Hooks (6-4 191lbs) Sr
WR #0 Koy Moore (6-1 198lbs) Jr
WR #10 Caleb Burton III (5-11 171lbs) RFr
WR #4 Camden Brown (6-3 203lbs) So
Wait, Auburn has wide receivers? When coach Freeze says the depth chart is tentative, he's most definitely referring to the wide receiver room. All have shown flashes of elite talent they just need to start showing consistency. Shorter, (UNT), Hooks, (JSTU) and Caleb Burton (OSU) were all major portal additions. Expect 3-4 of these guys to really step up this season. Don't sleep on Camden Brown or Nick Mardner either.
TE1 #13 Rivaldo Fairweather (6-4 251lbs) Jr
TE1 #86 Luke Deal (6-5 257lbs) Jr
TE2 #85 Tyler Fromm (6-5 241lbs) Sr
TE2 #87 Brandon Frazier (6-7 267lbs) Sr
Rivaldo Fairweather (FIU) may have been the biggest surprise from the portal. He has elite ball skills to be to be his size and will be an absolute matchup nightmare. With Luke Deal, Fromm, and Frazier all back for what seems like year 10, we're as set at Tight End as we've been in a very long time.
LT1 #52 Dillon Wade (6-3 307lbs) Jr
LT2 #63 Jaden Muskrat (6-3 302lbs) Jr
The two Tulsa transfers are responsible for protecting Thorne's blind side this season. That will obviously be no easy task in this league, but both of these guys have big boy experience and could both play guard if need be. Experience and versatility make these two very valuable and we'll need them to play well.
LG1 #77 Jeremiah Wright (6-5 338lbs) Jr
LG2 #54 Tate Johnson (6-4 302lbs) Jr
Man, I'm excited to finally see a fully healthy Jeremiah Wright. He is an absolute giant with a mean streak in him. Tate Johnson has several starts under his belt and play both guard spots and center. Again, quality depth with experience is always encouraging to see.
C1 #66 Avery Jones (6-4 307lbs) Sr
C2 #75 Conner Lew (6-3 290lbs) Fr
I sound like a broken record here, but Avery Jones is another guy with a ton of experience. The man in waiting, Connor Lew, was the number one center out of high school and will undoubtedly be the man soon.
RG1 #66 Kam Stutts (6-5 343lbs) Sr
RG2 #50 Jalil Irvin (6-3 319lbs) Sr
Stop me if you'd heard this before, but here are two fifth year seniors with several starts under their belts. Kam Stutts is a monster and moves humans. Jalil is another guy that can play anywhere across the front, including center. If I could describe this Auburn O-line with one word, it would definitely be "versatile."
RT1 #53 Gunner Britton (6-6 312lbs) Sr
RT2 #72 Izavion Miller (6-5 318lbs)
In similar fashion to the Left Tackle position, right tackle also features two transfers. Britton was one of the most sought-after offensive linemen the portal had to offer out of Western Kentucky. Miller took the Juco route and was equally sought after. We need these two to play as advertised this season.
DEFENSE
DE1 #33 Mosiah Nasili-Kite (6-2 285lbs) Sr
DE2 #15 Keldric Faulk (6-6 288lbs) Fr
This is the only position that really caught me off guard. Originally thought to be just a depth piece, Maryland Nasili-Kite had a huge summer and worked his way into a split workload. The belief is that standout Freshman Keldric Faulk will eventually take over this role, but Mosiah was a pleasant surprise and most importantly can be trusted.
NT1 #99 Jayson Jones (6-6 338lbs) Jr
NT2 #52 Justin Rogers (6-3 346lbs) Jr
If you like the big boys, you'll love these two. Justin Rogers (Kentucky) was arguably one of the biggest portal additions on the defensive side of the ball. These two will be asked to take on double teams to free up the linebackers and they've both done that in the past. Very excited for these two.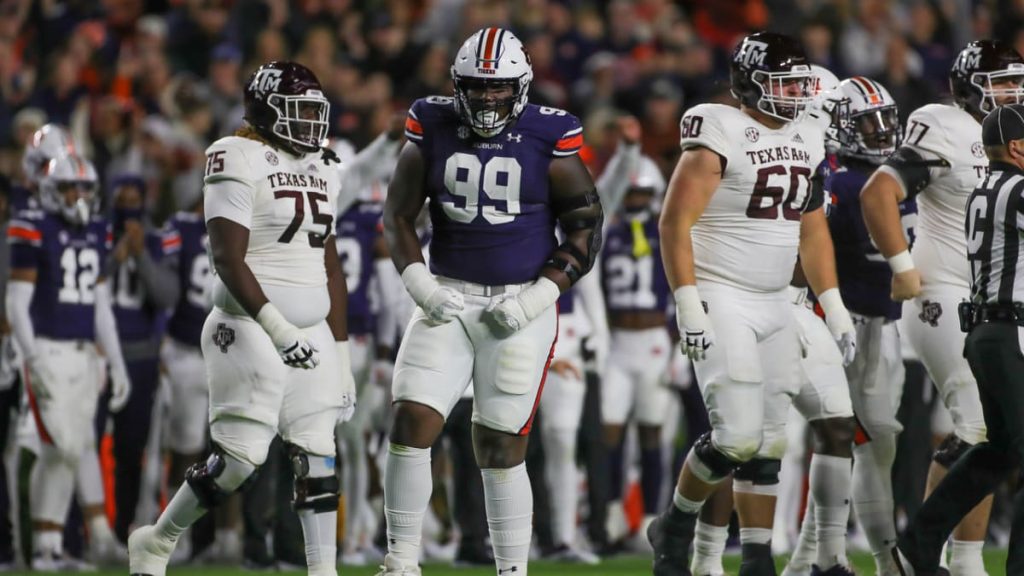 Jack1 #11 Eljah McCallister (6-6 271lbs) Sr
Jack2 #18 Stephen Sings V (6-3 248lbs) Jr
Jack2 #35 Jalen McLeod (6-1 237lbs) Jr
The Jack position features three new faces. McCallister, (Vanderbilt) Sings V (Liberty), and McLeod (App State) are all in a tough battle here. It feels to me like McCallister and Sings will handle the early down work while McLeod is more of a pass rush specialist. Jalen was an absolute menace against Texas A&M last season.
MLB1 #12 Austin Keys (6-2 233lbs) Jr
MLB2 #30 Larry Nixon III (6-1 231lbs) Sr
MLB3 #32 Wesley Steiner (6-0 245lbs) Sr
Finally, Auburn is getting back to having bigger linebackers. I loved Pappoe and McClain, but they were truthfully just undersized to play middle. Keys was a huge get from Ole Miss in the portal. Nixon was highly sought after out of North Texas and if Steiner can ever wrap up, he can be dangerous because he brings the boom. Ron Roberts defense asks a lot out its linebackers and it starts right here.
WLB1 #13 Cam Riley (6-5 242lbs) Jr
WLB2 #9 Eugene Asante (6-1 222lbs) Jr
Is it just me or has Cam Riley been at Auburn for 27 years? Somehow, he's still just a Junior. Again, big bodies here at linebacker. Asante, the North Carolina transfer, was expected to have a starting role once committed. Similar to wide receiver, this is one of those positions that will require a lot of bodies depending on what Roberts is trying to accomplish against certain looks.
FCB1 #4 D.J. James (6-1 164lbs) Sr
FCB2 #3 Kaylin Lee (5-11 181lbs) Fr
FCB2 #24 Colton Hood (5-11 183lbs) Fr
Enjoy watching D.J James this season as he will be playing on Sundays next year. Behind are two very talented, yet unproven freshman that have looked exceptionally well in camp. Several DB position groups are interchangeable in this defense so don't be surprised to see more names here on gameday.
STAR1 #0 Keionte Scott (6-0 188lbs) Jr
Star2 #5 Donavan Kaufman (5-10 204lbs) Jr
Guys, the corners are probably the strength of Auburn's team. What a job Zac Etheridge has done with this group. Keionte Scott is another name you will hear some NFL chatter about while Donavan Kaufman already had two years of starts under his belt. Expect him to be all over the place in this secondary.
FS1 #36 Jaylin Simpson (6-1 178lbs) Sr
FS2 #39 Griffin Speaks (5-11 188lbs) Jr
Jaylin Simpson is arguably a four-year starter. He started at corner Gus Malzahn's last season as head coach and had several starts during the Harsin days. It appears he's making a transition to safety but can flat at do it all. Again, a lot of interchangeable pieces in this secondary this season.
WC1 #10 Zion Pucket (6-0 226lbs) Sr
WC1 #14 Marquis Gilbert (6-2 186lbs) Jr
Another position where you have two guys that have multiple starts under their belts. Are you starting to see a common theme here? Pucket was your physical run stopping safety last season and is still in a similar role in a different scheme. Gilbert, the 2nd year juco product is another Swiss army knife so expect to see him a good bit this season as well at multiple positions.
BCB1 #1 Nehemiah Pritchett (6-1 184lbs) Sr
BCB2 #25 Champ Anthony (5-11 164lbs) So
BCB2 #23 J.D Rhym (6-1 178lbs) So
Nehemiah Pritchett, another guy that has been at Auburn since Bo Nix was born. He's made some great plays in his career but has at times been inconsistent. The Juco product champ Anthony and sophomore JD Rhym look to add quality depth this season. You will see them rotating at the FC (Field corner) position as well.
SPECIAL TEAMS
PK #38 Alex McPherson (5-9 154lbs) Rfr
Just kick it like your brother Alex. Better yet, kick it better than him.
P #91 Oscar Chapman (6-3 204lbs) Sr
Pin them deep, you crazy Aussie.
H #91 Oscar Chapman (6-3 204lbs) Sr
Laces out, Finkle.
LS #61 Reed Hughes (6-1 232lbs) So
Don't bounce it to him or snap it over his head,Reed.
PR #0 Keionte Scott (6-0 188lbs) Jr
PR #10 Caleb Burton III (5-11 171lbs) RFr
Come up and actually field the punt instead of watching it roll to the ten-yard line. Don't fumble.
KR #21 Brian Battie (5-7 170lbs) Jr
KR #27 Jarquez Hunter (5-10 210lbs) Jr
Catch the ball and run really fast. Don't fumble.
That's it. That's the "depth chart."