The AP Poll came last week (Auburn is ranked 9th), which means the season is officially upon us. College football technically kicked off last weekend, but all it turned out to be was Rice needing a last second field goal to oust power Prairie View A&M and Washington's old backup QB getting beaten by Hawaii. TL:DR – you didn't miss anything.
I watched a fair bit of Washington's film from last season so CLEARLY I am an expert on all matters Huskies and have 5 points for Chick-fil-A Kick-off.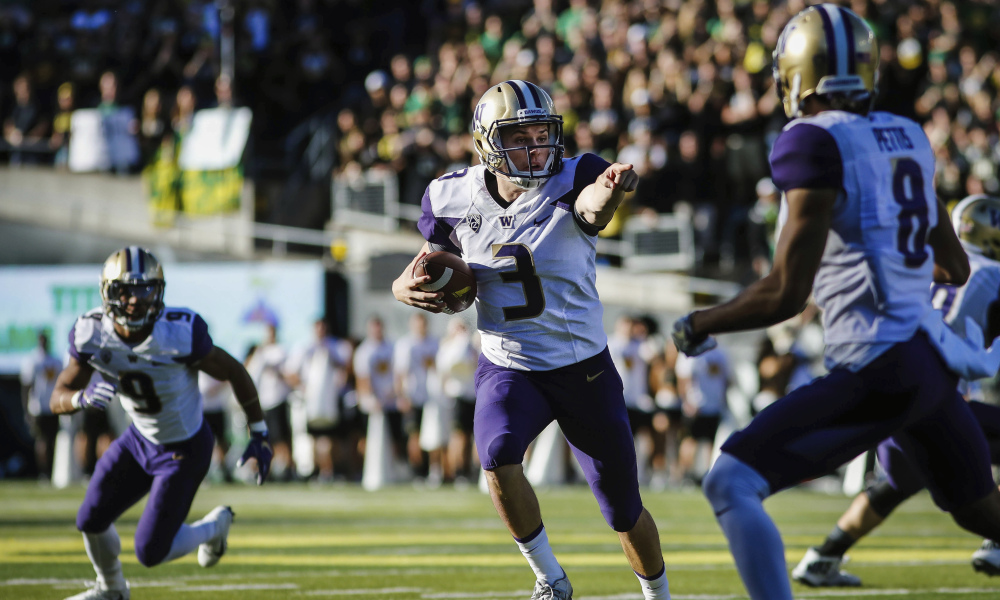 1. Jake Browning and Myles Gaskin are the real deal
Washington returns three-year starters for both their QB and RB positions. These guys can ball. I'll start with Jake Browning. In his career, Jake Browning has thrown for 9,104 yards, 78 TDs, and 24 INTS. 2017 was not as good for Browning as 2016 was; however, it was still an improvement from 2015. In 2016, Browning threw for 3,430 yards, 43 TDs, and 9 INTs. Browning also had John Ross and Dante Pettis to throw to. Browning won't have this luxury this year as both are in the NFL. Browning will have to cut his teeth with the likes of Chico McClatcher (JR-WR – 49 REC, 780 YARDS, 6 TD) and Hunter Bryant (SO-TE, 22 REC, 331 YARDS, 1 TD). This shouldn't be that bad as Jake Browning is capable of dropping dimes like this: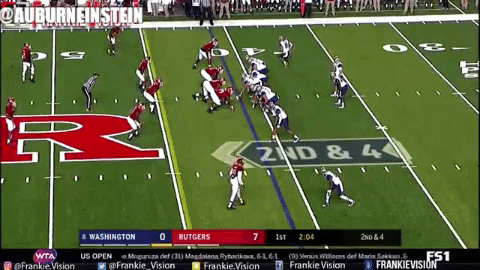 Myles Gaskin has gotten better each year he's played. Gaskin has rushed for 1,300 yards and at least 10 touchdowns every year. In total, Myles Gaskin has 686 attempts for 4,055 yards and 45 TDs. Gaskin has gotten better as his career has gone on rushing for a career-best 1,380 yards, 6.2 YPR, and 21 TDS. He can even do this: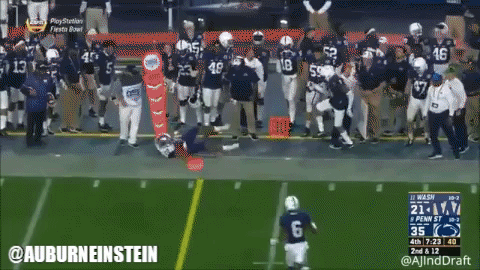 Both of these guys are game changers and they are running behind a line that returns 3 starters and was much improved last year as the season went on. I expect them to be one of the top O-line units in the country this year.
2. Washington's Secondary is the best unit on their team
As good as Gaskin/Browning have been, their secondary is far and away better. Byron Murphy and Jordan Miller will shut down everyone. Pro Football Focus has Miller and Murphy ranked 6th and 23rd, respectively, as the lowest Opponent Passer Rating. Murphy, whom I think is the better of the two, is returning from a gruesome injury he suffered in the Arizona State game. According to one NFL Scouting Site, Miller is projected to be second string behind Austin Joyner. Granted, I won't believe anything until the actual game week, but they may be spoiled for choice as to which corners they want to play.
Those CBs in Washington are pretty, pretty good. pic.twitter.com/avSK6krE56

— PFF College (@PFF_College) August 14, 2018
After all of this, I have yet to mention a safety. JoJo McIntosh (RS-S), projected SS starter has played in 13 games every season he's been eligible to play. Mcintosh has 155 tackles (97 solo tackles), 8 PD, 2 FF, and 2 INTs and was 2017 ALL-PAC-12 Second Team. His counterpart at FS is Taylor Rapp. Rapp was 2017 All-Pac-12 First Team, 2016 Pac-12 Freshman Defensive Player of the Year, 2016 Freshman All-American First Team. Rapp has 112 tackles (71 solo tackles), 7 PD, 2 FF, 5 INTs, and 1 TD. Stidham was statistically the best QB in the SEC last year. He will have to improve to be effective against this Washington Secondary.
3. Trouble Against Elite Runners
It depressed me to see just how good their secondary is. It doesn't get much better because Washinton's Run Defense was 4th in the country last season. The Huskies lost their best lineman in Vita Vea. However, the 2 elite runners they faced last year (Saquon Barkley – PSU, and Bryce Love – Stanford) ripped them to shreds. Barkley had 137 yards with 7.6YPR and 2 touchdowns, including this one: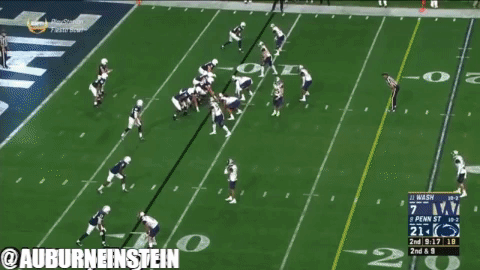 Bryce Love ran to the tune of 166 yards and 3 Touchdowns and 5.5 YPR. Auburn needs to prove their depth they've been speaking of at RB. If Auburn is able to create a ground game and someone steps in to fill KJ's shoes, it should bode well. I'm not worried about who will take over because when Tre Mason left, Cameron Artis-Payne stepped up. When CAP left, Payton Barber stepped up. When Barber left, the world was going to end because we moved Pettway from H-back to RB and he dominated. Then last year, KJ shined through injury, including a few of his own.
4. UDUB's Kickers Could Play for Alabama
…and not in a good way. Seriously, watching last year's Arizona State game made me sad for their kicker.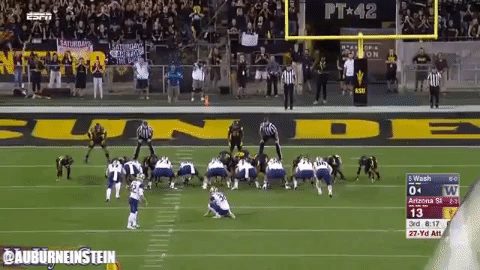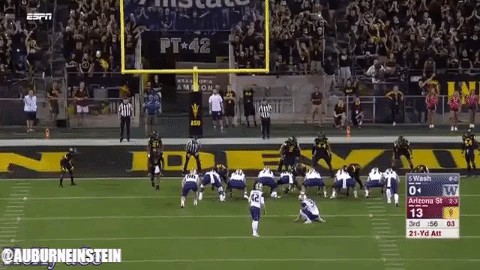 5. Comes Down to a Battle of the Trenches
Like I've mentioned earlier in this post, Washington returns 3 linemen from last year. Lead by Seniors Left Tackle Trey Adams (6-8, 316 – 2016 First Team All-Pac-12 and Second-Team All-American) and Kaleb McGary (6-8, 324 – 2017 All-Pac-12 First Team) this unit has a lot of experience. Sophomore Luke Wattenberg (6-5, 307) played in 11 games last year, starting 5 and should be a starter this season at Left Guard. Wattenberg was 2017 All-Pac-12 Second Team. At Right Guard, Jessee Sosebee (SR, 6-5, 327) played in every game, except one in 2015, since he's been at Washington. Sosebee made the move from Left Guard to Right Guard midway through last season. Nick Harris (JR, 6-1, 300) will start at Center and, like Sosebee, has played in most of the games in his time on campus. Washington's O-line has a lot of experience together, coupled with Gaskin and Browning, and should be the most experienced teams in the nation.
In two games in particular last season, the opposing defensive line dominated Washington's offensive line. Arizona State was in the backfield all night and pulled away with a 13-7 victory. However, this score is misleading because ASU had a chance to make it 20-0 but an incompletion on a deep ball followed by a sack led to a missed field goal. The other team to give Washington problems on the defensive line was Rutgers, of all teams. Rutgers, a 4 win team last year, had Washington in a 2 possession game with 10 minutes left in the 4th quarter last season and provided some hard hits on Jake Browning. All this to say; Auburn, legitimately, has the best defensive line in the country. Far better than any team that Washington would have played last season.
As far as how Auburn's offensive line will hold up against Washington's defensive line; Washington runs a 3-4 defense and their linebackers aren't great. Auburn's offensive line should run about as good as it did in the 2013 SEC Championship game when the offense could do no wrong against a solid Missouri defensive line.
@Auburneinstein's Prediction
I think Auburn starts fast in this game and builds a 2-3 Touchdown lead. Washington will find their groove before halftime and in the third quarter and makes it a close game heading into the 4th quarter. Auburn will make enough plays on defense and offense and pull away with a 31-21 victory. Also, SPOILERS – Washington is a playoff team…