After a night full of upsets, with three AP Top 10 teams falling, Joe Lunardi updated his projected NCAA Tournament Bracket. Auburn is looking to make their first tournament since 2003, and if Joe has anything to say about it, and might do so as a 1-seed.
After Purdue's 3rd straight loss, Auburn has replaced the formerly projected 1-seed. The folks over at BracketWag have the same sentiments.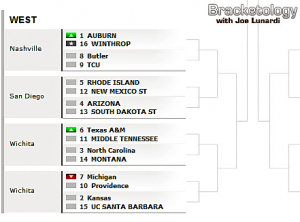 Auburn looks to close out the season with five remaining games, three of which are on the road, and a 2.5 lead over Tennessee in the SEC standings.