I've pretty much decided that anything above 50% in bowl picks is a good thing. So with going 5-4 in the first 1st half of Week 2, I've reached .500. Now I just have to have a winning record of any kind the rest of the way.
Bowls: 16-15 (51.6%)
Regular Season: 112-35 (76.2%)
Overall: 128-50 (73.3%)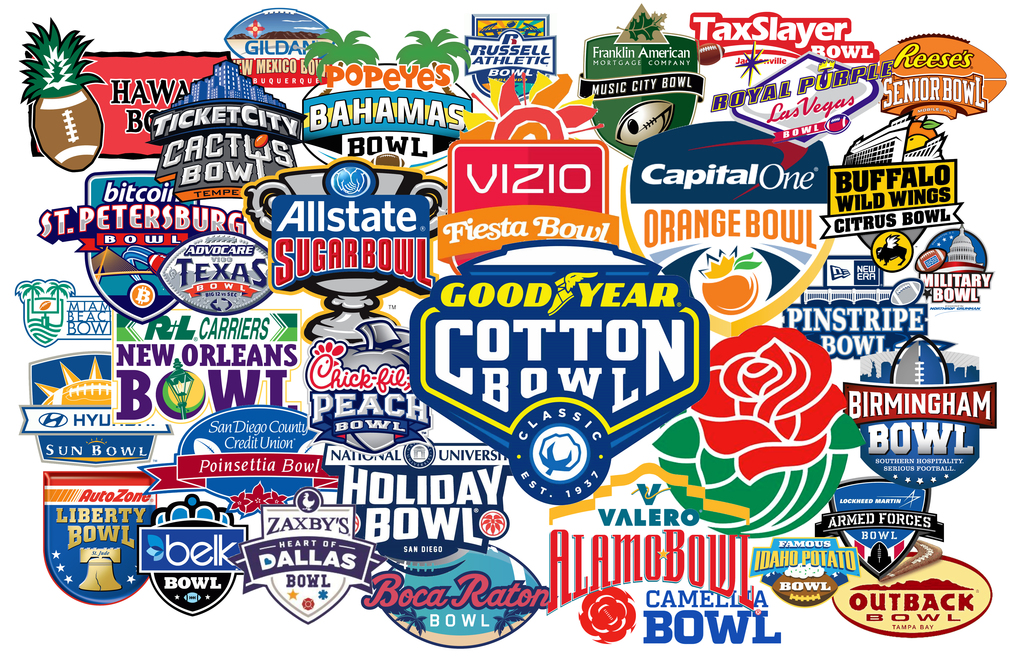 The 2nd half of Week 2 is when bowl season starts getting interesting. Yeah, the teams have little numbers next to their name and everything. In some cases, both do. Now it gets real.
12/27
Walk-On's Independence Bowl (12:30 p.m. ESPN)
Southern Mississippi vs. Florida State – As it turns out, Florida State probably shouldn't be playing in a bowl. I mean, they were terrible and needed to reschedule a game with UL-Monroe just to barely squeak in, but now another one of those games maybe shouldn't have counted either. Yeah, that's too much. They have the talent advantage, but the universe won't let this happen.
Southern Miss 27, Florida State 24
Florida State 42, Southern Miss 13 – FAILURE
New Era Pinstripe Bowl (4:15 p.m. ESPN)
Iowa vs. Boston College – I would like to watch a football game in Yankee Stadium. Too bad this bowl always has teams like this. Iowa beat down Ohio State in the regular season, but they still lost five games. Boston College only really lost to good teams and they put a beating on Florida State. All of their fans likely hate Yankee Stadium, too, so it will feel like they're playing a rivalry game.
Boston College 21, Iowa 17
Iowa 27, Boston College 20 – FAILURE
Foster Farms Bowl (7:30 p.m. FOX)
Arizona vs. Purdue – This sounds like a no-brainer. Exciting offense vs. slow boring Big 10. But is Arizona that exciting anymore? Nah. But still, it's Purdue. The only time they've sounded scary is when Rudy was describing them.
Arizona 45, Purdue 10
Purdue 38, Arizona 35 – FAILURE
Academy Sports + Outdoors Texas Bowl (8 p.m. ESPN)
Texas vs. Missouri – Finally, the SEC has a bowl game. That's how it is when you're the best in all of the land. Hashtag it just means more. Missouri turned it on later in the season after I berated them for a good two months. Texas is still not where they want to be. The problem is that Missouri is playing in a bowl named for the other team. I still think they are hotter right now. Dang, Texas was 6-6?
Missouri 45, Texas 35
Texas 33, Missouri 16 – FAILURE
12/28
Military Bowl presented by Northrop Grumman (12:30 a.m. ESPN)
Virginia vs. Navy – I stupidly picked against Army in the Armed Forces Bowl. I will not pick against Navy in the Military Bowl. It's a simple as that.
Navy 24, Virginia 10
Navy 49, Virginia 7 – SUCCESS!
Camping World Bowl (4:15 p.m. ESPN)
Virginia Tech vs. Oklahoma State – Ok, I think we're finally getting to good games. Yep, this is the first between two ranked teams. Both are 9-3, but I don't feel as if those are created equally. Oklahoma State has firepower. Virginia Tech still has a little Loeffler on them.
Oklahoma State 38, Virginia Tech 17
Oklahoma State 30, Virginia Tech 21 – SUCCESS!
Valero Alamo Bowl (8 p.m. ESPN)
Stanford vs. TCU – The Alamo Bowl always seems to be one of the more exciting bowls of the year. Stanford seemed a tad down this year. TCU was TCU. Fort Worth is an hour flight from San Antonio. The trip is much further for Stanford. That will be the difference.
TCU 28, Stanford 17
TCU 39, Stanford 37 – SUCCESS!
San Diego County Credit Union Holiday Bowl (8 p.m. FS1)
Washington State vs. Michigan State – I never thought this ridiculous bowl name would last, but here we are on like year 10 or something. The Pirate got an extension and Michigan State was their usually high-level decent self. Wazzu has the ability, but are they real enough to hang with a decent big boy? Nah.
Michigan State 24, Washington State 18
Michigan State 42, Washington State 17 – SUCCESS!
12/29
Belk Bowl (12 p.m. ESPN)
Wake Forest vs. Texas A&M – I know Texas A&M kinda faltered late and they fired their coach, but they seem better than playing Wake Forest. I guess they were both 7-5. Gotta believe SEC speed wins this one and everybody gets prematurely excited about Jimbo.
Texas A&M 34, Wake Forest 13
Wake Forest 55, Texas A&M 52 – FAILURE
Hyundai Sun Bowl (2 p.m. CBS)
North Carolina State vs. Arizona State – North Carolina State is not in the College Football Playoffs, but they are definitely a decent team. Arizona State fired their coach and hired a guy who hasn't been in the college ranks for quite some time. One is ready, one is limping into the next phase of their story.
North Carolina State 31, Arizona State 16
North Carolina State 52, Arizona State 31 – SUCCESS!
Franklin American Mortgage Music City Bowl (3:30 p.m. ESPN)
Kentucky vs. Northwestern – Kentucky started strong and then ended like Kentucky. Northwestern is ranked? Yeah, and they won a bowl game last year. That's rare. They'll win this one, too.
Northwestern 17, Kentucky 14
Northwestern 24, Kentucky 23 – SUCCESS!
Nova Home Loans Arizona Bowl (4:30 p.m. CBSSN)
New Mexico State vs. Utah State – Why is this one squeezed in between a bunch of other decent games? Both are 6-6. Utah has been good before. New Mexico State is typically one of the worst teams in football. We'll go with history.
Utah State 27, New Mexico State 13
New Mexico State 26, Utah State 20 – FAILURE
Goodyear Cotton Bowl Classic (7:30 p.m. ESPN)
USC vs. Ohio State – It's the Pac-12 champion against the Big 10 champion. USC knew they weren't getting into the College Football Playoffs, so they've coped with it. Ohio State is probably still fuming, and as much as I don't care for their brand, they should be. One team is glad to be there. One team feels slighted. It's the story of most bowl games. The team that wants to be there will win.
USC 34, Ohio State 20
USC 24, Ohio State 7 – SUCCESS!
Now that I've picked the bowls, you should go join the bowl pick'em. Just make sure you have them in prior to each game, but go ahead and do them all so you don't have to worry about it. There's prizes and stuff.