Auburn has won 10 of their 11 games. Their biggest were at Texas A&M and Georgia in Auburn. The lone loss was in Baton Rouge in September in the rain. Most agree that the LSU game would come out differently if the two teams played today.
Alabama has won all 11 of their games. Their biggest were at Texas A&M and LSU in Tuscaloosa. Kinda similar, huh? But don't tell that to anybody sitting in front of a camera.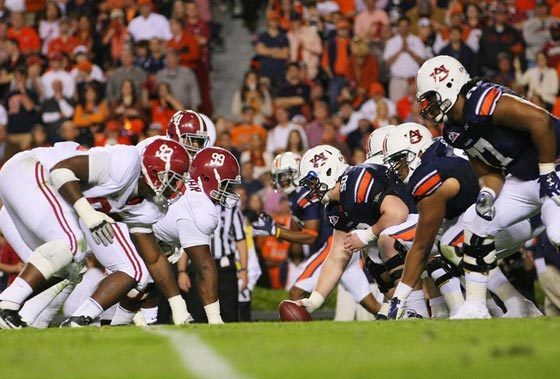 Everyone agrees that Auburn is tons better than they were just a year ago. Coach Pat Dye says it is the best coaching job he's ever seen. But Alabama, a team that mustered up a 20-7 win over 6-6 Mississippi State just two weeks ago (no, you can't compare that to Auburn's narrow win against the Bulldogs in the 2nd week of the season), is just going to win it comfortably, as most are saying.
They're all "it's unbelievable what Gus Malzahn as done this year" and "Auburn has the best rushing attack in the nation" and "this is Alabama's biggest test," but end that with "but Alabama will win comfortably" or "AJ McCarron has won a lot of football games in his career by handing the ball off to a good running back behind a big line and then benefiting from wide open crossing patterns due to play action so let's ignore the intent of the Heisman and just give it to him because Johnny Manziel's defense is terrible."
That last line was paraphrased, but true to the fullest extent.
What most are forgetting is what I've already told you: Auburn has won 10 of 11 games in the toughest conference in America, they have a tougher strength of schedule than Alabama, and at this point would probably beat the only team that's beaten them.
Auburn doesn't just have a really good ground game. They have the best gound game in the nation. Even after Nick Marshall used his arm to beat Georgia, people that are just looking for something to downplay Auburn's offense still use phrases like "one-dimensional." Did Marshall not throw for 300+ yards against Mississippi State? Did he not use his arm in big plays in the game winning drive against Texas A&M and Georgia? It's stupid and lazy to say Auburn can only run the ball.
But let's say they can only run the ball. They do it better than anybody, and as Lashlee and Malzahn always say, "why throw if the run is working?" The perfect game plan involves running the ball down your opponent's throat, and that's what Auburn does. Running the ball runs the clock and controls the game. That's what every team wants.
Alabama's run defense is always stout, but it's not what it was last year. Auburn wasn't supposed to run on Georgia, but they did. Why can't they against Alabama? Oh, because Alabama has all of those gaudy rush defense numbers that came against teams that don't run the ball half as well as Auburn? That's what I thought.
But let's take football talk out of all of this. Let's talk about intangibles. The real intangibles. Not the intangibles that CBS thought would give Georgia an easy win over Auburn in Auburn. Real intangibles.
Let's talk about the atmosphere. I'm willing to say that Alabama has not played in front of atmosphere like this since the 1989 Iron Bowl. I'm including every game in Baton Rouge. Auburn people have been parked in their tailgating spot for a week. Gameday is in town. It's the best Iron Bowl situation in Auburn since 2007. Auburn people are ready to explode.
Does anybody remember 2009? Remember what that 7-4 Auburn football team did to that 11-0 Alabama team? Gus seemingly saved up plays all season that made the eventual national champion look pretty plain. Chris Todd's pump fake, the end around to Terrell Zachary, all that stuff. It worked and it leveled the playing field. This year, Auburn doesn't need near as much leveling. They have talent, momentum, and swagger. Now add Gus's wizardry on top of that.
I hate to say this, but in a sense, Auburn has nothing to lose – or let's say less to lose – than Alabama. Alabama has a definite shot at the national championship at this point. Auburn still needs a tiny bit of help. That's not to say that I don't think Auburn shouldn't or couldn't get in, or that I'm not expecting it to happen, but even if Auburn wins, they could have already reached their highest postseason position in the Sugar Bowl. In that case, it slightly takes a little bit of pressure off of the Tigers.
I know that sounds ridiculous when talking about an Iron Bowl, but with the game being at home, and having a team that can definitely compete with and beat Alabama, it has to feel like a little lighter load than what Alabama is carrying.
Alabama may be a better overall team in terms of talent and accomplishments, but Auburn which is not far behind in that category, literally has everything else in their favor for this game.
This game will be 2009 with a different outcome. Auburn will jump out to a lead with plays that have been in the back of Gus's mind all year. Alabama will battle back, but a team more talented and deeper than that 2009 team will hold on to win the biggest Iron Bowl in the history of mankind and all celestial bodies.
Auburn 31, Alabama 21