The Iron Bowl is the greatest rivalry in sports, and with great rivalries come strange things. Given we live in the same state as most Alabama fans, we have become accustomed with some of these oddities. That doesn't take away from how weird (and wrong) Alabama can be a lot of things. Let's visit those things.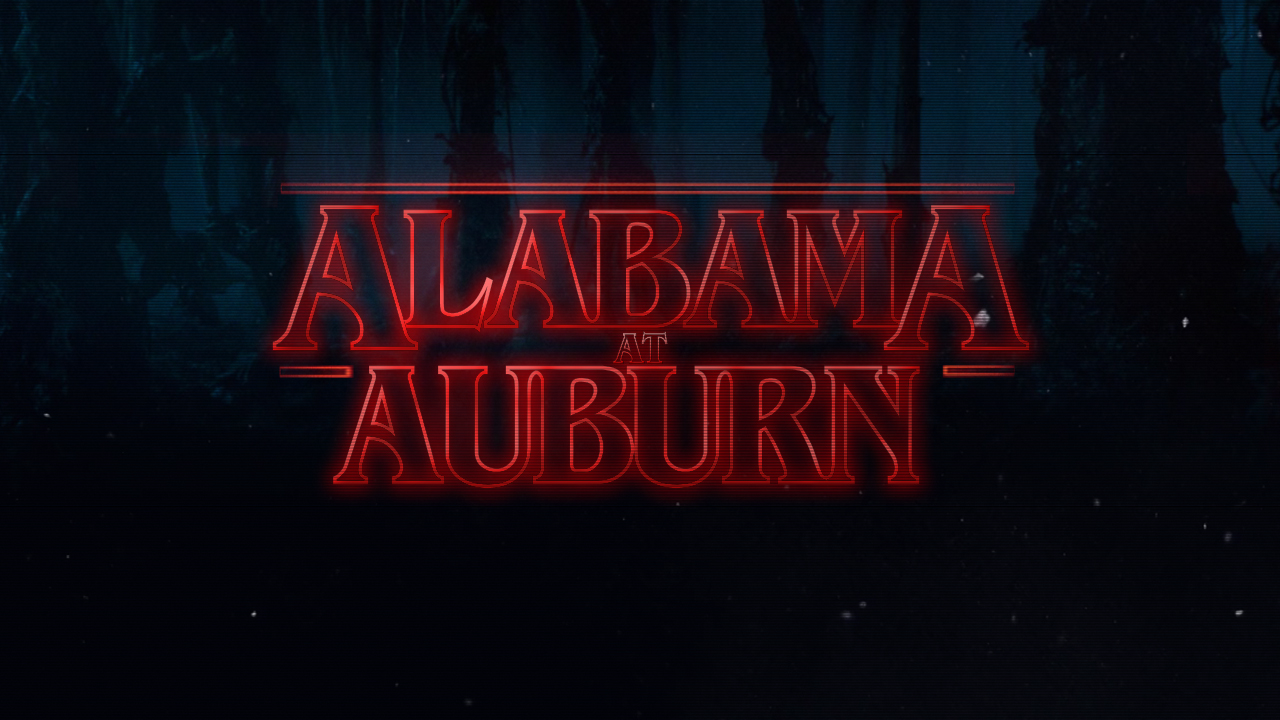 1. They don't have 16 National Championships… at all.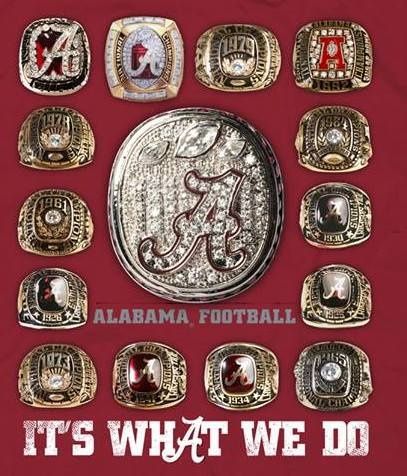 You know this. I know this. Alabama knows this. Yet they still, in their boast of boasts, claim to have 16 national championships, the most in college football. I've said this many times. Alabama has many championships, more than most, and they should be very proud. But when you brag about things that aren't true, it kills it all.
The stupidity of some of the championships they claim have been well-documented. Below is an example of the worst, and you can read about the many others here as well.

1941: This is by far the silliest title claimed by Alabama, which went 9-2, finished third in the SEC and was ranked 20th in the final AP Top 25. Minnesota (8-0) is widely recognized as the undisputed national champion by being ranked No. 1 in 12 polls. Atcheson counted a title for Alabama because it finished No. 1 in the Houlgate System, a mathematical rating from 1927-58 developed by Deke Houlgate of Los Angeles.
Please remember that Alabama jumped from 6 to 12 championships overnight. Many generations of their fans were born after that happened, so they've grown up hearing it all their lives. They don't know any different. And we wonder what's wrong with today's youth.
2. Bear Bryant didn't wear houndstooth that much.
Alabama's primary colors are crimson and white, but a few years back, houndstooth began popping up everywhere. They added it to the trim on some of their uniforms. They put it on the field. They started making extra large women's peacoats that were nothing but houndstooth.
And it was all because somebody started this lie that Bear Bryant loved a houndstooth hat and wore it all the time. Like those 16 national championships, nope. Just take a look at this graphic. He wore plaid. Most of the pictures you've ever seen of him are plaid. Not houndstooth.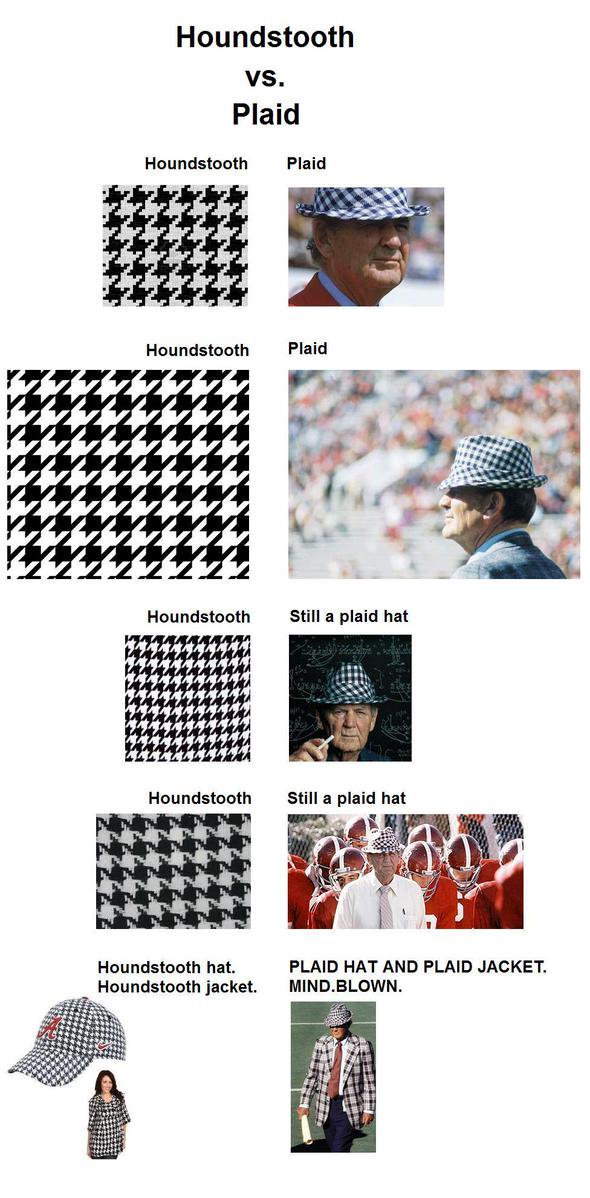 Did he wear a houndstooth hat once? Sure. Did he wear it all time or invent the hat as some believe? Nope. In fact, Shug Jordan wore a houndstooth hat around the same time as well. He also wore a blue shirt, too. Yeah, so why you wearing blue shirts, barner?!
This lie/exaggeration is just another part of the worship that Alabama fans have for a guy that won games before these people were a twinkle in their daddy's sister's eye.
And it doesn't just stop at wearing something houndstooth. Grown men. GROWN MEN. Like OLD men, dress up as another old man without a hint of irony. Oh, and remember that time I spotted the guy posted up hoping someone would look at him and think he was Bear Bryant at the 2011 Iron Bowl? It's just really sad.
3. That time the Auburn President compared Alabama to Hitler.
It is commonly known that Auburn and Alabama did not play from 1907 to 1947. There are many reasons why, but basically it's because the two schools hated each other because Alabama just wanted Auburn to go away. Alabama alum were all throughout the State legislature and they tried their best to make it happen.
During this time off, Alabama submitted a pompous (sound familiar?) document stating that Alabama should basically be the only higher education institution in the state and that Auburn should be absorbed. Auburn's president at the time didn't back down. Here, just read it how it's written on Wikipedia, co-founded by an Auburn alum.
Attacks on Auburn's existence continued by the legislature. In 1915, appropriations to Auburn were withheld, which continued at times through the 1930s.[9] During a 1945 legislative session, "The University of Alabama's report to the commission argued that the Tuscaloosa school had well-established and broad responsibilities for higher education in the state. Four times in Alabama history, higher education responsibilities had been delegated to other institutions. In three of the four cases, this occurred under a state government established during the Reconstruction period: creation of the normal schools, higher education for blacks, and establishment of the land-grant college at Auburn. The fourth case was the state women's college at Montevallo.

In each case, this had resulted from "the illogic inherent in the evolution of a democratic government." While it was indeed true that American higher education was relatively democratized, with the consequent scattering of resources, the Alabama report had a haughty tone that drew a sharp response from President Luther Duncan (then Auburn President), who said that he had never seen "a bolder, more deliberate, more vicious, or more deceptive document."

He predicted that if the friends of Auburn and Montevallo did not rise up to combat "this evil monster," it would consume them "just like the doctrine of Hitler." Duncan also remarked that according to Alabama, "Auburn is the illegitimate children…born out of the misery of the reconstruction period."

With the end of World War II, "The GI Bill had inundated Auburn (then officially named the Alabama Polytechnic Institute), with students—doubling enrollment twice between 1944 and 1948." Auburn could not be ignored at this point or "coldly and systematically strangled to death," or at least choked "until such time as it should become so weak that……it could be absorbed" by the University of Alabama. The return of the Iron Bowl in 1948 solidified the permanence of the land-grant university at Auburn.
I don't know why this is strange to me, it actually sounds just like Alabama, but I love the Auburn president comparing their report to the "doctrine of Hitler" just as WWII was going on. Pretty strong stuff. Now, according to most college rankings, it seems that Auburn should maybe absorb Alabama.
4. Also, Nick Saban is short.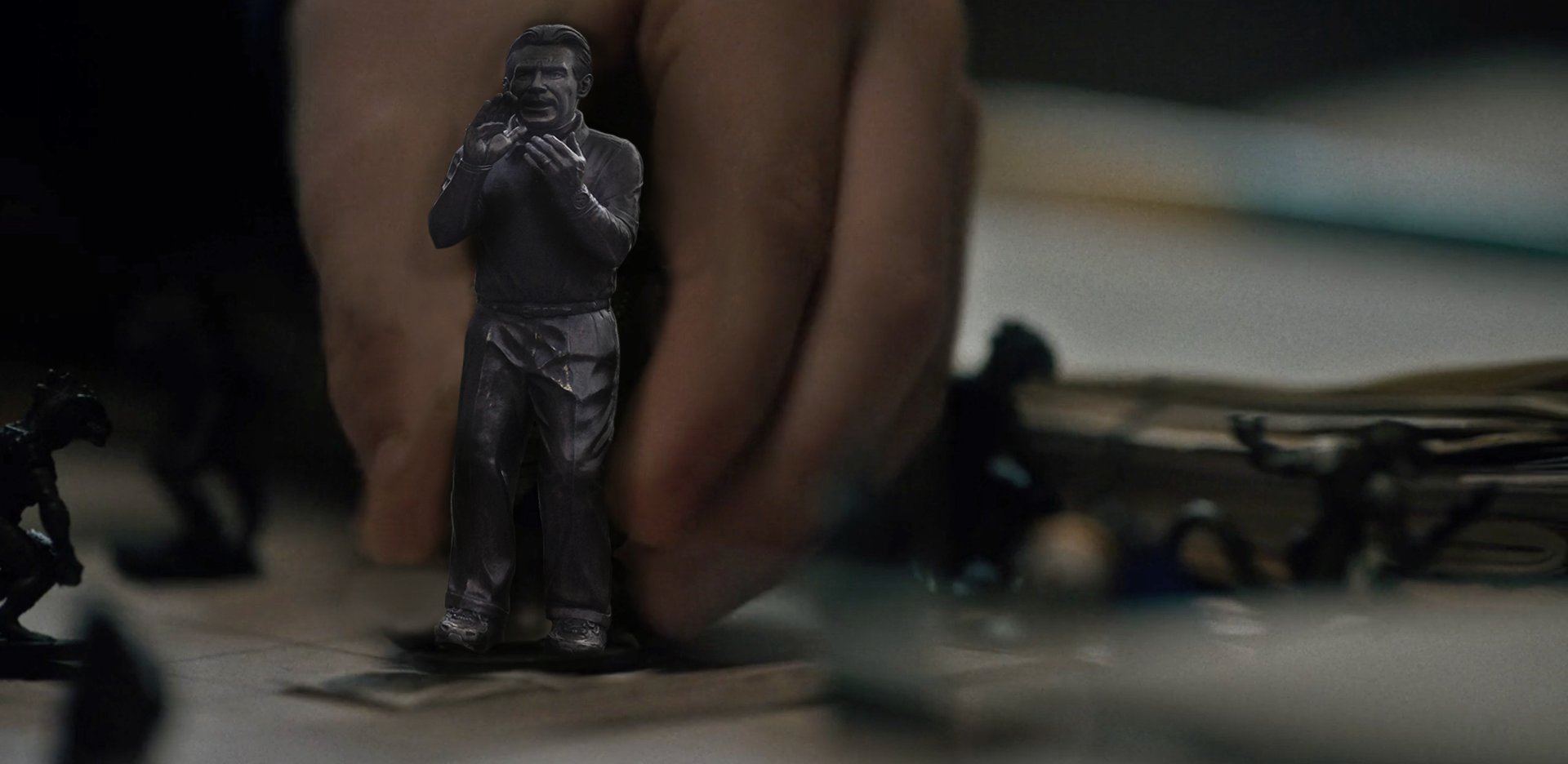 Beat Bama.