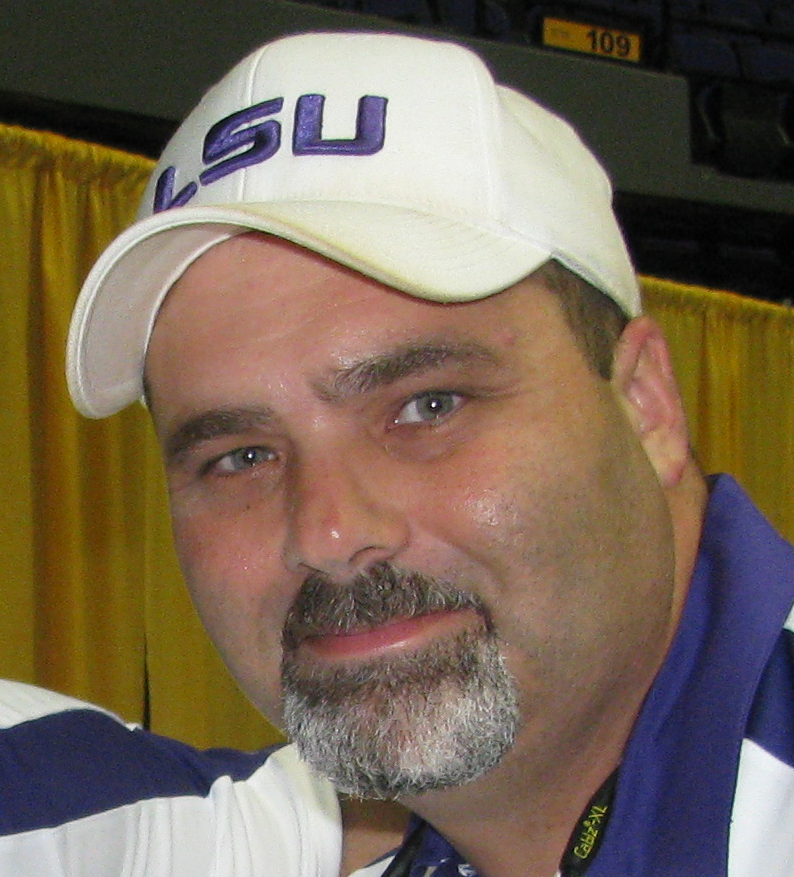 Jason Esthay (@TigerHype) runs TigerHype.com, an independent website featuring LSU sports, news, and opinions. You may remember Jason from last summer and last fall when he answered a few questions about his LSU Purple Tigers. You will notice a drop in the level of optimism from then to now, as he's not too high on his Purple Tigers this year. He was very insightful on the corndog smell, though.


1. What is an LSU fan's thoughts of Auburn football right now?
Auburn is a very talented, well-coached football team who was my pre-season pick to win the SEC West. At the beginning of the season, I predicted that both teams, Auburn and LSU, would enter this game undefeated. I would have never imagined that we'd get our butts handed to us in Death Valley on a Saturday night by Mississippi State.
2. It was announced that freshman Brandon Harris will be making his first college in Jordan-Hare Stadium this Saturday. Does that scare you? Where do you rank Jordan-Hare on the list of scary places to play?
A lot of fans are excited that he's getting the start but I'm not sure that I share that same level of enthusiasm. You're starting a true freshman, ON THE ROAD, against a top-ranked SEC opponent. This game will be Harris's trial by fire. If he tanks, it could ruin his confidence for the rest of the season and, if you couple that with Anthony Jennings' lack of production, that could spell disaster for the remainder of the year. Some of our fair-weather, short-sighted fans seem to have forgotten what happens when you start a freshman quarterback before he's ready (think Jarrett Lee in 2008).
As far as a scary place to play, I'd have to rate Jordan-Hare near the top and right below Bryant-Denny Stadium and "The Swamp" in Florida (though The Swamp doesn't seem that scary anymore with all of those empty seats).
3. What's the vibe on Les right now? Are fans still 100% behind him?
Generally speaking, no. A lot of the fan base thinks he should have named Harris the starter from the beginning. There are even those who still want him fired despite his record at LSU. I always ask them "Who would you replace him with? Will Muschamp? Lane Kiffin?"
4. Where do you see LSU having an advantage over Auburn?
You know, it's funny how the advantages that you think that your team will have at the beginning of the season can drastically change as the season progresses. The only true advantage that I feel LSU has right now is in the defensive secondary and that advantage has diminished somewhat with the loss of safety Dwayne Thomas for the season. So far, our secondary is only giving up an average of 130 YPG passing and has 6 INTs as well as numerous pass deflections and break-ups. Auburn will have to beat LSU with the run.
5. Where do you see Auburn having an advantage over LSU. Try to pick just one.
Besides the obvious home field advantage? Experience. In big games, experience matters and Auburn has more of it at the skill positions where it counts the most.
6. Name two Bengal Tigers that Auburn should look out for.
On offense, keep an eye out for Freshman wide receiver Malachi Dupre (9 receptions for 197 yards and 4 TDs) who, along with Travin Dural, gives LSU two deep threats. Dupre and QB Brandon Harris have developed a very good chemistry on the field.
On defense, it's middle linebacker Kendall Beckwith (20 TKL, 2 TFL, 1 sack and 1 INT returned for a TD). He has a good combination of size (6-2, 245) and athleticism. I would imagine with LSU facing a run-happy Auburn offense, that Beckwith will see quite a bit of playing time at the "Mike" position to help shore-up LSU's soft middle.
7. Who are your two favorite Auburn Tigers of all time and why?
I really only have one favorite Auburn Tiger and that is Bo Jackson – he was such a gifted athlete. It's a shame his pro career ended so early. I know Auburn has had a lot of other great players like Cam Newton and Pat Sullivan, and I respect their accomplishments, but Bo was truly phenomenal.
8. What's your score prediction/analysis for this game?
Neither team can afford to start off slow in the first half like both have been wont to do at times during the first few games of this season. If LSU somehow manages to escape Jordan-Hare with a "W" it will be because they manage to keep the score close throughout the game and then pull it out on a big play on defense or special teams late in the game. As much talent as our youth have, Auburn's experience does give them a distinct advantage in this contest.
I think LSU will make some big plays, but, as much as it pains me to say this, at the end of the day Auburn wins. Auburn's running game will prove to be too much for LSU's front 7 on defense and our young guys will have some struggles playing on the road in a hostile environment against their first SEC opponent . Final score? Auburn 31, LSU 24.
9. Where will LSU and Auburn end up this season?
The SEC West will most likely come down to the Iron Bowl again. At this point, I think Auburn finishes at 10-2 or 11-1 and will more than likely return to Atlanta again this year. I know a lot of fans would love for their team to run the table, but I honestly don't see a single SEC West team going through conference play unscathed. LSU will likely finish the season at 8-4 and I'm probably being a little optimistic with that prediction given the way we've played thus far.
10. Do you apply the cornbread batter directly to the skin each morning or is it injected into your bloodstream at birth?
Actually, we only apply it for special occasions, like on game days. We've discovered that it helps mask the scent of "trailer park" when we play that team from Tuscaloosa.