When there are many upsets like there were last week, that usually means prediction-makers are upset, too. That can definitely be said for me. It wasn't good. Hopefully this week is easy enough and I can avoid my lowest regular season record of all time.
Last week: 6-5 (54.5%)
This week: 4-2 (66.7%)
Overall: 94-45 (67.6%)
There shouldn't be too many surprises on this Championship Week. For my sake, let's hope so.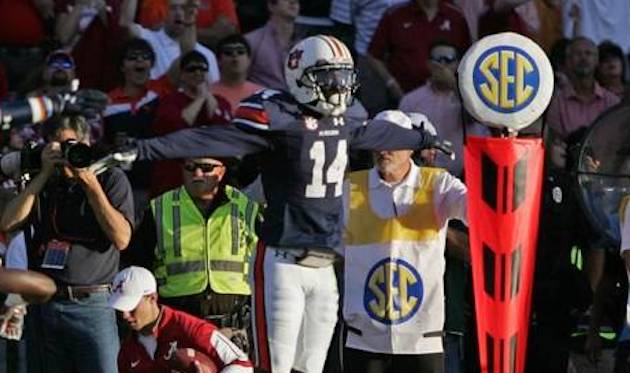 12/2
Western Michigan vs. Ohio (MAC Championship) – The Broncos may be playing the last game of their magical season with their boat-rowing coach at the helm. He's sure to be snatched up by Houston or Oregon or somebody.
MACtion will be little in this one as a blowout commences early.
Western Michigan 37, Ohio 10
Western Michigan 29, Ohio 23 – SUCCESS!
Colorado vs. Washington (Pac-12 Championship) – This probably would've been a little more fun had USC made it, considering they have beaten the Huskies and could do it again to throw a wrench in the playoff, but Colorado obviously ain't half-bad. Nah, Washington will win.
Washington 34, Colorado 14
Washington 41, Colorado 10 – SUCCESS!
12/3
Oklahoma at Oklahoma State – The Big 12 doesn't have a championship game, but this game will determine their champion. And if things go as planned elsewhere, Auburn will face the winner in the Sugar Bowl.
These teams are pretty even. The Cowboys play a little more defense than the Sooners, so I'll go with them.
Oklahoma State 38, Oklahoma 31
Oklahoma 38, Oklahoma State 20 – FAILURE
Alabama vs. Florida (SEC Championship) – The line for this game is 24+ points in Alabama's favor. Yeah, the divisions are really even in the SEC. If Alabama beats Florida by just a decent margin, Auburn goes to the Sugar Bowl. If Florida makes it close, the Sugar Bowl is up in the air. So…. Rrr…. Rrrrr…. Rreeealllly hope Florida loses this one. They will.
Alabama 38, Florida 10
Alabama 54, Florida 16 – SUCCESS!
Clemson vs. Virginia Tech (ACC Championship) – Can we redo all conference divisions? Clemson hasn't been the juggernaut we thought they'd be, but they're squarely in the playoff with a win over a Virginia Tech team that's fed on the lowers of the ACC. Shouldn't be close.
Clemson 41, Virginia Tech 17
Clemson 42, Virginia Tech 35 – SUCCESS!
Wisconsin vs. Penn State (Big Ten Championship) – It's possible that the two teams that make the Big Ten Championship Game could be overlooked for the playoff by two Big Ten teams not even in their conference championship game. Humans!
I feel like both of these teams are riding on a bad Big Ten schedule and both are just sorta good. It will be a slow, close, Big Ten game and Wisconsin will win.
Wisconsin 21, Penn State 17
Penn State 38, Wisconsin 31 – FAILURE
Now that you know who will win, head on over to the 2016 War Blogle Pick 'em and get your picks in. There will be weekly prizes and and overall winner at the end of the season. It's easy. Do it.