Gus Malzahn released the depth chart for the Arkansas game today. There are a few surprises. There are 1st-stringers that won't start, but will play. There are a few ORs. There are guys moving up due to injury. It's a depth chart. But it's my words within the depth chart that make it worth the read. So do that.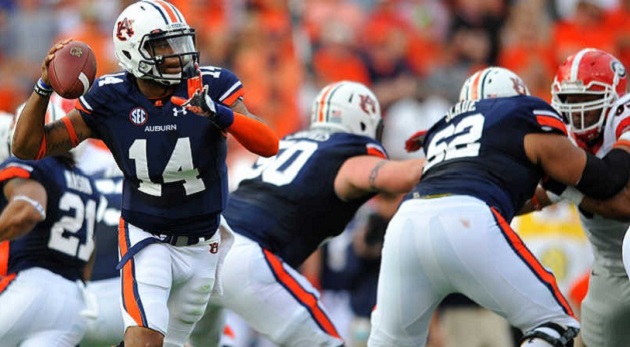 OFFENSE
QB
14 Nick Marshall (6-1, 210, Sr.)
6 Jeremy Johnson (6-5, 230, So.)
We know that Nick Marshall won't start, but he's still listed as first string. Malzahn has confirmed that he will play against Arkansas, though.
TB
44 Cameron Artis-Payne (5-11, 210, Sr.) OR
20 Corey Grant (5-11, 205, Sr.)
The beloved "OR" makes its first appearance at the running back spot this season. We knew both guys would play. One will probably pull ahead and be a little more successful by the end of the year. If they aren't passed by the guy that's not even listed in the two-deep (Roc Thomas).
LT
72 Shon Coleman (6-6, 310, So.)
71  Braden Smith (6-6, 299, Fr.)
LG
62 Chad Slade (6-5, 315, Sr.)
53 Devonte Danzey (6-4, 296, Jr.)
C
50 Reese Dismukes (6-3, 295, Sr.)
52 Xavier Dampeer (6-2, 296, Jr.)
RG
56 Avery Young (6-6, 315, So.)
76 Jordan Diamond (6-6, 318, So.)
RT
51 Patrick Miller (6-7, 289, Jr.)
70 Robert Leff (6-6, 286, So.)
There isn't really a single surprise in the offensive line. I'm happy for Shon Coleman and I'm pumped for Braden Smith behind him. Every other starter has playing experience. I still can't believe that Avery Young and Jordan Diamond are only sophomores. As I said last year, look at the youthful experience on this line. Auburn will win a national championship in the next two years.
TE/HB
81 C.J. Uzomah (6-5, 264, Sr.) OR
11 Brandon Fulse (6-4, 258, Sr.)
Just like last year, Uzomah and Fulse are OR-ing it up. Malzahn has said they'll both play and maybe at the same time. They are both very different players at the same position so it opens up lots of possibilities.
WR
1 D'haquille Williams (6-2, 216, Jr.)
82 Melvin Ray (6-3, 207, Jr.)
WR
18 Sammie Coates (6-2, 201, Jr.)
8 Tony Stevens (6-4, 198, So.)
WR
5 Ricardo Louis (6-2, 212, Jr.) OR
4 Quan Bray (5-10, 195, Sr.)
WR
80 Marcus Davis (5-9, 180, So.)
10 Stanton Truitt (5-9, 175, Fr.)
There are no major surprises at the wide receiver spot. Duke Williams was a starter when he committed to Auburn and S is for Sammie and starter. The only tiny thing I didn't expect could be that Jaylon Denson isn't listed. He seemed surprised about it, too. Marcus Davis is sort of the unsung hero. He tore it up last year as a freshman, and now he's a starter. It shows how well he's done when he's a starter by himself and Ricardo Louis and Quan Bray get OR'd.
---
SPECIALISTS
PK
38 Daniel Carlson (6-4, 216, RFr.)
39 Alex Kviklys (6-1, 191, Jr.)
P
38 Daniel Carlson (6-4, 216, RFr.)
85 Matthew Shiel (5-11, 195, Fr.)
Apparently Daniel Carlson is the next Damon Duval. Hopefully without the getting kicked off the sideline part.
H
29 Tyler Stovall (6-1, 207, RFr.)
12 Jonathan Wallace (6-2, 207, Jr.)
Ouch. Jonathan Wallace started football games at quarterback for Auburn. Now he's been bumped down to 2nd-string holder. Still love him though. He's apparently getting work at other special teams spots.
LS
48 Forrest Hill (6-1, 248, Sr.)
69 Ike Powell (6-3, 264, Fr.)
Snap, Forrest, snap.
PR
4 Quan Bray (5-10, 195, Sr.)
80 Marcus Davis (5-9, 180, So.)
KR
20 Corey Grant (5-11, 205, Sr.)
5 Ricardo Louis (6-2, 212, Jr.)
9 Roc Thomas (5-10, 193, Fr.)
23 Johnathan Ford (6-0, 199, So.)
I feel very confident with any of these guys catching balls from the sky and taking them to the house.
---
DEFENSE
DE
97 Elijah Daniel (6-2, 263, So.)
86 DaVonte Lambert (6-2, 293, Jr.)
Elijah steps in for the injured Carl Lawson and I don't see it as a major loss.
DT
98 Angelo Blackson (6-4, 306, Sr.)
1 Montravius Adams (6-4, 306, So.)
I kinda thought Montravius would take this spot after his start last year. He was a monster to start the season, but maybe we just thought that because he was a freshman doing non-freshman things. The way lineman are rotated, we'll see plenty of the big #1. Oh, but I still love Angelo because he blocked a punt against Virginia, and his name is awesome.
DT
54 Jeffrey Whitaker (6-4, 322, Sr.)
50 Ben Bradley (6-1, 303, Sr.)
The old man returns. Two seniors, no complaints.
DE
90 Gabe Wright (6-3, 284, Sr.)
10 LaDarius Owens (6-2., 259, Sr.)
We knew Gabe Wright was getting all skinny for a reason. He's slimmed down, moved out side, and ready to get his Dee on.
Star
26 Justin Garrett (6-1, 224, Jr.)
19 Nick Ruffin (6-0, 174, Fr.)
So uh… where's Therezie? No but really, there have been rumors abound of his eligibility and injuries and suspensions and now he's not even in the two-deep. My best guess is that he's serving a 6-game suspension. BUT REMEMBER, Justin Garrett was listed as the starter last season before his injury. Therezie just came out and had a great year. I'd like him to play, but Garrett will hold it down, too.
MLB
8 Cassanova McKinzy (6-3, 249, Jr.)
43 Anthony Swain (6-2, 249, Jr.)
WLB
17 Kris Frost (6-2, 234, Jr.)
30 Tre' Williams (6-2, 225, Fr.)
No surprises at all for the real linebacker spots. Tre Williams will play, and Tre Williams will be a man before it's all said and done.
CB
3 Jonathan Jones (5-10, 182, Jr.)
25 Trovon Reed (6-0, 190, Sr.)
Good for Trovon Reed to move positions and get in the two-deep. Hopefully it's a little better than the last guy to switch to the secondary and wear #25.
FS
9 Jermaine Whitehead (5-11, 193, Sr.)
14 Stephen Roberts (5-11, 180, Fr.)
Little #otownkilla Stephen Roberts showing up as a freshman. I see you.
BS
23 Johnathan Ford (6-0, 199, So.)
24 Derrick Moncrief (6-2, 218, Jr.)
Well this is a surprise. A sophomore that switched from running back for depth issues last year is starting over a highly-touted JUCO transfer. Alright then. Do it, Rudy.
CB
6 Jonathon Mincy (5-10, 196, Sr.)
15 Joshua Holsey (5-11, 192, Jr.)
Like Nick Marshall, Mincy is the 1st-stringer but he will not start due to a suspension. He will play, though. Somewhat surprised that Holsey hasn't taken back his starting spot since returning from injury. He was strong before that.
---
So that's it, these are the guys that will be ruining Bert's dreams. I'm happy with all of it. Never more have I ever felt this confident in a coaching staff. Seriously. Let's do this.
This post sponsored by www.CannonSatelliteTV.com.