As I suggested in my preview of the monumental tilt between the Arkansas State Red Wolves and your Auburn Tigers, the latter would use this game as a chance to get things right on the offensive side of the ball. 706 yards later, I think it's safe to say they did that and more.
Yes, it was against Arkansas State, but we're not talking Nicholls (formerly Nicholls State) or Howard here. Arkansas State has won the SunBelt Conference four out of the last five seasons. They are a solid program. Even then, the things Auburn was able to do would've been impressive against nearly anybody.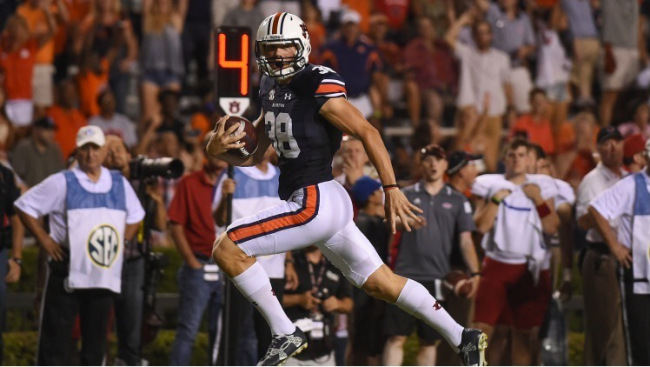 1. All of the spectacular plays.
Which was your favorite? Was it Sean White falling down while stepping up in the pocket, before seeing Kerryon Johnson out of the corner of his eye, which then turned into a 47-yard run across the field for a touchdown? Kerryon's one spin took eight defenders out of the play. Eight. I don't care if you're playing a decent high school team. The play was impressive.
Or did you like Kyle Davis's ungodly one-handed grab in double coverage to set up Auburn's 3rd touchdown of the day? He was pretty much swallowed by two Arkansas State defenders, one of them being Trooper Taylor's son Blaise, and the ball was just barely thrown behind him, causing him to throw up one paw in an attempt to bring it in. He did. The thing about it is that he put one hand up there like he's done it a million times and had no problem doing it. He's a freshman.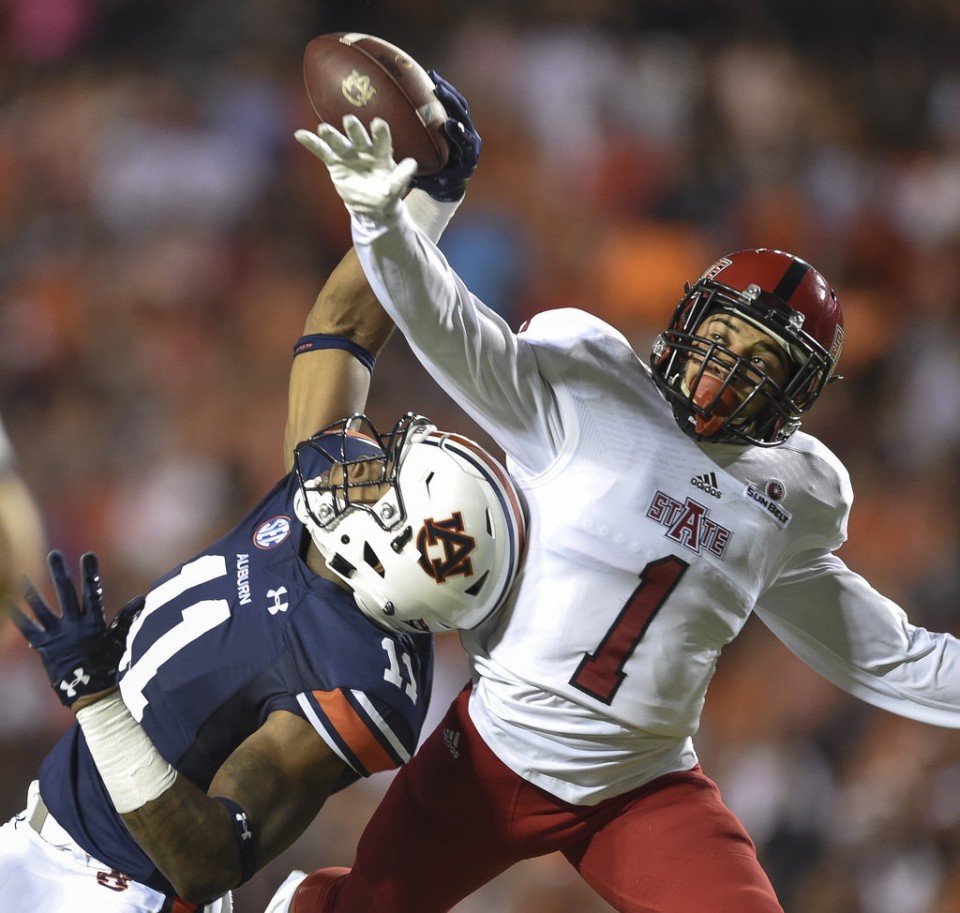 I personally loved Daniel Carlson's Tuberville-era fake field goal. Yes, Tuberville. Not Les Miles. Tuberville ran it with Damon Duval at LSU in 1999. Now Les Miles has run it 100 times and people think he made it up. Nope. The play worked flawlessly. And yes, I saw it happening in my brain before it did. I just have that power. And yes, I'm serious.
As good as those near-freak plays were, the ones I most enjoyed were the two long runs by Kamryn Pettway. He is exactly what this Auburn offense needs to bring it back to 2013. Kerryon Johnson is great. Sean White can drop it on a dime. But if you have two running backs that can break away, and one of those can run over you as well, it's the perfect complement for this offense.
2. Defense is still there.
The only negatives of the day came against the defense. I wish they were good. No, but for real, they played great again. They stopped the run. The sacked. They tackled. They swarmed.
But for real, the only negatives of the day came against them. The two Arkansas State touchdowns were setup by passes over the middle that were covered by exactly nobody. It was seemingly a busted coverage by the linebackers, but I'm not worried in the least. If two passes are literally all you can complain about, it was still a good day. As good as the offense played, the defense is still the strength of the team. I love watching them.
3. On to the SEC.
Many people are going to look back and say "why didn't you just run the offense this way against Clemson, Gus?!" Because you can't look at it that way. You can look at it like this: without the Clemson game, Auburn wouldn't have blown out Arkansas State and seemingly fixed things.
Gus's plan against what he thought was a much better Clemson was to throw everything at them. It probably wasn't needed, but by that point, it was probably too late. It helped him realize that his offense works with a consistent attack performed by the top talent that he has recruited.
Now that things appear to be figured out, the level of competition goes up immensely. When all is said and done, the Clemson game won't matter at all. The same can be said for the Arkansas State game, but it was definitely needed to get things back on track. And now that the SEC is coming, it couldn't have come at a better time.