No, the picture below was not taken in 1976. It was taken sometime between January 2011 and today. Most of you thought the black leather jacket was bad (I don't), but this is bad, or awesome. I can't really decide. Maybe he had just come out of a rehearsal for the Broadway version of Saturday Night Fever?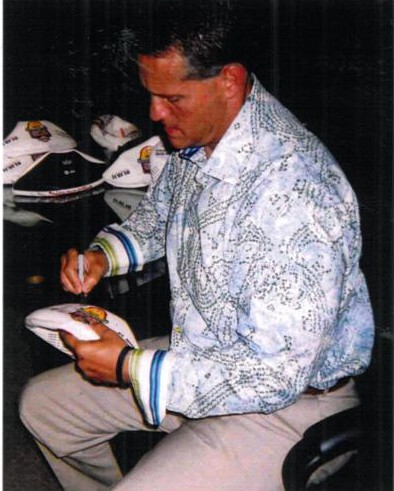 Thanks to Dan B. who sent this in. He said it came with a signed National Championship football he purchased to prove that they were actually signed by the man himself.
Dan had the good idea of starting a campaign to have this shirt replace the leather jacket during Gene's public appearances next year. After hearing that Ridgewood, New Jersey is on the list of cities he will be visiting on his upcoming book tour, I believe this shirt would fit right in. *fist pump*
Update: According to 'Blogle follower, @whduncan, Chizik was wearing this shirt TODAY as he went through the drive-thru at Auburn's Hibachi Express. No, I am not joking. I am dead serious. Chiz ain't scared to recycle a shirt this awesome.
Update #2: Apparently this type of fashion runs in the (Auburn) family, or maybe there's a disco room inside the Athletic Complex that we don't know about. Here's a pic of Auburn's Tim Jackson, AKA Cam's shadow, AKA the Executive Associate Athletic Director, wearing his best 'Garth Brooks meets Guido' ensemble. Some part of me thinks these shirts are awesome, some part of me thinks they need help.
Thanks to @jwm0004 for the picture, who said Jackson wears these type of shirts daily.